Curt Miller officially introduced as Connecticut Sun head coach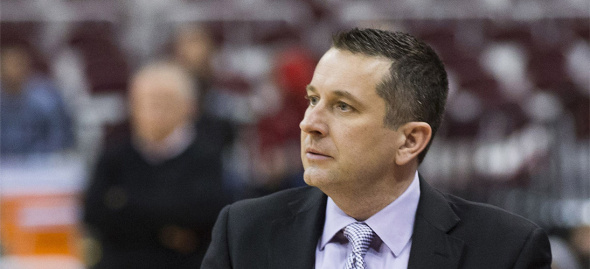 Curt Miller was introduced as the new head coach of the Connecticut Sun during a press conference Thursday morning at Mohegan Sun's Cabaret Theatre. His contract length is two years with a team option for a third season. As per team policy, no terms were disclosed.
"We were fortunate to have many qualified candidates, but Curt stood out because of his past success and what he was willing to do to engage this team to put them on the fast-track to success," said Sun vice president and general manager Chris Sienko. "He has made it clear to us that we are not in rebuilding mode, we are in winning mode. Based on the conversations I have had with coaches and experts around the country, we feel we are in very good hands."
A former head women's basketball coach at Indiana University and Bowling Green State University, Miller brings an extensive track record of success to Connecticut. In 13 seasons, he compiled an overall college coaching record of 290-124, leading his teams to the postseason in nine of his last 10 years as a college coach. Miller had 10 seasons with 21 or more wins and four seasons with 28 or more wins while averaging 22.3 victories per season.
"I am extremely excited to have the opportunity to be the next head coach of the Connecticut Sun," said Miller. "The organization has a great reputation across the league and a strong commitment to winning a championship. The educated and passionate fan base help create one of the best home environments in the league. When you combine that with the young talent on the roster, it easy to understand why I am so anxious for the upcoming season to begin."
At Bowling Green, Miller set the record for most coaching victories in a career (258) and a season (31) while earning a Mid-American Conference (MAC) record six Coach of the Year awards. BGSU won eight regular season MAC titles and five MAC tournament championships under Miller, who guided the Falcons to five NCAA tournament appearances and three berths in the WNIT. His 2007 Bowling Green team was the first in MAC history to reach the Sweet 16.
In 2012, Miller moved on to Indiana, where he engineered a remarkable turnaround. Inheriting a 6-24 team, he led the Hoosiers to 11 wins in his first season. In 2014, the Hoosiers set a program record with 14 straight victories on the way to 21 wins and a spot in the WNIT quarterfinals. The 21 wins tied a program record, and the team also tied a record for most post-season wins. Miller left Indiana following the 2014 season, joining the Los Angeles Sparks as an assistant coach in 2015.
"When we started the search process, we were looking for specific qualities for the Sun's next coach." said Sun CEO Mitchell Etess. "The more we talked to Curt Miller, and spoke to people about Curt Miller, the more we realized he was the perfect fit and possessed all the qualities, on and off the court, that we were looking for. He has a long track record of building strong relationships with his players and of getting the most out of his roster, and everyone in the world of women's basketball we spoke to were universal in their praise of his basketball knowledge and his passion for the game. Needless to say, I can't wait for the 2016 season to start."
Prior to Bowling Green, Miller was the associate head women's basketball coach at coach at Colorado State. He also served as an assistant coach at Colorado State, Syracuse, Cleveland State and Kent State, left Indiana following the 2014 season. He joined the Los Angeles Sparks as an assistant coach in 2015.
A five-time WBCA Regional Coach of the Year, Miller was also a five-time finalist for National Coach of the Year.