Dishin & Swishin 12/03/15 Podcast: If it looks like a Duck, then Kelly Graves has them on the rise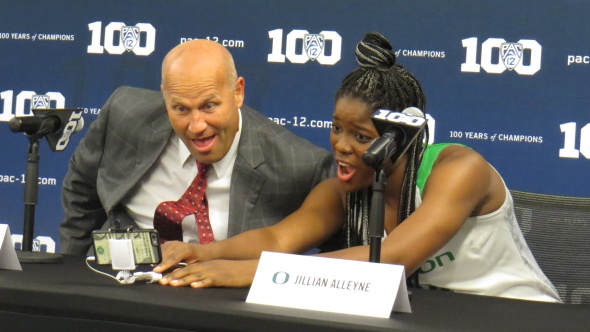 [display_podcast]
Click here to subscribe to the podcast with your feed reader or podcast app: j.mp/dishinpodcast. Available on iTunes, Player FM, Acast (iOS, Android) and Podcast Addict (Android).
Long overlooked, the Pac-12 conference is now a strong women's basketball conference, with five teams in this week's Associated Press poll. The University of Oregon received one vote this week in the poll. The sports writer who voted for the Ducks is forward thinking, because at 6-0 and beating their opponents by an average of 22 points per game, Oregon is a program on the rise.
In his second year as head coach, Kelly Graves already has a foundation in place to continue to achieve success. In that short term, Graves did the unfathomable (at least at Oregon it was unfathomable), he has them playing defense. Only two opponents have broken 60 against them, and Oregon held three teams in their six games to only 51 points. As a comparison, only fifteen teams in the country hold their opponents to an average of 51 points or lower.
It is a good thing the school's mascot does not do push ups when the women's basketball team scores points, because they can still score, averaging 82 points per game, and dropped 104 this past Monday against San Jose State. They are doing this with only five returning players, including former walk-on Katie Gruys. Three are the top scorers on the team: Jillian Alleyne, Lexi Petersen, and Lexi Bando. The rest of the roster has Graves' stamp on it, with players that hustle, and contribute with and without the ball.
It is Alleyne that is garnering the most attention, deservedly so. A member of all the preseason award lists, she is a dominant inside player on both ends, with an unreal sense of timing for rebounds. After Monday's 26 points, 22 rebounds performance, she now has 22 consecutive double-doubles, breaking her own conference record. Her 75 double-doubles in total puts her second in the history of the conference, only ten behind record-holder Chiney Ogwumike (Stanford).
"Jillian was one of my toughest match ups during my college career," says Ogwumike. "She is long, athletic, springy, and a skilled finisher. She is the absolute best post in the country at running the floor. Imagine that type of post paired with a Shoni Shimmel type of passer. In other words, she is ready-made for the next level. Looking forward to watching her make a national splash her senior season, as she breaks all kinds of records."
Perhaps even more impressive, this week Alleyne garnered a spot on the list of nominees for the 2016 Allstate WBCA Good Works Teams, which recognizes players of college basketball who have made outstanding contributions in the areas of volunteerism and civic involvement. Alleyne's difficult past is well documented, and as Graves emphasizes in the podcast, is an inspiration on and off the court.
Sophomore Bando is one of Graves' most important recruits, a local product from Eugene who stayed home, former state player of the year and a McDonald's All-American nominee. Bando averages 15 points per game, lending outside support to Alleyne's inside game with 53 percent three-point shooting.
Add a little international flair in dynamic point guard Maite Cazorla, a freshman from Spain with a 3.1-to-1 assist to turnover ratio, and shot blocking Australian Jacinta Vandenberg, and Oregon has the makings of a team similar in nature to those Graves had such success with at Gonzaga.
It is always nice to have the entertaining Graves on Dishin & Swishin, and this time is no different. Topics range from his team, to the elevation of associate head coach Mark Campbell (and his better hair), to the five different uniforms and playing "deep in the woods" on their tree-laden home court, and the growth and success of the conference.
Last week we spoke to Seton Hall coach Tony Bozzella, and the undefeated Pirates finally received some recognition and jumped into both polls. Will Oregon follow suit this week?
Enjoy the podcast.