Sydney Raggio hits game winner as St. Mary's upsets No. 18 Cal, 64-63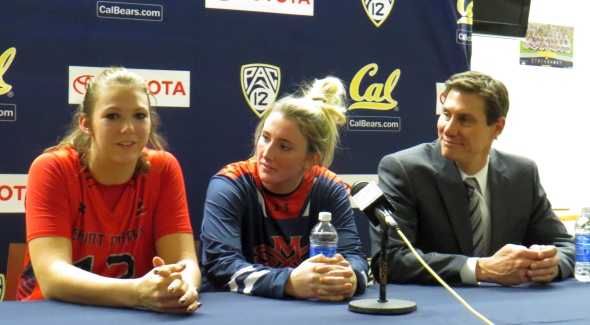 BERKELEY, Calif. – Saint Mary's (6-2) defeated No. 18 California (5-2) in the first game of the Cal Classic Saturday afternoon at Haas Pavilion, 64-63. Freshman forward Sydney Raggio scored the game-winning shot for the Gaels, a three-pointer with seven seconds left on the clock. Cal freshman guard Asha Thomas missed a trey with three seconds in an attempt to win the game for the Bears.
"It was amazing," said Raggio. "I've never made a game-winning shot. It was something new."
In the first quarter, Cal raced out to a ten-point lead led by freshman forward Kristin Anigwe who scored the first six points for the Bears. Raggio helped the Gaels inch closer to Cal making free throws with three minutes left in the quarter but her teams was unable to get closer than four before Cal went on a scoring spurt.
The Bears went into the second half with a 25-17 lead but both teams hit a scoring drought. After three and a half minutes, Anigwe made a jumper. The Gaels outscored Cal 15-8 in the second quarter and managed to take the lead with 1:12 to go, 32-31. Anigwe answered with a layup to end the half.
With a slim 33-32 lead, the Bears started the third quarter on a 10-6 run. However, Saint Mary's turned the tables in the latter part of the quarter to get within two, 52-50.
In the deciding fourth quarter, the Gaels outscored the Bears 14-11. A three-point shot from redshirt junior Devon Brookshire at 6:55 gave Saint Mary's the first lead of the quarter and they held the advantage until the last 34 seconds of the game when Anigwe hit a jumper. However, thirty seconds later, Raggio's evaded Cal's defense for her game winner.
Overall, Saint Mary's shot 40.6 percent during the game to Cal's 36.1 percent. In the second half, the Bears' shooting percentage was a dismal 30.6.
"I thought a lot of people made good moves to the basket and we just missed, and that's frustrating and when that's happening you have to get stops on the other end," said Cal head coach Lindsay Gottlieb. "I just felt like we missed too many good looks and weren't getting enough stops."
The poor shooting including missed free throws (7-of-14) enabled Saint Mary's to stay in the contest even as Cal led for most of the game.
"I just thought we didn't make their life difficult enough on the defensive end," commented Gottlieb. "When they were scoring baskets, it felt like they were too comfortable," she said. "We've got a lot of scorers. We just missed. When that's happening, you've got to get stops."
The game featured a lot of scrappy play and tenacious defense. Saint Mary's came into the game thinking about an overtime loss to UC Davis this past Thursday.
"It was a very physical game," said Saint Mary's head coach Paul Thomas.  "This win means a lot for our players.  The loss on Thursday night still stings, but we showed a lot by coming back from down 10 early today."
Raggio finished 15 points, nine rebounds, three assists and four blocks. Freshman Megan McKay scored 12 points and pulled down six rebounds. Brookshire also had 12 points along with four rebounds.
For Cal, Anigwe notched her second career double-double, setting a career-high 27 points with 12 rebounds. Thomas added 10 and sophomore forward Mikayla Cowling scored 12 for the Bears.
Saint Mary's will take on the winner of Villanova vs. Sacramento State on Sunday while Cal will face the loser in the consolation game.

Notes
With the 64-63 loss California's all-time record against St Mary's now stands at 7-6.
This is first time in 32 tournaments that Cal has not advanced to the Cal Classic championship game. Prior to today's loss, Cal advanced to the Cal Classic championship game 31 consecutive times since 1983 (the tournament was not held in 2013).
Cal had a season-low nine turnovers.