Dishin & Swishin 1/09/16 Podcast: Channeling John Wooden? Cori Close has UCLA climbing the polls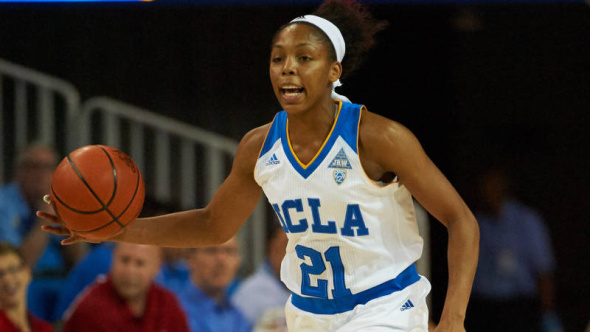 [display_podcast]
Welcome to 2016! Here's wishing all of you a happy, healthy, and prosperous new year!
For the first podcast of the year, Dishin & Swishin looks out West where the Pac-12 currently has the best RPI of any conference in the country. This week's polls rankings, with Stanford ( No. 9/13), Oregon State (No. 11/12), Arizona State (No. 14/14), UCLA (No. 15/21), and California (No. 21/RV), show the respect the conference is getting nationally.
One of the most interesting of those teams is UCLA, where Cori Close's Bruins are 11-3. The three losses are a three-point loss to second-ranked South Carolina, an overtime loss to third-ranked Notre Dame, and a thrilling double overtime loss to California. They are currently riding a three-game winning streak, defeating previously unbeaten Southern Cal and Oregon, then upsetting Oregon State.
The Bruins have only two seniors and one junior in their rotation, with sophomores and freshmen picking up the bulk of the minutes. Last season's freshmen class played a very difficult schedule with non-conference games against Connnecticut, Notre Dame, North Carolina, James Madison and Texas. On the podcast, Close admits it was probably too much too soon for her young team.
However, by the end of the season, the cohesion and unity of going through the rigors of that schedule and then conference play helped the Bruins march to the WNIT tournament championship to become a great launching pad for this season.
Senior wing Nirra Fields and sophomore point guard Jordin Canada lead UCLA. The duo combine to average almost 36 points per game, more than half of the team average per game. Both played well last season, but time spent this summer playing international ball has helped put them in the discussion of the best players of the country. Fields played for Canada in the Pan American games and the FIBA Americas championship, winning gold in both. Canada was the starting point guard for the USA in the World University Games, winning gold as well.
Coach Close returns to Dishin & Swishin to talk about the Pac-12 and her UCLA team. Topics include:
The fast start of the Pac-12. Can eight teams from the conference make the NCAA tournament this year?
Last year's difficult schedule and its impact on the team both last year and this year
The growth of Field, Canada, and others including sophomore Monique Billings
Her relationship with John Wooden and how he continues to influence her to this day
Enjoy!