No. 16 Stanford rebounds to defeat No. 25 Washington, undaunted by stiff competition in Pac-12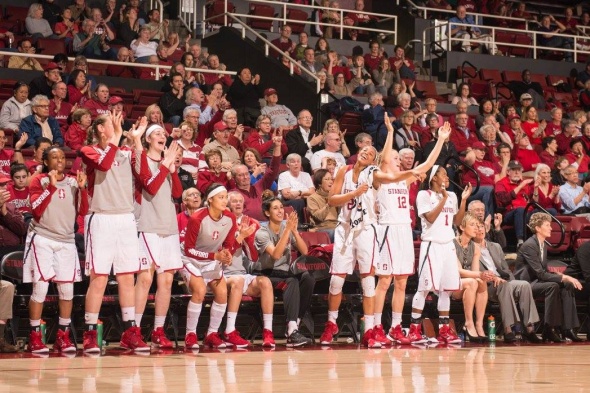 STANFORD, Calif. – After a week of practice following a tough, low-scoring road loss last weekend at UCLA, No. 16 Stanford (16-5, 6-3 Pac-12) bounced back to winning form to earn a 69-53 home victory over No. 25 Washington (15-5, 6-3) Friday night at Maples Pavilion.
"It's great to be home," said Stanford head coach Tara VanDerveer postgame. Six of her team's first eight conference games have been on the road.
"I thought we played really well offensively in the first half, and actually defensively the whole game."
Taking cues from the aggressive offensive efforts of junior guard Lili Thompson, the Cardinal took control early and never trailed. Thompson scored the first five points of the game from a jumper and a three-point shot.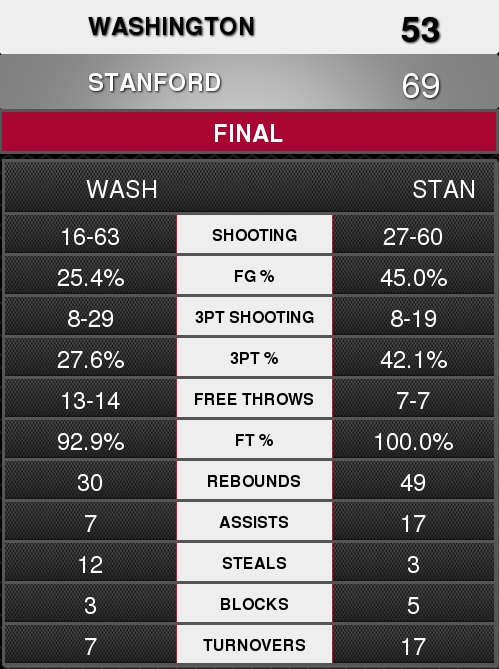 "I thought she was phenomenal," said Washington head coach Mike Neighbors. "She came out and put them on her shoulders and carried them all the way through the first quarter, as good as a quarter as I've seen against us since I've been the coach. I thought she was dominant, I thought she was confident. I thought she was calming for her team, you know, coming off a tough road game. It had to have given them a lot of confidence."
Thompson finished with a season-high 27 points and collected seven rebounds.
In the first quarter she scored 17 points, a total that included five three-point shots. She was perfect from beyond the arc in the first ten minutes.
With 2:52 left to go in the first period, the Cardinal had a double-digit lead, 18-6, after a trey from junior guard Karlie Samuelson. Stanford led 26-13 going into the second period.
The teams traded baskets in the second quarter. The Huskies were unable to gain enough momentum to overtake the Cardinal. Washington junior guard Kelsey Plum, the nation's leading scorer, was held to just seven points in the first half.
Stanford went into the break with a comfortable 40-23 lead over the Huskies. No Washington players were in double figures at the half.
"We kept her in front of us as much as we could," said VanDerveer about her team's defense on Plum. "She's a terrific player."
Neighbors was not surprised at how Stanford managed to stifle his team with tenacious defense and rebounding.
"I think it's exactly what we expected. Their preparation is meticulous, they take away your option A and option B. We had to go to option C."
However, he added that "Kelsey kept battling." She finished with 23 points. Senior forward Talia Walton added 10 points and eight rebounds for the Huskies.
Overall, Stanford outrebounded Washington 49-30.
"That's a staple of who they are," said Neighbors of Stanford's prowess on the boards. "It's not our strongest suit."
Sophomore guard Brittany McPhee came off the bench for Stanford to contribute 12 points plus five rebounds. According to Neighbors, she gave her team "a second weapon that we didn't have any answer for in the first half." Ten of McPhee's points came before halftime.
Other Stanford players in double figures included junior forward Erica McCall with 12 points plus five rebounds. Karlie Samuelson added 10 points and sophomore forward Kaylee Johnson pulled down a season-high 14 rebounds to go with her four blocks and four assists. Freshman guard Marta Sniezek set a new career high with six assists.
"I thought (Sniezek) was working the ball well," said VanDerveer. "I think Marta does a great job of hitting the roller — she got one to (McCall), she got one to (Johnson). She's a very heady player, she's a pass-first guard, but we need her to look for her shot."
The Cardinal were without junior forward Kailee Johnson, a starter for 12 games this season. She suffered a lower leg injury during a Jan. 17 game at Oregon State. She is "on the mend" said VanDerveer.
"We're hopeful for Sunday," she said in reference Johnson's status postgame when looking ahead to facing Washington State. "If not, we're hopeful for Tuesday."
Stanford faces the Cougars Sunday at noon at Maples (TV: Pac-12 Network/Pac-12 Bay Area/Pac-12 Washington).
"We've got to get ready for them," said VanDerveer about preparing for WSU. "They've got a lot of international players that shoot the ball well and we've got to be ready to bring it Sunday and then turn around and bring it on Tuesday."
Washington heads across the Bay to Berkeley on Sunday to face Cal. The Bears defeated Washington State Friday night and will face Stanford twice next week in the annual Battle of the Bay series.
With five Pac-12 teams in the Associated Press poll and four in the USA Today Coaches rankings, the competition in the league is stiff. Arizona State and Oregon State are in the top ten of both polls, UCLA is No. 15 in the AP Poll and Washington entered the AP rankings for the first time this week since March 3, 2003.
However, even as Stanford has been in the words of VanDerveer, "the crème of the crop" for years in the league and now faces tough games from several teams on the road and at home, they are relishing the increased competition and higher level of play.
"We're in the trenches," said VanDerveer, "and we're enjoying this battle.