Pac-12 Players of the Week: UCLA's Nirra Fields, Cal's Kristine Anigwe freshman of the week for sixth time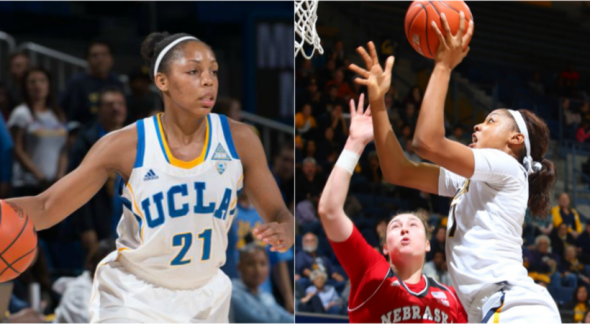 Hoopfeed's ballot: Player of the Week: Nirra Fields (UCLA) || Freshman of the Week: Alanna Smith (Stanford)
Cheryl Coward, founding editor of Hoopfeed, participates in the weekly Pac-12 voting.
For the period Dec. 28-Jan. 3, UCLA senior Nirra Fields was voted the Pac-12 Player of the Week for the first time this season, while California's Kristine Anigwe is the Pac-12 Freshman of the Week  for the sixth time.
Fields (Montreal, Canada) led UCLA in scoring last week, helping the Bruins knock two teams out of the undefeated ranks. In the Pac-12 opener against the Trojans, she had 19 points, six rebounds, two assists, two blocks and two steals in a 78-73 win over previously unbeaten USC. Against Oregon, another undefeated team, Fields scored 11 points in the first quarter and 12 points in the final period to finish with a season-high 31 points in the win over the Ducks, 80-69. She added two assists and two rebounds while sinking a career-high-tying five three-pointers against the Ducks after entering the game with just six made three-pointers on the year on 31 attempts (.194). For the week, she averaged 25.0 points, 4.0 rebounds, 2.0 assists, 1.0 steals and 1.0 blocks per game while shooting 55.6 percent from the field (20-for-36) and 62.5 percent from three-point range (5-for-8). Fields earns Pac-12 Player of the Week nods for the third time in her career and is UCLA's 52nd all-time selection.
Anigwe (Phoenix, Ariz.) turned in another pair of 20-point performances and nearly averaged a double-double (26.0 ppg, 9.5 rpg) against CSUN at home and in the Pac-12 opener at Arizona State. In the rookie's Pac-12 debut, she was the only Golden Bear to score in double figures against the No. 17 Sun Devils, tallying 22 points (10-13) and a career-high 13 rebounds in 35 minutes for her sixth double-double of the season. Her career night continued on defense with a new personal-best three blocks, matching her career-best three steals for the second game in a row. Against the Matadors, Anigwe scored 30 points in 24 minutes with a 13-for-17 shooting night, and also matched her career-high three steals. All six of her rebounds in the game were on the defensive end. It is California's ninth all-time freshman of the week honor, six coming from Anigwe, who is one shy of the season-single record set by current Washington junior Kelsey Plum.
A player of the week has been selected every week since 1986-87, the first year the Conference sponsored women's sports. A freshman of the week was first selected in 2012-13. The Pac-12 Player and Freshman of the Week are voted on by a panel of media that regularly cover Pac-12 women's basketball.
The Golden Bears travel South to take on Arizona today at 8 p.m. MT, then close out the week hosting Colorado (Friday, Jan. 8, 7 p.m. PT) and Utah (Sunday, Jan. 10, 2 p.m. PT). UCLA hosts Oregon State tonight at 7 p.m. PT, then travels to cross-town rival USC on Sunday, Jan. 10 at 6 p.m. PT.
Also Nominated:
PLAYER: Sophie Brunner, ASU; Kristine Anigwe, CAL; Jamee Swan, COLO; Jillian Alleyne, ORE; Ruth Hamblin, OSU; Brittany McPhee, STAN; Kristen Simon, USC; Emily Potter, UTAH; Kelsey Plum, WASH; Borislava Hristova, WSU.
FRESHMAN: Alexis Robinson, COLO; Katie McWilliams, OSU; Alanna Smith, STAN; Borislava Hristova, WSU.
2015-16 Pac-12 Women's Basketball Players of the Week
| | | |
| --- | --- | --- |
| Date | Player | Freshman |
| Nov. 16 | Courtney Range, CAL | Kristine Anigwe, CAL |
| Nov. 23 | Jordin Canada, UCLA | Borislava Hristova, WSU |
| Nov. 30 | Lili Thompson, STAN | Kristine Anigwe, CAL |
| Dec. 7 | Jillian Alleyne, ORE | Kristine Anigwe, CAL |
| Dec. 14 | Emily Potter, UTAH | Kristine Anigwe, CAL |
| Dec. 21 | Lili Thompson, STAN | Maite Cazorla, ORE |
| Dec. 28 | Arnecia Hawkins, ASU | Kristine Anigwe, CAL |
| Jan. 4 | Nirra Fields, UCLA | Kristine Anigwe, CAL |