Saniya Chong scores 18 in her first start of season as No. 1 UConn routs Tulsa 95-35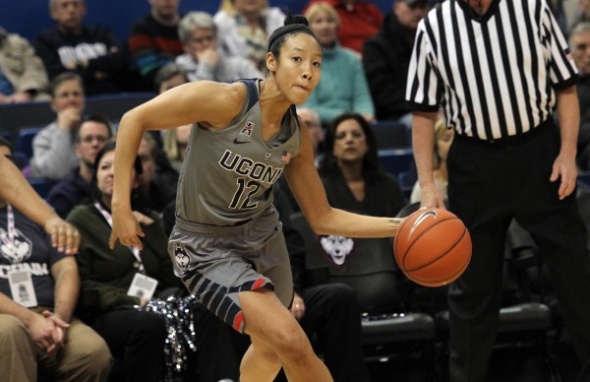 HARTFORD, Conn. – Top ranked Connecticut (12-0, 2-0 American) continued to have its way with its American Athletic Conference rivals, coasting to a 95-35 victory over Tulsa (5-9, 2-1) before 8,515 people at the XL Center in Hartford Wednesday night.
In their last game, the Huskies had eight players in double figures in beating Cincinnati 107-45; tonight five finished in double figures as the balanced attack continued. It was the 49th straight win for the Huskies.
Inside, Tulsa had no answers for Morgan Tuck early and often, as Tuck scored 12 of UConn's 24 first quarter points, and 16 in the first half (18 for the game). With a huge size advantage, UConn pounded the paint, scoring 16 of their first quarter points inside.
Outside it was junior guard Saniya Chong, making her first start of the season in place of injured Moriah Jefferson. Chong also dropped 18 in the game including hitting four three-pointers.
Chong, long considered an extremely talented offensive player, struggled in the past trying to string together good practices and good games according to head coach Geno Auriemma. This season, Auriemma said, Chong has shown impressive tenacity, as a knee injury leaves her unable to practice or participate in pre-game warm-ups at time.  Today she stepped in for Jefferson, the defensive leader of the Huskies, who had not missed a game her entire career.
"I knew I had to step it up, definitely, to take her place," said Chong. "Not try to be Mo, but definitely play her role. I knew I had to go out there, she's good on offense, on defense, everything so I had to go out there and fill in her spot, so that's what I tried to do today."
Katie Lou Samuelson added 14 points along with four rebounds and five assists in perhaps her most complete game of the season, Breanna Stewart had 12 points and nine rebounds, and Napheesa Collier had 11 points and eight rebounds for the Huskies.
Having been somewhat critical of Samuelson's all-around game thus far this season, Auriemma was very happy with her performance, especially the four rebounds and five assists.
"She did a whole bunch of things other than being a shooter," said Auriemma. "and because of that, she made a bunch of shots. That's been happening in practice as well."
The last time Tulsa played in Hartford, then sophomore guard Ashley Hughes earned the respect of all in attendance after a fall with Husky guard Kia Nurse knocked out a tooth. Hughes continued to play after the mishap. This time all players left intact and Hughes contributed five points, while wearing a mouth guard.
Senior guard Ashley Clark led the Golden Hurricane with ten points. Tulsa came into the game on a two-game in conference winning streak yet struggled with the UConn defense, shooting only 26 percent for the game and committing 19 turnovers.
"There is no question that UConn is really, really good, but I didn't feel like we attacked them very well and there were some things that we could have done better," said Tulsa head coach Matilda Mossman. "I thought there were too many loose balls rolling around that we didn't go get. We didn't finish layups early on in the game and that affected our confidence. We also didn't shoot very well from point-blank range. Our effort should have been a lot better."
The Hurricane continues its road trip at Temple on Friday at 5 p.m. ET. The game will be televised on ESPNU. UConn travels to Houston for a game on the same day for a 9 p.m. ET tip on ESPN 3 and SNY.