Santa Clara building a new identity as a "blue collar team" in breakout season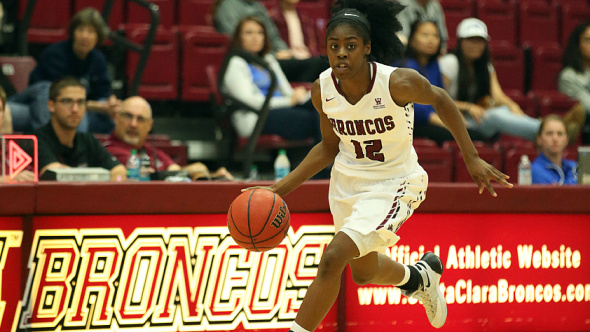 BYU at Santa Clara
6 p.m PT/9 p.m ET
Leavey Center, Santa Clara, Calif.
Video: TheW.tv
Audio: KSCU 103.3 FM
SANTA CLARA, Calif. – When Santa Clara (12-3, 3-1 WCC) beat then No. 13 Stanford back in November, the Broncos notched the second victory in a streak that lasted 12 games. The run matched the longest winning streak in program history.
After the holiday break, the Broncos headed to Washington to face the current No. 6 team in the ESPN mid-major rankings, Gonzaga, after the holiday break. Santa Clara struggled from the floor, shooting on 22 percent, and fell to the Zags 53-44. The Broncos look to begin another streak as they host West Coast Conference foe Brigham Young (10-4, 2-1 WCC) Thursday night.
Despite the loss to Gonzaga, Santa Clara has a lot to be inspired by so far this season. In addition to beating Stanford, the Broncos also defeated a Big 12 team, Texas Tech, on Dec. 12. Other highlights of the season so far include:
Outscoring opponents 66.7 – 56.0
Outrebounding teams 41.9 – 32.1
Shooting 40.1 percent (354 of 882) from the field and hitting 54 3-pointers.
Forcing 24.2 turnovers per game (sixth in the nation) and collecting 13.5 steals per game (fifth in the nation).
Leading the nation in total steals: 203.
This week the Broncos entered ESPN's mid-major poll at No. 10. Santa Clara's breakout season, along with the success of other teams in the WCC, plus the intense competition between ranked Pac-12 teams has created a buzz this year on the West Coast.
"The better we all are, the better it is for our sport," says second-year coach JR Payne about competition on the left coast. Her team has been able to disrupt the offense of opponents, with key steals in crucial moments and defensive rebounds.
"Defense right now is our best asset," said Payne after a win over UC Santa Barbara in December. When the Broncos are in the lead and notice that opponents are trying to stage a comeback, they turn up the pressure and become more aggressive.
"When we do that," says Payne, "it leads to better offense."
Like many teams on the rise, Santa Clara continues to be a major work in progress, even during midseason. The Broncos have not had a winning season in seven years. They earned less than 12 wins in five of those years.
This season, the team added seven new players including junior forward Lori Parkinson, a transfer from Southern Utah and the team's top rebounder, freshman guard Savanna Hanson who leads the Broncos in assists and made three-pointers, and senior forward Devin Hudson who led the team in scoring vs. Stanford.
"Honestly we're just trying to get better every day, so we're excited about the fact that we're actually getting better as a ball club. We have seven new players, it has just taken a while to get everybody on the same page, but we're excited about where we are."
It is no small feat that Payne has been able to get all of those players on board for her vision of what she wants Santa Clara to be known for in the WCC and nationally: "very blue collar."
"We don't really have any standout players. I think everyone is just buying into their role on the team. We always talk about being the hardest working team, the toughest team and being really disciplined. At the end of the Stanford game, clearly we're not more talented than Stanford, but that night we showed that when we win the hustle stats, when we outwork our opponent good things can happen. So I think our team has really bought into those things. And I do believe that we can beat anybody when we play that hard and that aggressive."
Santa Clara is 1-10 all-time vs. BYU and 1-5 at the Leavey Center. Last year the Cougars took both meetings. BYU is outscoring opponents 68.3 – 60.8 and outrebounding teams 39.2 – 36.4. The Cougars are shooting 42.3 percent (348 of 823) from the field and 36.4 percent (78 of 214) from beyond the arc. BYU senior guard Lexi Eaton Rydalch leads the WCC with 23.4 points per game and was named the College Sports Madness West Coast Women's Basketball Player of the Week on Monday.