Dishin & Swishin 2/02/16 Podcast: Matthew Mitchell prepares Kentucky for South Carolina and beyond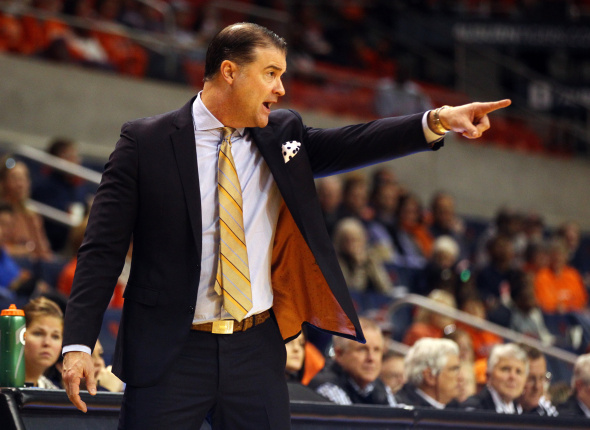 [display_podcast]
Click here to subscribe to the podcast with your feed reader or podcast app: j.mp/dishinpodcast. Available on iTunes, Player FM, Acast (iOS, Android) and Podcast Addict (Android).
It seems a little strange that when a team is a consistent presence in the NCAA tournament, regularly contends for their conference title, and is currently ranked 18th in the current AP poll, that they would be overlooked by ESPN.
Yet with Matthew Mitchell's Kentucky Wildcats getting ready to play number two South Carolina on Thursday night, the "worldwide leader" is already talking about one versus two on Monday night, when UConn plays South Carolina. ESPN may be looking past Thursday night's game, but South Carolina coach Dawn Staley most likely is not.
Despite back-to-back tough losses to Vanderbilt and Florida, the Wildcats are a solid team; one that actually led at the half and trailed by only one after three quarters the first time they played the Gamecocks.
This is a young Kentucky team, and after transfers and departures from the team early this year, they are not a very deep team. The result, as Mitchell admits on the Dishin & Swishin podcast, is a team that is learning to trust each other, and sometimes making mistakes that need to be corrected. With only ten on the roster and seven to eight getting meaningful minutes, Mitchell's "forty minutes of dread" pressure defense is less prevalent.
Long known for their guard play, this year's Wildcats have a strong inside presence with a junior college star and Nigerian, Evelyn Akhator. Mobile and athletic, Akhator is averaging 12.1 points and 9.5 rebounds per game, and along with sophomore Alexis Jennings, they patrol the paint defensively, each averaging at least one block per game.
Make no mistake, however, guards are still the strength of this team. They are led by junior sensation Makayla Epps and senior guard Janee Thompson. Both have overcome struggles to get to this point, and both are maximizing their game.
Many will recall the horrible injury that Thompson suffered to her leg; the fact she is starting and playing 33 minutes per game with a rod in her leg is amazing. The fact she is scoring over 12 points per game and averaging over five assists per game is inspirational.
Epps, on the other hand, brought her struggles on herself with off the court issues. No one ever denied she is a supremely talented player, but Mitchell explains on the podcast that college is about more than just basketball, and he found himself needing to suspend Epps in the spring for her transgressions. Epps took the punishment to heart, and Mitchell states that he is prouder of her growth and leadership than he is of her on court performance. That on court performance has her 17.6 points per game second in the conference, one-tenth behind leader Courtney Walker of Texas A&M, and third in assists at 4.7 per game.
It is always great to chat with coach Matthew Mitchell about the SEC and Kentucky. Topics in today's podcast include:
The crazy SEC season, which sees only five teams over .500 as of today
Overcoming the inconsistencies that plague the Wildcats and back to back losses to get ready for South Carolina
Epps and Thompson and their growth as players and leaders
Adjusting to playing a more inside game, the growing pains of doing so, and the problems with entry passes
Transfers, dismissals and departures; Mitchell's approach to recruiting and handling individual players and their situations
Off the court, giving back, being accountable for your actions and helping in the community.
Thursday's game will be broadcast on the SEC Network, at 7 p.m. ET, with commentators Paul Sunderland, Carolyn Peck and Steffi Sorensen.
Enjoy the podcast!