Dallas Wings sign Skylar Diggins to contract extension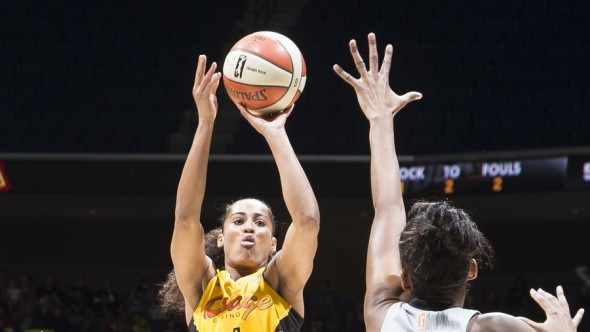 The Dallas Wings announced a multiple-year contract extension for All-Star guard Skylar Diggins. The agreement will keep the South Bend, Ind. native in a Wings uniform through the 2019 season. Financial terms of the contract were not disclosed per team policy.
2016 marks Diggins' fourth year in the league. She has averaged 14.9 points per game, 4.5 assists and 1.4 steals over her three-year WNBA career. After a brilliant start to the 2015 season, Diggins suffered an ACL injury during the June 28 game against Seattle. Through the first nine games she averaged 17.8 points and shot 91.8 percent from the foul line. In 2014, Diggins appeared in her first All-Star game, was named a 2014 WNBA All-Star starter and earned her first nomination to the All-WNBA First Team. During that All-Star game performance, she scored 27 points, the second highest point total in all-star game history.
"We are excited to know Skylar will be wearing a Dallas Wings jersey for the foreseeable future," said general manager Greg Bibb. "She is, and will continue to be, a cornerstone of our franchise. She is one of the most talented guards in the WNBA and we think she is going to continue to progress while leading our team in our pursuit of a WNBA Championship."
"Skylar's strong commitment to this team and to the Dallas-Fort Worth area is greatly appreciated," said head coach Fred Williams. "It's a special moment for us to have the caliber of professional – both as a person and an athlete – like her, to help guide our franchise to a championship level. We're delighted she will continue her career with the franchise."
The three-time All-American at Notre Dame led the Irish to back-to-back NCAA title games as a sophomore and junior, earning Final Four All-Tournament honors each time. She was drafted by the Tulsa Shock in the first round of the 2013 WNBA draft. That year, she was named to the All-Rookie team, and started in 21 of the 32 games while averaging 8.9 points per game.
"This is the beginning of an exciting journey," said Diggins. "I can't wait to step back on to the court alongside my teammates, rejoin Coach Fred and play for this strong Dallas Wings organization. Dallas-Fort Worth has some of the most passionate and energetic fans and it's an honor to play and plant roots in this city."
The Wings start their regular season with a three-game road trip on Saturday, May 14, against the defending Eastern Conference Champions, Indiana Fever. The team will then head to New York City to take on the New York Liberty on Sunday, May 15 and visit the Washington Mystics on Wednesday, May 18. The Wings home opener will be on Saturday, May 21 at 7:30 p.m., as the San Antonio Stars visit College Park Center.