Dishin & Swishin 3/31/16 Podcast: Doug Bruno is back to break down the 2016 Final Four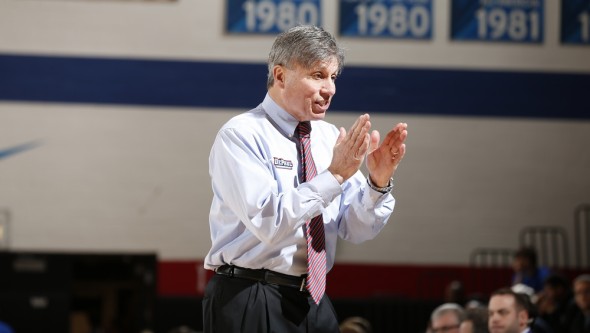 [display_podcast]
Click here to subscribe to the podcast with your feed reader or podcast app: j.mp/dishinpodcast. Available on iTunes, Google Play Music Podcasts, Player FM, Acast (iOS, Android) and Podcast Addict (Android).
In what has become an annual occurrence, we are pleased to have DePaul University head coach Doug Bruno back for the fourth consecutive year to break down the NCAA women's basketball Final Four.
Sunday evening UConn tips off against Oregon State, followed by Syracuse playing Washington. Three first time teams, and the one big dog. It has been an interesting and somewhat tumultuous tournament, with previously unseen top seed upsets, and previously unseen margins of victory by UConn.
There has been discussion on various topics, and with various levels of emotion (and intelligence!).
While the mostly non-women's basketball watching media was discussing UConn's huge victory margins, those in the know were marveling over the trio of Breanna Stewart, Moriah Jefferson and Morgan Tuck, appreciating the success of a group of teammates we may never see the likes of again when their journey ends this weekend.
While discussion about lowering the rims captivated some, others were marveling at the way Quentin Hillsman's Orange defeated Dawn Staley and South Carolina and followed up with beating a rejuvenated Tennessee team. The Orange advanced to their first-ever Final Four appearance and Hillsman became only the second African-American male to coach in the national semifinals.
While people compared the early round men's tournament being broadcast on four networks while the women were relegated to wrap-around coverage on ESPN, Mike Neighbors' Huskies were out knocking off Maryland at home, Kentucky in Lexington and then conference rival Stanford to make their first Final Four.
And while people wondered if Notre Dame, South Carolina or Baylor would be the best candidate to defeat UConn and deny Geno Auriemma his eleventh championship, former DIII coach Scott Rueck was busy coaching a tight-knit group from the state of Oregon to a second seed, and victories over quality opponents like DePaul and Baylor behind a rocket scientist center and a lights out shooting guard to make their first Final Four.
It is a pleasure to welcome Coach Bruno back to help break down the four teams still standing and look at what is going on around the games.
Bruno's DePaul team played UConn during the regular season, and Oregon State in the regional semifinals. Having played both teams, it is interesting to get his perspective on where Oregon State can give UConn trouble, and how the Huskies should play the Beavers.
A former Big East member with Syracuse, Bruno coached against Hillsman the Syracuse zone for years, and is familiar with the Neighbors' Washington zone and which team is better equipped to deal with the other.
Along with these items, coach Bruno also discusses:
Breanna Stewart from the coach perspective, having coached her in USA Basketball
Rapid success in building and recruiting by Rueck at Oregon State and how they defeated DePaul
Pac-12 success, the oft-discussed idea of gaming the RPI, and the inherent flaw with the whole RPI concept
Plum, Walton, and Osahor, and the success of the "Other Huskies"
Syracuse's zone, but especially players like Lexie Peterson and Brianna Butler, and how they succeed
In the final segment, coach Bruno weighs in on the UConn success debate, and the killing the sport theme in a must listen to part of the podcast.
Enjoy the Final Four, and enjoy the podcast!