Numbers, notes and tweets: Stanford's defeat of South Dakota State to reach the Sweet 16
Recap || Numbers || Notes || Tweets
STANFORD, Calif. – With 9.3 seconds left on the clock in regulation, Stanford junior guard Lili Thompson tied the game between the No. 4 seed Cardinal and underseeded No. 12 South Dakota State in the second round of the NCAA tournament Monday night at Maples Pavilion. The contest was also the 1,000th game at Stanford for Hall of Famer VanDerveer.
Thompson's effort, a gutsy move to the basket, was the catalyst her team needed to pull out a 66-65 victory over the visiting Jackrabbits.
"What an excellent team and what a great job the coaches and staff did at South Dakota State," said VanDerveer postgame. "They gave us everything. I don't think you could ask for a better, harder fought game by both teams. But having said that, when we needed to make plays we did."
While Stanford (26-7) led at the half, 33-27, SDSU (27-7) unleashed an offensive onslaught early in the third quarter outscoring their opponent 23-13 in the period.
SDSU's senior guard Gabrielle Boever fouled Thompson on the crucial layup and the starting guard for Stanford made her free throw. The Jackrabbits had a chance in the last eight seconds to get a shot up, but the attempt by sophomore guard Macy Miller was blocked by Stanford junior forward Erica McCall, a move that sent the crowd into a frenzy as it meant that the Cardinal would be headed to the Sweet Sixteen for the ninth straight year.
"Every person, every basket, every rebound. It was what coaches love to talk about," said VanDerveer, "you've got to play each play, because each play mattered."
McCall led Stanford with a double-double of 20 points and 12 rebounds. However, it was her one block at the end of the game that fans will remember the most. Thompson was also in double figures with 19 points. Sophomore forward Kaylee Johnson had six points and nine rebounds.
The comeback effort by Stanford, who were down by as much as eight in the middle of the fourth quarter, was accomplished by chipping away at SDSU's lead possession by possession.
"Coach Kate Paye said, 'We don't have to do it on one possession, but take it one possession at a time,'" explained Thompson. "'Do it on the defensive end and we'll start to chip away at it.' I thought we did that, but they're a great team. They played really really well, they made big shots, and they executed really well. It definitely wasn't easy and it wasn't just us poorly, but them playing really well."
SDSU had four players in double figures led by Miller with 19 points plus eight rebounds. Sophomore forward Ellie Thompson finished with 14 points and five rebounds. Junior guard/forward Kerri Young had 13 points and four rebounds and junior center Clarissa Ober contributed 12 points and six rebounds.
Stanford held SDSU's leading three-point shooter, freshman Madison Guebert to just two points. She failed to make any three-point attempts and was 1-of-4 from the floor.
The Cardinal (26-7) will face Notre Dame on Friday in the Lexington Regional.
Numbers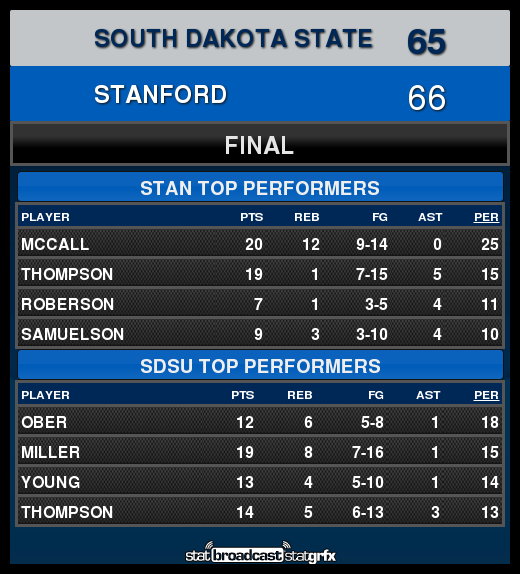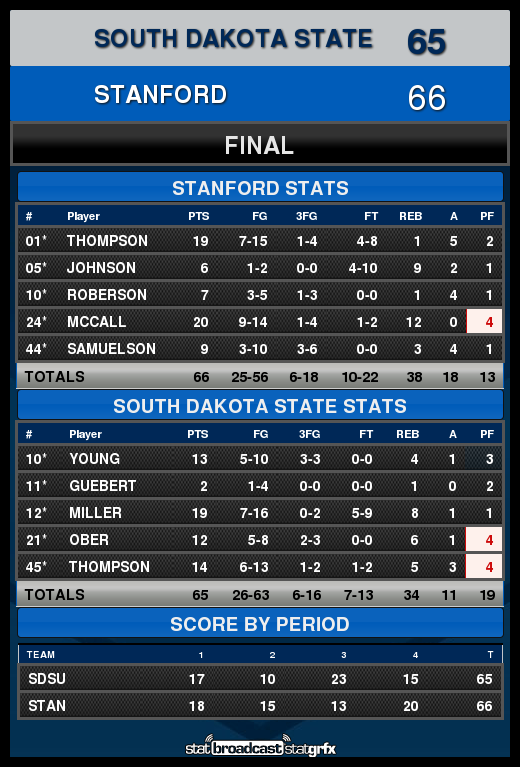 Stanford has served as a host for 64 NCAA Tournament games, the third-most behind Knoxville, Tenn. (82) and Norfolk, Va. (67).
The Cardinal is 34-4 all-time in NCAA Tournament games at Maples Pavilion and has won 14 straight.
Stanford is 135-7 (.951) in Maples Pavilion since 2007-08.
The Cardinal's 789 wins in the NCAA Tournament are third all-time behind Tennessee (121) and Connecticut (105).
Macy Miller scored a SDSU sophomore-record 527 points on the season.
Miller's 19 points tied teammate Madison Guebert and Jill Young (March 17, 2012) for the most points scored by a Jackrabbit in an NCAA Tournament game.
#12 seed South Dakota St. vs. #4 Stanford underway at Maples, still plenty of Jackrabbits fans here #ncaaw pic.twitter.com/VlgO8Mtrn6

— Hoopfeed.com ? (@hoopfeed) March 22, 2016
6:59 Q1 | Teams start a combined 7-of-7 from the floor. SDSU 9 – Stanford 6. #GoStanford

— Stanford Women's Basketball (@StanfordWBB) March 22, 2016
Stanford has its first lead of the game after a jumper from Erica McCall, 12-11 Cardinal 5:07 in 1Q. Fast-paced contest. #ncaaw

— Hoopfeed.com ? (@hoopfeed) March 22, 2016
South Dakota St. was leading by 5 then Stanford went on a 9-0 run over last 2:10 and now lead 15-11 4:26 #ncaaw Erica McCall with 6pts.

— Hoopfeed.com ? (@hoopfeed) March 22, 2016
Stanford defense working hard to shut down South Dakota St.'s deadly 3-pt prowess, 1 min. left in 1Q & Jackrabbits have only made 2 treys.

— Hoopfeed.com ? (@hoopfeed) March 22, 2016
End of 1Q: Stanford 18, South Dakota St. 17 #ncaaw pic.twitter.com/lor7DfHtkf

— Hoopfeed.com ? (@hoopfeed) March 22, 2016
Erica McCall is smooth as silk with a Candice Dupree-esque turnaround jumper, helping keep Stanford in the lead. #ncaaw

— Hoopfeed.com ? (@hoopfeed) March 22, 2016
Halftime: Stanford 33, South Dakota State 27 #ncaaw pic.twitter.com/L4QlKqVLbH

— Hoopfeed.com ? (@hoopfeed) March 22, 2016
South Dakota outscores Stanford 13-6 to start 3Q and take one pt lead, 40-39 5:39

— Hoopfeed.com ? (@hoopfeed) March 22, 2016
Coming out hot in the 3rd quarter after trailing Miami on Sat. is exactly how South Dakota State pulled away from the Hurricanes to win.

— Hoopfeed.com ? (@hoopfeed) March 22, 2016
It's fun in here as @GoJacksWBB crowd and @StanfordWBB fans engage in a good-natured war of cheers, great atmosphere! #ncaaw

— Hoopfeed.com ? (@hoopfeed) March 22, 2016
Karlie Samuelson nails a trey as 3Q winds down to get Stanford back within 2, 48-46 SDSU. #ncaaw

— Hoopfeed.com ? (@hoopfeed) March 22, 2016
OMG, @GoJacksWBB's Ellie Thompson with a beautiful reverse layup at the buzzer! 50-46 SDSU over Stanford at end of 3Q. #ncaaw

— Hoopfeed.com ? (@hoopfeed) March 22, 2016
The Jackrabbits aren't playing for a miracle upset–they are playing like a conference champion who expects to win.

— Shannon (@SGC72) March 22, 2016
Stanford in trouble, SDSU forward Ellie Thompson nails a 3, her team leads 62-54 with 4:35 left in the game #ncaaw

— Hoopfeed.com ? (@hoopfeed) March 22, 2016
Stanford fans on their feet trying to rally their troops in last 4 minutes. #ncaaw

— Hoopfeed.com ? (@hoopfeed) March 22, 2016
Stanford bench at last timeout, Cardinal came back in game with fire in their eyes, Erica McCall at the line. #ncaaw pic.twitter.com/GOCkFG9PrZ

— Hoopfeed.com ? (@hoopfeed) March 22, 2016
McCall putting the team on her back, 3pt game! 2:26 to go!

— Hoopfeed.com ? (@hoopfeed) March 22, 2016
1:47 Q4 | @Lili_Thompson goes down hard on a drive to the hoop. Splits FTs. SDSU 62 – Stanford 60. #GoStanford

— Stanford Women's Basketball (@StanfordWBB) March 22, 2016
Bri Roberson for THREEEEE! 1pt. game, 1 minute to go, 64-63 SDSU.

— Hoopfeed.com ? (@hoopfeed) March 22, 2016
Somebody pass the blood pressure pills! Erica McCall's dad out of his seat and on the steps next to his chair cheering, LOL! He is fired up!

— Hoopfeed.com ? (@hoopfeed) March 22, 2016
Macy Miller at the line shooting 2 for SDSU, she misses 1, 65-63, timeout Stanford 17.6 secs left #ncaaw

— Hoopfeed.com ? (@hoopfeed) March 22, 2016
Lili Thompson ties it up, and 1! pic.twitter.com/dvlehuA9Nq

— NCAA Women's Basketball (@ncaawbb) March 22, 2016
Erica McCall went berserk after she blocked that last shot from SDSU! LOL! All the frenzied movements.

— Hoopfeed.com ? (@hoopfeed) March 22, 2016
Final: #4 Stanford 66, #12 South Dakota St. 65 #ncaaw All respect to SDSU, what a well-run program w/amazing fans pic.twitter.com/AsjCd27wUg

— Hoopfeed.com ? (@hoopfeed) March 22, 2016
Phew. Stanford 66 – South Dakota State 65. #GoStanford pic.twitter.com/SuZXDg35g2

— Stanford Women's Basketball (@StanfordWBB) March 22, 2016
Wow! @StanfordWBB squeaked that one out. Congrats!

— Kate Starbird (@katestarbird) March 22, 2016
Hello @pac12 #Pac12WBB history, as conference sends a record 4 teams to #Sweet16! @OregonStateWBB @UCLAWBB @UW_WBB @StanfordWBB #BackThePac

— Cindy Brunson (@CindyBrunsonAZ) March 22, 2016
South Dakota St.'s @GoJacksWBB Macy Miller: "We've got to keep our heads held high because of what we've accomplished." #ncaaw

— Hoopfeed.com ? (@hoopfeed) March 22, 2016
South Dakota State's @GoJacksWBB Kerri Young on the future: "We're gonna have our standards higher than we did this year." #ncaaw ? ?

— Hoopfeed.com ? (@hoopfeed) March 22, 2016
All the likes. @_mediumE ?? #GoStanford #ncaaW #Sweet16 #MarchMadness pic.twitter.com/zVnmhLe3vK

— Stanford Women's Basketball (@StanfordWBB) March 22, 2016
.@GoJacksWBB coach Aaron Johnston on the large group of traveling fans: "We're so spoiled…we're lucky to have a wonderful group behind us"

— Hoopfeed.com ? (@hoopfeed) March 22, 2016
.@StanfordWBB Tara VanDerveer: "They gave us everything, I don't think you could ask for a better or harder fought game by both teams."

— Hoopfeed.com ? (@hoopfeed) March 22, 2016
.@StanfordWBB's Erica McCall: "We did not want this to be our last game." Bird had 20pts/12rebs & 1 block that was everything. #ncaaw

— Hoopfeed.com ? (@hoopfeed) March 22, 2016
Tara VanDerveer on why 3pt maven Madison Guebert didn't make/attempt any treys: "I thought Lili [Thompson] did a good job on her." #ncaaw

— Hoopfeed.com ? (@hoopfeed) March 22, 2016
Man thank God that's finished, cause now it's back to business.

— Bird (@EricaMcCall24) March 22, 2016