Texas looks to derail UConn push towards history in Bridgeport Regional Final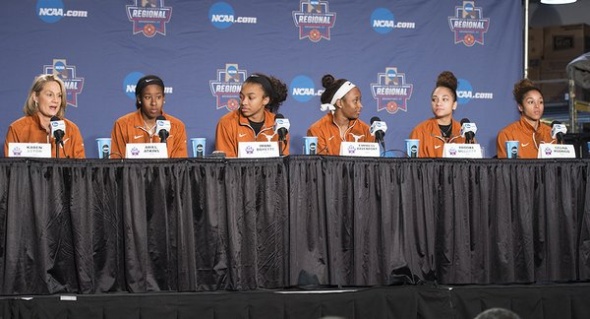 #2 Texas vs. #1 UConn, 7 p.m. EDT
Division I Women's Basketball Bridgeport Regional Final
TV: ESPN/WatchESPN, Dave O'Brien, Doris Burke, Holly Rowe
Audio
BRIDGEPORT, Conn. – "I really am looking forward to tomorrow," Texas Coach Karen Aston said to begin yesterday's press conference on the off day of the Bridgeport regional of the NCAA tournament.
Last year her team made it to the Sweet 16, falling to Connecticut 105-54 as a No. 5 seed. They meet the Huskies again tonight, as a No. 2 seed in the Elite Eight.
"I think it was a big step for us to get to the Sweet 16 last year, but our team fell short," Aston continued, "and it was something that we repeatedly talked about."
When asked about that game, Texas star center Imani Boyette succinctly said, "I remember losing. That's pretty much it."
To rewrite history and eliminate UConn, the Longhorns have to start by not respecting the name on the front of the jersey. The only teams to play UConn tough this year felt they could play with them, and did, from the start; Maryland, South Florida, and Notre Dame.
Boyette, today named an Honorable Mention AP All-American says that last year's blow out was "because we gave up. We gave in when we kind of hit resistance."
Can Texas overcome last year's fifty point loss to get that mental edge they need?
The Longhorns need to play big; as in 6-7 Boyette big and 6-5 Kelsey Lang big. They need to stay out of foul trouble and rebound, rebound, and rebound some more. If UConn beats them on the boards, that's when the Huskies run and that's when they are virtually unstoppable.
The other part of stopping UConn from running involves protecting the ball. Against Mississippi State in the third round, UConn forced 18 turnovers resulting in 24 points off of turnovers. Texas turned the ball over 17 times against UCLA, giving up 18 points off turnovers. That cannot happen against UConn, or Moriah Jefferson and company will run you out of the game.
Other than that, Texas simply has to outscore a team averaging just under 100 points per game in the tournament thus far. Texas has averaged 77 points per game in the tournament.
Is it possible? Did Notre Dame get upset? South Carolina? Of course it can happen, but it will not be easy.