Tweets, sights and stats of South Dakota State's upset of Miami in NCAA tourney 1st round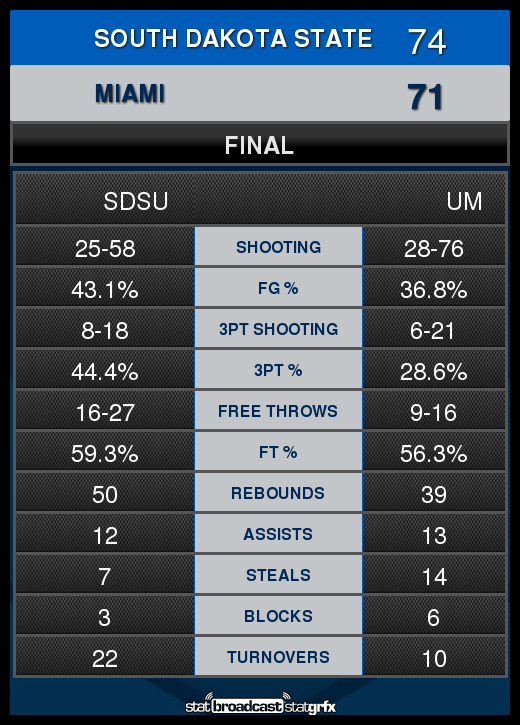 STANFORD, Calif. – Miami head coach Katie Meier knew her team was in for a tough battle in the first round of the NCAA tournament as soon as she saw the portion of the bracket in which her squad would compete. The fifth-seeded Hurricanes would face a No. 12 seed, South Dakota State in the Stanford subregional of the Lexington region.
In Meier's mind, the seedings did not accurately reflect how good the Jackrabbits from Brookings are and the overall strength of their program.
"Right when I saw the bracket, I knew that this team was better than their seed," said Meier. "And they will not be intimidated or wilt."
Miami led 22-18 after the first quarter but the second was a back-and-forth contest with SDSU outscoring the Hurricanes 19-17. However, the Hurricanes still led at halftime, 39-37.
The first four minutes of the third quarter was a turning point in the game as the Jackrabbits pounced and went on a 7-0 run giving them a five-point lead, 44-39.
"The start of that second half was just a real flat performance for us," said Meier.
SDSU outscored their opponent 18-9 in the third quarter and did not trail after taking that momentum-changing run.
Freshman guard Madison Guebert led SDSU with 19 points. Sophomore guard Macy Miller (Mitchell) added 18 points and sophomore forward Ellie Thompson scored 14 points.
Junior Adrienne Motley paced Miami with 19 points, five rebounds and four assists while freshman Laura Cornelius added 18.
It is the second time in SDSU program history that the Jackrabbits have advanced to the second round of the NCAA Tournament. The team, which is in its seventh NCAA tournament in eight seasons, won its first opening-round game in 2009.
SDSU will face No. 4 seed Stanford on Monday at 6 p.m. PT. The game will be televised on ESPN 2.
#5 seed Miami vs. #12 seed South Dakota State tips off in Maples at Stanford, Jackrabbits travel well! #ncaaw pic.twitter.com/SYMncmXoMQ

— Hoopfeed.com ? (@hoopfeed) March 19, 2016
Look who came out to support @CanesWBB… @CanesFootball alum AJ Highsmith!!! #UFamily #RaiseIt pic.twitter.com/HqrjRQqa4z

— Jenn Strawley (@JennStraws) March 19, 2016
Some solid back and forth action here in Palo Alto as both squads are shooting above 40% #RaiseIt pic.twitter.com/OozWqBoDZP

— Canes Women's BBall (@CanesWBB) March 19, 2016
Canes have made four of their last five shots, Jackrabbits have made one of their last nine.

— Canes Women's BBall (@CanesWBB) March 19, 2016
1/2 of Miami's Dutch duo, freshman center Emesa Hof puts the Canes in the lead for the 1st time, 14-12 vs. S. Dakota St., 2:17 in 1Q #ncaaw

— Hoopfeed.com ? (@hoopfeed) March 19, 2016
Make it five of the last six! And one! Hof with the hoop and the harm. Miami 16, SDSU 12…7-0 run.

— Canes Women's BBall (@CanesWBB) March 19, 2016
End of 1Q: Miami 22, South Dakota State 18. Miami's other Dutch weapon, Laura Cornelius, beat the buzzer w/a jumper pic.twitter.com/IsDh0zVbRr

— Hoopfeed.com ? (@hoopfeed) March 19, 2016
Motley to Hof, who lays it in. Tied up at 24.

— Canes Women's BBall (@CanesWBB) March 19, 2016
Miami @CanesWBB freshman center Emese Hof = the real deal. 6pts so far, Tie game, 24 all, 6:29 2Q #UtrechtBuckets #ncaaw

— Hoopfeed.com ? (@hoopfeed) March 19, 2016
Love this sign from @GoJacksWBB fans at Maples! #ncaaw #priceless pic.twitter.com/1NvPqME7ro

— Hoopfeed.com ? (@hoopfeed) March 19, 2016
Halftime: Miami 39, South Dakota St. 37. SDSU was down by 5, freshman Madison Guebert nailed a trey at the buzzer pic.twitter.com/Rsy19qifN7

— Hoopfeed.com ? (@hoopfeed) March 19, 2016
This South Dakota State vs. Miami game is a high-quality matchup. Stellar play by both teams but SDSU with the edge now, 46-40, 5:17 in 3Q

— Hoopfeed.com ? (@hoopfeed) March 19, 2016
Guebert has tied Jill Young's SDSU NCAA record for 3's with 5 treys. #theSTATEway

— Jackrabbit WBB (@GoJacksWBB) March 19, 2016
These guys drove to men's game in Spokane, after SDSU MBB played, continued trip to Stanford to watch the women. pic.twitter.com/wfmwWyHLcV

— Hoopfeed.com ? (@hoopfeed) March 20, 2016
Miami gonna have to figure something out for 4Q, SDSU ain't playing! End of 3Q: South Dakota St. 55, Miami 48 pic.twitter.com/td4F395IXv

— Hoopfeed.com ? (@hoopfeed) March 20, 2016
Miami bench not looking to happy near end of 3Q, trail SDSU by 7pts heading into 4Q. #ncaaw pic.twitter.com/YPaV1i8qHq

— Hoopfeed.com ? (@hoopfeed) March 20, 2016
It's coming down to the wire in Palo Alto.

Let's go Canes! pic.twitter.com/EWdkI5691r

— Canes Women's BBall (@CanesWBB) March 20, 2016
SDSU freshman Madison Guebert gives the Jackrabbits a double-digit lead, makes both her FTs, South Dakota St. 59, Miami 48, 8:00 in 4Q

— Hoopfeed.com ? (@hoopfeed) March 20, 2016
SDSU freshman starter Madison Guebert is her team's leading three-pt. shooter, has 19 pts (includes 5-of-7 treys) so far. #ncaaw

— Hoopfeed.com ? (@hoopfeed) March 20, 2016
So at some point, someone, somewhere might want to get a hand up on her… https://t.co/EzYJosbx22

— CollaborativeBlogger (@NateP_DNHQ) March 20, 2016
Miami fans subdued behind the Canes bench, Jackrabbits fans have been lit and loud since 30 minutes before tipoff ? ? ? #ncaaw

— Hoopfeed.com ? (@hoopfeed) March 20, 2016
Tech foul on Miami's Laura Cornelius (a bit too verbal) seems to have put some life into Canes fans, standing now, not agreeing with call.

— Hoopfeed.com ? (@hoopfeed) March 20, 2016
BANG! Miami with a steal and then Laura drills a pull-up 3-pointer to pull the Canes within five.

— Canes Women's BBall (@CanesWBB) March 20, 2016
Miami coming back to life, a trey from Laura Cornelius puts them within 3, but them Jackrabbits hop back with a trey of their own. #ncaaw

— Hoopfeed.com ? (@hoopfeed) March 20, 2016
The Canes leading scorer Cornelius has 4 fouls. That could play a huge factor. 70-66 Jacks with 1:40 left. #KSFYSports

— Reece Van Haaften (@Reece_VH) March 20, 2016
It ain't ovah 'til it's ovah. South Dakota St. 70, Miami 66, 1:40 to go in 4Q. Plenty of time. #ncaaw

— Hoopfeed.com ? (@hoopfeed) March 20, 2016
The Jackrabbits earn their second #ncaaW tournament win in their 7th appearance! pic.twitter.com/l1DdlXjzak

— NCAA Women's Basketball (@ncaawbb) March 20, 2016
NCAA 1st round: #12 seed South Dakota State upsets #5 Miami 74-71. pic.twitter.com/F5VaCUIY3e

— Hoopfeed.com ? (@hoopfeed) March 20, 2016
Miami guard Adrienne Motley on 4th quarter comeback attempt vs. South Dakota St.: "We had a lot of momentum but time wasn't on our side."

— Hoopfeed.com ? (@hoopfeed) March 20, 2016
Miami coach Katie Meier says you can talk about SDSU's 3pt. prowess all day but in addition to that Jackrabbits "were stronger at the rim."

— Hoopfeed.com ? (@hoopfeed) March 20, 2016
Miami coach Katie Meier on @GoJacksWBB : "Right when I saw the bracket, I knew that this team was better than their seed." #ncaaw

— Hoopfeed.com ? (@hoopfeed) March 20, 2016
Graphics from SDSU's win over The U. Read @MickGarry's story and watch the pressers here: https://t.co/qmoaG8EVLO pic.twitter.com/d9KP6vdmz2

— hank ?? (@Brian_Haenchen) March 20, 2016
Departing senior Michelle Woods became 1st player in program history to play in Big Dance 4x. Special person/teammate. Thank you, Chelle!

— Canes Women's BBall (@CanesWBB) March 20, 2016