UConn begins NCAA tournament in style, defeats Robert Morris 101-49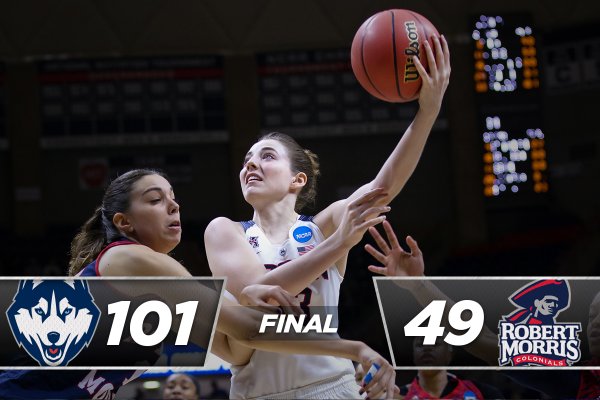 STORRS, Conn.—Few if any expected Robert Morris, the winners of the Northeast Conference tournament championship, to defeat Connecticut, the American Athletic Conference champion and number one seed in the tournament, in the first round of the NCAAs.
But just as few expected the Huskies to race to a 41-4 lead at the end of the first quarter. The final score: 101-49.
Sophomore Kia Nurse opened the game with a three-pointer for UConn. RMU sophomore Megan Smith came right back with a layup to pull the Colonials within one. Then came 22 Husky points before RMU could score again, and another 21 after that as UConn opened up a lead as large as 46-4 in the second quarter.
By halftime, behind 17 points from freshman Katie Lou Samuelson and 15 from senior Brenna Stewart, UConn led 64-15. Stewart had six first half steals, as UConn forced 20 turnovers, leading to 35 points off turnovers. In addition, UConn had 26 points in the paint to shoot 57 percent from the floor, while holding RMU to two points in the paint and 24 percent shooting.
Despite tipping off at the early hour off 11 a.m. EDT, Geno Auriemma's Huskies were ready to spring on their opponent.
"We practice at 11 a.m. every day that we're not in school. So 11 o'clock is a really good time for us."
Junior guard Anna Nikki Stamolamprou led Robert Morris with 11 points. Senior guard Ashley Ravelli contributed 8. After the game, RMU head coach Sal Buscaglia, who is retiring now that the season is over, tearfully thanked his team and his players for years of enjoyment, even kidding "I wish they weren't such damn good kids, they make it hard to leave."
Ravelli said that no matter how much they tried to simulate UConn in practice, the real Huskies were even faster than they expected, denying passing lanes and attacking the basket.
Robert Morris finished the season 20-13. UConn is 33-0 and will play either 8th-seeded Seton Hall or 9th-seeded Duquesne on Monday night.