UConn recruit Crystal Dangerfield named Morgan Wootten Player Of The Year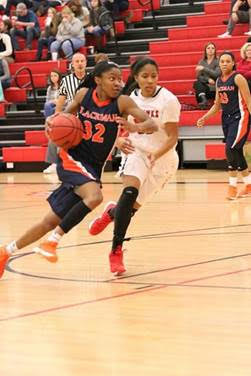 Crystal Dangerfield of Blackman High School in Murfreesboro, Tennessee is the winner of the girl's 2016 Morgan Wootten Players of the Year. The honor is given to those that display "outstanding character, showing leadership and embodying the values of a student-athlete." The award pays tribute to Wootten's teaching and coaching Hall of Fame career.
From the award committee:
At 5 feet 6 inches tall, Dangerfield was named Tennessee's Miss Basketball 2015 and was recognized as a Miss Basketball finalist in 2014. She is the 15th female winner of the Morgan Wootten award, joining previous winners that include Katie Lou Samuelson (2015), Breanna Stewart (2012), Elena Delle Donne (2008), Maya Moore (2007) and Candace Parker (2004). Dangerfield competed against four other finalists and fellow McDonald's All Americans:

Natalie Chou, Plano West High School in Plano, Texas
Lauren Cox, Flower Mound High School in Flower Mound, Texas
Joyner Holmes, Cedar Hill High School in Cedar Hills, Texas
Jackie Young, Princeton High School in Princeton, Indiana

Dangerfield's accomplishments include being named Tennessee Player of the Year in 2015 and 2014. She also gained international experience as a key member on the 2013 U16 Gold Medal USA National Team and 2015 U17 Gold Medal USA National Team. Dangerfield signed a letter of intent to play basketball at the University of Connecticut.

Dangerfield works just as hard in the classroom as she does on the court, earning a 3.8 GPA with a course load of advanced honors and dual enrollment classes to earn college credit. She is currently on track to graduate from Blackman High School with Honors and Distinction.

During her down time, Dangerfield gives back to the community through charitable programs like Read Across America, Coaches vs. Cancer and Hoops for Heart. She also serves in a leadership role for the Fellowship of Christian Athletes.

Strong character and a positive mindset set Dangerfield apart, her principal at Blackman High School said.

"Crystal has a can-do attitude in everything she does," said principal Leisa Justus in a nomination letter. "She complements those around her. She encourages, she coaches, she sets high expectations – in everything she does."

Dangerfield describes earning the Morgan Wootten Player of the Year award as a prestigious honor.

"I'm glad to be a part of the McDonald's All American Games and to be associated with previous Player of the Year winners like Maya Moore and Ivory Latta who came before me," Dangerfield said.
Dangerfield will be honored at a ceremony on March 29 in Chicago. She will join other high school standouts in the McDonald's All American Games on Wednesday, March 30, at the United Center in Chicago. The Girls Game tips off at 5:30 p.m. CT.