2016 WBCA Division I Coaches All-America Team announced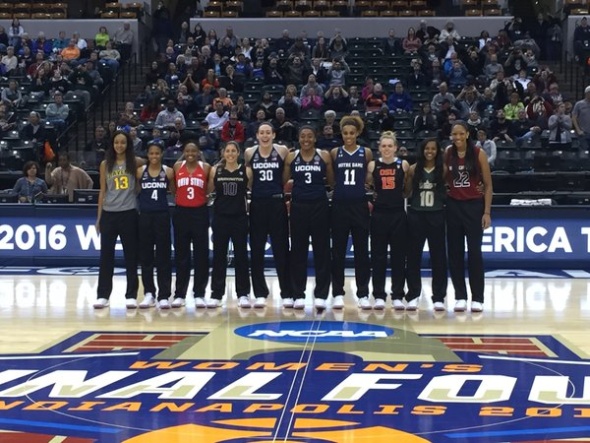 The WBCA announced its 2016 Division I Coaches All-America Team at the site of the Final Four on Saturday in Indianapolis. Five members of the team are competing in the Final Four including:
Kelsey Plum (Washington)
Jamie Weisner (Oregon State)
Moriah Jefferson (Connecticut)
Breanna Stewart (Connecticut)
Morgan Tuck (Connecticut)
The rest of the team:
Nina Davis (Baylor)
Kelsey Mitchell (Ohio State)
Brianna Turner (Notre Dame)
A'ja Wilson (South Carolina)
Courtney Williams (South Florida)
The 10-member team was decided from a group of 52 finalists by a selection committee at an in-person meeting held during the 2016 WBCA National Convention.
"The 10 members of the 2016 WBCA NCAA Division I Coaches' All-America Team are well deserving of this recognition, and the WBCA congratulates them for their accomplishments this season," said WBCA Executive Director Danielle Donehew. "These young women have worked to elevate themselves and their teams to an elite level and through their exceptional talents on the basketball court, they have lifted the women's game."
This is the 42nd year of the WBCA Coaches' All-America program, which began in 1975. Once again all 10 members of the team were present to be honored in person during the ceremony. Remarkably, in the 42-year history of the program, none of the 420 Coaches' All-Americans thus far honored have failed to appear for the announcement.
2016 WBCA Division I Coaches' All-America Team Honorable Mentions
| | |
| --- | --- |
| Name | Institution |
| Lindsay Allen | Notre Dame |
| Jillian Alleyne | Oregon |
| Ameryst Alston | Ohio State |
| Kristine Anigwe | California |
| Rachel Banham | Minnesota |
| Imani Boyette | Texas |
| Sophie Brunner | Arizona State |
| Adut Bulgak | Florida State |
| Madison Cable | Notre Dame |
| Alaina Coates | South Carolina |
| Nia Coffey | Northwestern |
| Brittany Crain | UC Riverside |
| Kim Demmings | Wright State |
| Makayla Epps | Kentucky |
| Temi Fagbenle | Southern California |
| Katelynn Flaherty | Michigan |
| Nathalie Fontaine | Ball State |
| Jordan Frericks | Missouri |
| Danaejah Grant | St. John's |
| Ruth Hamblin | Oregon State |
| Myisha Hines-Allen | Louisville |
| Bria Holmes | West Virginia |
| Chanise Jenkins | DePaul |
| Niya Johnson | Baylor |
| Alexis Jones | Baylor |
| Brionna Jones | Maryland |
| Jonquel Jones | George Washington |
| Brittney Martin | Oklahoma State |
| Kelsey Minato | Army |
| Tiffany Mitchell | South Carolina |
| Mariya Moore | Louisville |
| Adrienne Motley | Miami (Fla.) |
| Aerial Powers | Michigan State |
| Shereesha Richards | Albany |
| April Robinson | Duquesne |
| Leticia Romero | Florida State |
| Azurá Stevens | Duke |
| Shakayla Thomas | Florida State |
| Victoria Vivians | Mississippi State |
| Courtney Walker | Texas A&M |
| Shatori Walker-Kimbrough | Maryland |
| Aaliyah Whiteside | Georgia Tech |