Basketball Canada's Olympics training camp includes 24 athletes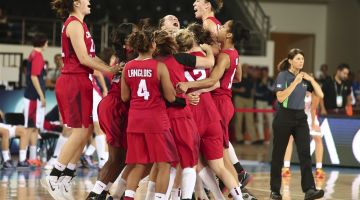 Canada basketball invited 24 athletes to participate in an Olympic training camp in late May. The Women's National Team Phase 1 camp takes place at the Saville Community Centre in Edmonton May 21 – 30.
"After a tremendous 2015, we're excited to get the 2016 senior season started as we prepare for our second-consecutive Olympic games," said Canada Basketball official Denise Dignard. "Our players have all had great seasons with their respective clubs or schools and have been looking forward to 2016."
Canada is in ninth place in the FIBA World Rankings. After the first phase of training, a squad will be nominated to travel to Spain and France for a five-game exhibition tour to compete against 2nd-ranked Australia, 3rd-ranked Spain, 4th-ranked France, 8th-ranked China and 13th-ranked Cuba.
The team will reconvene on June 28 in Edmonton for the second phase of training, where they will host China for the Edmonton Grads International Classic (EGIC) from July 9 -11 at the Saville Centre. The final phase of training will begin July 22 in Toronto. The team will then head to the U.S. for an exhibition tournament before heading to Rio de Janeiro for the Olympic Games from August 5 -22.
Invitees and coaches
| | | | | |
| --- | --- | --- | --- | --- |
| NAME | POSITION | HEIGHT | HOMETOWN | CLUB/SCHOOL |
| Natalie Achonwa | Forward | 6'3" | Guelph, ON | Indiana Fever (WNBA) |
| Miranda Ayim | Forward | 6'3" | London, ON | Basket Landes (France) |
| Adut Bulgak | Center | 6'4" | Edmonton, AB | New York Liberty (WNBA) |
| Bridget Carleton | Guard | 6'1 | Chatham, ON | Iowa State (NCAA) |
| Shay Colley | Guard | 5'7" | Brampton, ON | Pittsburgh (NCAA) |
| Laura Dally | Guard | 6'0" | Sarnia, ON | Saskatchewan (CIS) |
| Quinn Dornstauder | Center | 6'4" | Regina, SK | Arizona State (NCAA) |
| Nirra Fields | Guard | 5'6" | Montreal, QC | Phoenix Mercury (WNBA) |
| Kim Gaucher | Guard | 6'1" | Mission, BC | Mondeville (France) |
| Saicha Grant-Allen | Forward | 6'4" | Hamilton, ON | Dayton (NCAA) |
| Ruth Hamblin | Center | 6'6" | Houston, BC | Dallas Wings (WNBA) |
| Miah-Marie Langlois | Guard | 5'8" | Windsor, ON | Dynamo-Guvd Novosibirsk (Russia) |
| Lizanne Murphy | Forward | 6'1" | Beaconsfield, QC | Angers (France) |
| Kia Nurse | Guard | 6'0" | Hamilton, ON | UConn (NCAA) |
| Katherine Plouffe | Forward | 6'3" | Edmonton, AB | Nantes Reze (France) |
| Michelle Plouffe | Forward | 6'3" | Edmonton, AB | Mondeville (France) |
| Emily Potter | Center | 6'4" | Winnipeg, MB | Utah (NCAA) |
| Nayo Raincock-Ekunwe | Forward | 6'2" | Penticton, BC | Wasserburg (Germany) |
| Karly Roser | Guard | 5'10" | Hamilton, ON | Neuss (Germany) |
| Tamara Tatham | Forward | 6'1" | Brampton, ON | Townville Fire (Australia) |
| Shona Thorburn | Guard | 5'10" | Hamilton, ON | Nantes Reze (France) |
| Jamie Weisner | Guard | 5'9" | Clarkston, WA | Connecticut Sun (WNBA) |
| Korissa Williams | Guard | 5'8" | Windsor, ON | Dunkerque (France Div. 2) |
| Dakota Whyte | Guard | 5'9" | Ajax, ON | Wisconsin (NCAA) |
Coaches
| | | | |
| --- | --- | --- | --- |
| Name | Hometown | Affiliation | Role |
| Lisa Thomaidis | Dundas, ON | University of Saskatchewan | Head Coach |
| Shawnee Harle | Calgary, AB | n/a | Assistant Coach |
| Bev Smith | Eugene, OR | n/a | Assistant Coach |
| Steve Baur | Sackville, NS | Canada Basketball | Assistant Coach |