Stephanie White prepped for Vanderbilt challenge as the Fever "has her back" and Carolyn Peck her trust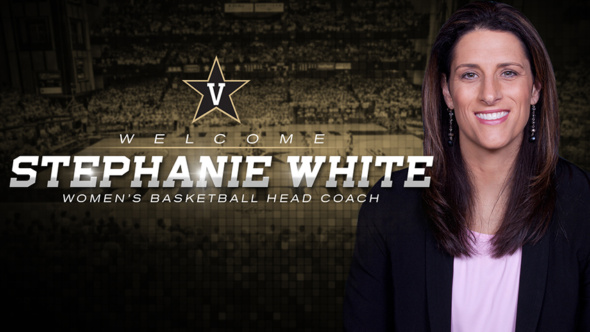 Social Media Recap of Press Conference
If anyone has the perfect track record to return to coaching in the college ranks after a spending nine years in the pros as an assistant and head coach, it is the Indiana Fever's Stephanie White. With a string of accolades that stretch back to her high school days when she was named Miss Indiana Basketball in 1995 and earned national high school player of the year honors, White begins another basketball journey as the head coach of Vanderbilt in Nashville.
She has seen success at every level of the game and takes over a young team. However, White said during a media teleconference Tuesday that "the cupboard is not bare, no doubt about it."
In addition to returning seasoned players, including five with starting experience, Vanderbilt has a six-member recruiting class that is ranked as high as No. 6 in the nation by some recruiting services.
"There are great players that are already here with this team," White said. "A terrific incoming freshman class that we get to build on and get some momentum."
The program finished 2015-16 with an 18-14 record and advanced to the quarterfinals of the SEC Tournament. Former head coach Melanie Balcomb resigned in late April after 14 seasons with the program.
White, who is just beginning the WNBA season leading the Fever in the league's 20th anniversary year, will have her hands full juggling the responsibility of two jobs. This is just her second year as a WNBA head coach.
To help with the transition to Vanderbilt, she enlisted the assistance of Commodore alumna Carolyn Peck to help the team adjust over the summer to new leadership and to assist with recruiting efforts. Since this is an Olympic year, the league will take a month-long Olympic break during the Rio Games. White will come to Nashville during that period.
White says she plans to spend the Olympic break later this summer on campus.

— Vanderbilt WBB (@VandyWBB) May 25, 2016
Tennessee native Peck, currently a women's basketball commentator for ESPN, is a former head coach herself and member of the Vanderbilt Athletics Hall of Fame. She had the unique experience of being White's coach when Purdue won the national championship in 1999 before heading the now-defunct WNBA Orlando Miracle and then coaching at another SEC school, Florida.
"She is someone that has ties to the community," White said about Peck. "She's somebody that has the opportunity to hit the ground running and she's somebody that I know and have a comfort zone with."
White and Peck have stayed close friends over the years and have a great rapport and the younger coach has a great deal of trust in her former college coach.
"I needed to have somebody in there that I really knew that I could have frank honest communication with that would be able to carry out the vision of the things that I would want to accomplish leading up into the season both on the court, off the court and in the classroom as well as recruiting," White said. "Carolyn knows me, she knows my expectation level and she knows how I operate, so it seemed like a natural fit."
The chance to coach at Vanderbilt, while it cropped up at the beginning of the Fever's season, was not one White wanted to pass up.
"It's an opportunity that came to me," she said. "I got a call to see if I had some interest. I let the person that called know that I was committed to the Fever through the season and that I have a contract. Then I had an inquiry if I'd be interested in coming after the season if it worked out that way. At that time, I went that to [Fever President and COO] Kelly Krauskopf and asked her permission to at least explore the opportunity."
When word got out that White was a finalist for the job, she issued a statement explaining her interest.
"It has always been a goal of mine to get back into college coaching at some point in my career, but it had to be the perfect opportunity in order for me to consider leaving this job."
After getting hired she explained why Vanderbilt was the right fit.
"The combination of Vanderbilt's culture, where achievement – both on and off the court — is so highly valued, together with the institution's fan support, and a legacy of winning basketball to build upon, is incredibly exciting to me."
However, leaving the Fever will be bittersweet for White given the bonds she developed over the years with Indiana's players and fans.
"I think one of the things that I'll really miss is, more so than anything, the relationships that I've made here. We have an amazing group of women on our team. Certainly I'll miss coaching with and against, strategizing with and against the best athletes and coaches in the world, no question. But at the same time, I'll really miss the group that we have. We have a special chemistry. We have an amazing culture here at the Indiana Fever. It's just a terrific group of young women so I'm really going to miss all of them."
With the Fever, White has had the opportunity as an assistant, associate and head coach to work with several Olympians and legends of the game such as Tamika Catchings and coach under Women's Basketball Hall of Famer Lin Dunn.
She has a tall task in helping to inspire Vanderbilt players to perform at a high level on a consistent basis in their aspirations to earn some of the accolades that White and her Fever players garnered as college student-athletes.
"The players are going to live up to the bar that you set for them," White said about coaching on the college level versus the WNBA. "If you set a low bar, that's where they are going to go. If you set a high bar, that's where they are going to go."
She says she primarily implores her players to do a couple of things.
"I ask you to do two things: to play as hard as you can play when you're on the floor, give me everything that you have. And two, be a good teammate. And it's our job as coaches to do the other things to put people in positions to be successful."
She feels it is important to give players a level of freedom on the court.
"I don't want to harness players and take away a player's natural instincts. I want them to use the gifts that they've been blessed with and I want to put them in positions to utilize those gifts and not second guess everything that they're doing on the floor. Certainly we'll have a system. Certainly we'll have an expectation level of excellence in our work ethic. And an expectation of excellence in holding ourselves to a high standard."
The Southeastern Conference is among the most competitive leagues in women's college basketball with South Carolina leading the pack in the past few years, excelling in attendance, postseason performance and recruiting. Furthermore, Dunn is now on the staff of Kentucky as an assistant coach as that program begins to rebuild after a period of attrition with multiple players transferring.
With Peck as her associate coach, her family in tow and the good wishes of the Indiana Fever who she says "always has her back," White can start off optimistically when she arrives in Nashville full-time in the fall.
Vanderbilt welcomed her with open arms on Wednesday during an introductory press conference with remarks from the university's chancellor welcoming her wife and three sons.
"How pleased we are that you are a part of our beautiful community," Chancellor Nichola Zeppos said in his expansive and jovial greetings to White's family.
He praised her for not just being an outstanding former athlete and inspiring coach, but for also performing well in the classroom. White was a member of Phi Beta Kappa at Purdue and represents "a combination of athletic and academic excellence."
However, her first order of business will be setting the tone for Vanderbilt women's basketball in order to "lay the groundwork for our core values right away."
"We're going to be a tough-nosed team. We are going to work incredibly hard…be a team that values each other."
Education: B.A. in communications, Purdue, 1999
High School: Seeger Memorial High School (West Lebanon, Ind.)
Hometown: West Lebanon, Ind.
Born: 1977 in Danville, Ill.
Social Media
Stephanie White has arrived in Nashville! pic.twitter.com/VIEyiEdtau

— Vanderbilt WBB (@VandyWBB) May 25, 2016
Welcome to Nashville, Coach White! https://t.co/3uYoQrC2gt pic.twitter.com/lUhdEJyHWl

— Vanderbilt WBB (@VandyWBB) May 25, 2016
.@CAROLYNPECK is also in Memorial Gym today. pic.twitter.com/kf6uZtnnl8

— Vanderbilt WBB (@VandyWBB) May 25, 2016
.@StephanieWhite with son Landon, partner Michelle and deputy AD @CandiceLee78 pic.twitter.com/wJhzxTn27K

— Vanderbilt WBB (@VandyWBB) May 25, 2016
Selfie for the family while Coach White has her first Vanderbilt photo shoot. pic.twitter.com/hI5Sgqh9Xx

— Vanderbilt WBB (@VandyWBB) May 25, 2016
Throwing up the 'VU' sign pic.twitter.com/4CxZt3U4xy

— Vanderbilt WBB (@VandyWBB) May 25, 2016
Throwing up the 'VU' sign pic.twitter.com/4CxZt3U4xy

— Vanderbilt WBB (@VandyWBB) May 25, 2016
Chancellor Zeppos – "I could not be more excited about Stephanie White."

— Vanderbilt WBB (@VandyWBB) May 25, 2016
Zeppos praises White's resume, saying it represented a "combination of athletic and academic excellence."

— Vanderbilt WBB (@VandyWBB) May 25, 2016
Zeppos on White: "Her values, her principles, her commitment and her own life work" is a perfect fit for this university.

— Vanderbilt WBB (@VandyWBB) May 25, 2016
Coach White: "I almost came to Vanderbilt. It came down to Purdue and Vanderbilt. I am excited to be standing here today. I am so blessed."

— Vanderbilt WBB (@VandyWBB) May 25, 2016
White thanks AD Williams and Assoc. AD Candace Lee in "making my dreams come true."

— Vanderbilt WBB (@VandyWBB) May 25, 2016
White: "Vanderbilt is the perfect fit. It attracts high achievers… and has unparalleled academic integrity."

— Vanderbilt WBB (@VandyWBB) May 25, 2016
White on plans for up-tempo squad: "We are going to have to learn how to play fast, yet still play together."

— Vanderbilt WBB (@VandyWBB) May 25, 2016
White on coaching entire WNBA season. "The relationship between Carolyn and I is important. We'll communicate on a daily basis."

— Vanderbilt WBB (@VandyWBB) May 25, 2016
White on the Vanderbilt fan base: "They will be a part of our program. I want them to be part of our family."

— Vanderbilt WBB (@VandyWBB) May 25, 2016
Stephanie White holding court at the press conference. pic.twitter.com/jdQgQzXg1Q

— Vanderbilt WBB (@VandyWBB) May 25, 2016
https://twitter.com/VandyWBB/status/735579175457853441
.@stephaniewhite with Chancellor Zeppos pic.twitter.com/HpwAfHvZrk

— Vanderbilt WBB (@VandyWBB) May 25, 2016
.@stephaniewhite with Chancellor Zeppos pic.twitter.com/HpwAfHvZrk

— Vanderbilt WBB (@VandyWBB) May 25, 2016