#ThePostUp Podcast 5/9/16: Jennifer Rizzotti on her new head coaching challenge, USA Basketball and the WNBA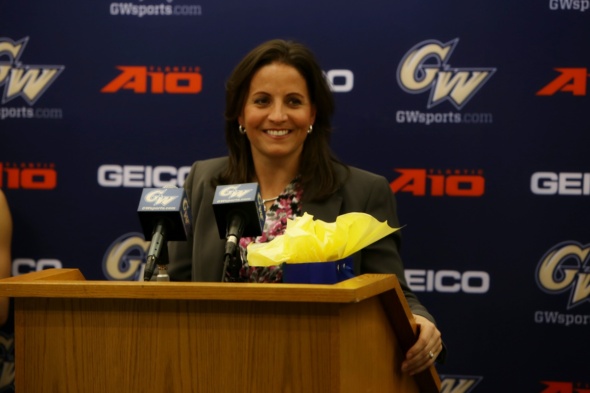 [display_podcast]
Click here to subscribe to the podcast with your feed reader or podcast app. Also available on iTunes and Google Play Music.
After 17 years at the helm of Hartford, Jennifer Rizzotti left New England to accept the challenge as the head coach of Atlantic 10 Conference powerhouse George Washington, a program that has seen numerous successes in recent years.
Rizzotti became a head coach at the age of 25 and helped Hartford reach several milestones. She was a finalist for the Kay Yow National Coach of the Year award in 2009-10 after leading Hartford to a school-record 20-game winning streak, a perfect 16-0 record in conference play and the program's first-ever national ranking.
She also served as head coach of 2010 FIBA Americas U18 gold medal team as well as the 2011 U19 World Champions. In addition, she is a part of the USA Basketball Women's National Team's staff in preparation for the 2016 Olympic Games in Rio de Janeiro.
As a college player, Rizzotti helped lead Connecticut to its first national championship in 1995 with an undefeated 35-0 record. Her pro career included three seasons in the ABL and five seasons in the WNBA including stints with the Houston Comets and Cleveland Rockers.
On the podcast she discusses:
Finding the right work-life balance as a head coach with young children
Challenging herself professionally
Being able to witness Connecticut win an 11th national title along with her teammates from the 1995 championship team
Her pride in seeing former teammate, Tufts head coach Carla Berube, coach in the DIII championship
Her expectations in her new job at George Washington and the program's recent successes
The challenges of recruiting in the Washington, D.C. area
How her experience as a successful coach of USA Basketball teams has helped her collegiate career
The increase in parity in women's basketball and recent newcomers to the Final Four
Her thoughts on the history and future of the WNBA as a former player in the league
The advantage of being in the same town as the Washington Mystics for her players and as a coach
Enjoy!