WNBA Top 20@20 unveiled, the best players in league history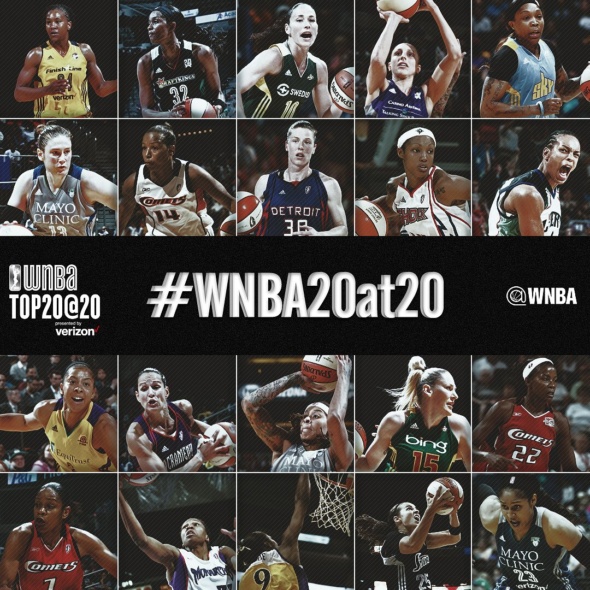 In celebration of the WNBA's historic 20th season, the league unveiled the 20 greatest and most influential players in its history on Tuesday. The announcement was today to honor the date of the league's inaugural regular-season game played on June 21, 1997 when the New York Liberty defeated the Los Angeles Sparks, 67-57, at the Great Western Forum in Inglewood, Ca.
"The 20 women honored today are an extraordinarily accomplished group both on and off the basketball court," said WNBA President Lisa Borders. "On the court, they represent the absolute best in women's professional basketball and are in so many ways larger than life.  Off the court, they represent their teams, hometowns and communities in which they live and work with the utmost professionalism.  And most importantly, they represent the hopes and dreams of generations of young girls all over the world – the future of the WNBA."
The WNBA Top 20 includes nine current players: Seimone Augustus, Sue Bird, Swin Cash, Tamika Catchings, Maya Moore, Candace Parker, Cappie Pondexter, Diana Taurasi and Lindsay Whalen.  Eleven former players are also among the honorees: Cynthia Cooper, Yolanda Griffith, Becky Hammon, Lauren Jackson, Lisa Leslie, Deanna Nolan, Ticha Penicheiro, Katie Smith, Sheryl Swoopes, Tina Thompson and Teresa Weatherspoon.
"Dominant.  Exciting.  Game-changers.  That's what comes to mind with these 20 incredibly talented, skilled and entertaining players," said Renee Brown, the WNBA's Chief of Basketball Operations and Player Relations, who has been an executive with the WNBA since its formation in 1996.  "There are scorers, playmakers, ball-handlers, rebounders, defensive stoppers, leaders and players who have brought out the best in their teammates.  There are players who built the league, players who elevated the game to new heights and players who will carry the torch and inspire the next generation of superstars.  Of the more than 850 players who have taken the court during our 20 seasons, I can't think of 20 women who better represent where the league has come from and where it is headed."
The 60 nominees for the top 20 list were selected based on factors like on-court performance and ability, leadership and sportsmanship, as well as contributions to team success.  In addition, all players must have been a member of a WNBA team for two seasons and met three of the following seven criteria: the winner of a major individual award; a selection to either the All-WNBA First Team or All-WNBA Second Team; a selection to either the WNBA All-Defensive First Team or WNBA All-Defensive Second Team; a selection to the WNBA All-Star Game; a member of a WNBA Championship team;  a current ranking among the top 30 career leaders in at least one major statistical category; and a selection to either the WNBA's All-Decade Team (voted on in 2006) or the WNBA's Top 15 Players (voted on in 2011).
| | |
| --- | --- |
| Player | WNBA Teams |
| Seimone Augustus | Minnesota Lynx (2006-Current) |
| Sue Bird | Seattle Storm (2002-Current) |
| Swin Cash | Detroit Shock (2002-07), Seattle Storm (2008-11), Chicago Sky (2012-13), Atlanta Dream (2014), New York Liberty (2014-Current) |
| Tamika Catchings | Indiana Fever (2002-Current) |
| Cynthia Cooper-Dyke* | Houston Comets (1997-2000, 2003) |
| Yolanda Griffith* | Sacramento Monarchs (1999-2007), Seattle Storm (2008), Indiana Fever (2009) |
| Becky Hammon* | New York Liberty (1999-2006), San Antonio Stars (2007-2014) |
| Lauren Jackson* | Seattle Storm (2001-12) |
| Lisa Leslie* | Los Angeles Sparks (1997-2006, 2008-09) |
| Maya Moore | Minnesota Lynx (2011-Current) |
| Deanna Nolan* | Detroit Shock (2001-09) |
| Candace Parker | Los Angeles Sparks (2008-Current) |
| Ticha Penicheiro* | Sacramento Monarchs (1998-2009), Los Angeles Sparks (2010-11), Chicago Sky (2012) |
| Cappie Pondexter | Phoenix Mercury (2006-09), New York Liberty (2010-14), Chicago Sky (2015-Current) |
| Katie Smith* | Minnesota Lynx (1999-2005), Detroit Shock (2005-2009), Washington Mystics (2010), Seattle Storm (2011-12), New York Liberty (2013) |
| Sheryl Swoopes* | Houston Comets (1997-2000, 2002-2007), Seattle Storm (2008), Tulsa Shock (2011) |
| Diana Taurasi | Phoenix Mercury (2004-2014, Current) |
| Tina Thompson* | Houston Comets (1997-2008), Los Angeles Sparks (2009-11), Seattle Storm (2012-13) |
| Teresa Weatherspoon* | New York Liberty (1997-2003), Los Angeles Sparks (2004) |
| Lindsay Whalen | Connecticut Sun (2004-09), Minnesota Lynx (2010-Current) |
*Former WNBA players
Quotes from Players
"To be included among the top 20 players in this league's history is a huge honor,' said Bird, a nine-time WNBA All-Star selection and two-time WNBA champion. "Watching the level of competition rise over the years has been incredible and I am excited to see where the league goes in the next 20."
"I grew up watching the WNBA, and to be in a class of athletes of the caliber that this league has produced over the past 20 years is a huge honor," added 2014 WNBA MVP and 2013 Finals MVP Maya Moore. "It's definitely a dream come true. I feel so blessed to have had the opportunity to compete at the highest levels and develop my talent to the point that I was even in consideration for this honor."
"It's such a joy to be honored by the WNBA in this way," said Cooper-Dyke, the University of Southern California women's coach.  "It means so much to be able to celebrate the 20th year of the WNBA alongside such outstanding women, and I'm really pleased to see the league going strong.  I'm proud to be a product of the WNBA, and I'm so gratified to know I made an impact on this game that we love so much.  Thank you for this great honor, and fight on!"
Seventeen have played on a WNBA championship team (four each for Cooper-Dyke, Swoopes and Thompson with Houston in 1997-2000; three each for Augustus, Moore and Whalen with Minnesota in 2011, 2013 and 2015; three for Cash with Detroit in 2003 and 2006 and Seattle in 2010; three for Nolan with Detroit in 2003, 2006 and 2008; three for Taurasi with Phoenix in 2007, 2009 and 2014; two for Leslie with Los Angeles in 2001 and 2002; two each for Bird and Jackson with Seattle in 2004 and 2010; two for Pondexter with Phoenix in 2007 and 2009; two for Smith with Detroit in 2006 and 2008; one for Catchings with Indiana in 2012; and one each for Griffith and Penicheiro with Sacramento in 2005)
Fourteen of the Top 15 Players selected in 2011 (the league's 15th season) are members of the Top 20@20 presented by Verizon (Bird, Catchings, Cooper-Dyke, Griffith, Hammon, Jackson, Leslie, Penicheiro, Pondexter, Smith, Swoopes, Taurasi, Thompson and Weatherspoon)
Nine of 10 members of the All-Decade Team selected in 2006 (the league's 10th season) are members of the Top 20@20 presented by Verizon (Bird, Catchings, Cooper-Dyke, Griffith, Jackson, Leslie, Smith, Swoopes and Thompson)
Nine have combined to win 17 of 19 regular-season WNBA MVP awards (Catchings, 2011; Cooper-Dyke, 1997 and 1998; Griffith, 1999; Jackson, 2003, 2007 and 2010; Leslie, 2001, 2004 and 2006; Moore, 2014; Parker, 2008 and 2013; Swoopes, 2000, 2002 and 2005; Taurasi, 2009)
Nine won gold medals with the U.S. Olympic team in 2004 (Bird, Cash, Catchings, Griffith, Leslie, Smith, Swoopes, Taurasi and Thompson)
Nine won gold medals with the U.S. Olympic team in 2008 (Augustus, Bird, Catchings, Leslie, Parker, Pondexter, Smith, Taurasi and Thompson)
Eight won gold medals with the U.S. Olympic team in 2012 (Augustus, Bird, Cash, Catchings, Moore, Parker, Taurasi and Whalen)
Seven have won a WNBA championship, an NCAA title and an Olympic gold medal (Bird, Cash, Catchings, Cooper-Dyke, Moore, Swoopes and Taurasi)
Seven are former No. 1 overall WNBA Draft picks (Thompson,1997; Jackson, 2001; Bird, 2002; Taurasi, 2004; Augustus, 2006; Parker, 2008; and Moore, 2011)
Six have combined to win 14 of 19 WNBA Defensive Player of the Year awards (Catchings, 2005, 2006, 2009, 2010 and 2012; Griffith in 1999; Jackson in 2007; Leslie in 2004 and 2008; Swoopes in 2000, 2002 and 2003; Weatherspoon in 1997 and 1998)
Five won Rookie of the Year honors (Catchings, 2002; Taurasi, 2004; Augustus, 2006; Parker, 2008; and Moore, 2011)
Five played in the WNBA's inaugural season (Cooper-Dyke, Leslie, Swoopes, Thompson and Weatherspoon)
Four won both WNBA MVP and Defensive Player of the Year awards in the same season (Griffith in 1999; Jackson in 2007; Leslie in 2004; Swoopes in 2000 and 2002)
Four played collegiately at the University of Connecticut (Bird, Cash, Moore and Taurasi)
Three played collegiately at Southern California (Cooper, Leslie and Thompson)
Three members of the five-player Honorable Mention list for the All-Decade Team selected in 2006 are among the Top 20@20 presented by Verizon (Penicheiro, Taurasi and Weatherspoon)
One is the only player to win championships in both the ABL and WNBA (Smith with the Columbus Quest of the ABL in 1997 and 1998, and Detroit Shock in 2006 and 2008).
One of the nine active players among the Top 20@20 is seeking her first WNBA championship (Parker)
One is the daughter of a former NBA player (Catchings – father Harvey)
Colleges represented:  Colorado State (Hammon); Connecticut (Bird, Cash, Moore and Taurasi); Florida Atlantic (Griffith); Georgia (Nolan); Louisiana State (Augustus); Louisiana Tech (Weatherspoon); Minnesota (Whalen); Ohio State (Smith); Old Dominion (Penicheiro); Rutgers (Pondexter); Southern California (Cooper, Leslie and Thompson); Tennessee (Catchings, Parker); and Texas Tech (Swoopes),