Basketball Canada announces 2016 women's national team for Rio Olympic Games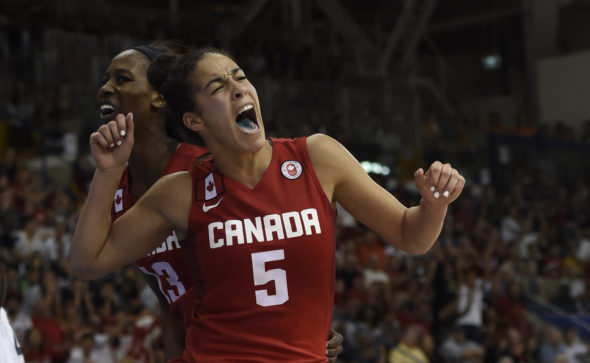 The Canadian Olympic Committee (COC) and Canada Basketball named the twelve athletes nominated to represent Team Canada in women's basketball at the Rio 2016 Olympic Games from August 5 to 21. The team includes seven athletes who competed at the London 2012 Games: Natalie Achonwa, Miranda Ayim, Kim Gaucher, Lizanne Murphy, Michelle Plouffe, Shona Thorburn and Tamara Tatham. First-time Olympic team members Nirra Fields, Miah-Marie Langlois, Kia Nurse, Katherine Plouffe and Nayo Raincock-Ekunwe round out the 12-woman roster.
Canada won back-to-back gold medals in 2015, first at the Pan Am Games in Toronto, and then at the FIBA Americas Women's Championship in Edmonton, which qualified the team for Rio.
| | | | | | |
| --- | --- | --- | --- | --- | --- |
| Position | First | Last | Height | Hometown | Team/Club |
| Forward | Natalie | Achonwa | 6'3 | Guelph, ON | Indiana Fever (WNBA) |
| Forward | Miranda | Ayim | 6'3 | London, ON | Bsket Landes (France) |
| Guard | Nirra | Fields | 5'7 | Lachine, QC | UCLA/Phoenix Mercury (WNBA) |
| Guard | Kim | Gaucher | 6'1 | Mission, BC | Mondeville (France) |
| Guard | Miah-Marie | Langlois | 5'8 | Windsor, ON | Enisey Krasnoyarski (Russia) |
| Forward | Lizanne | Murphy | 6'1 | Beaconsfield, QC | Angers (France) |
| Guard | Kia | Nurse | 6'0 | Hamilton, ON | University of Connecticut (NCAA) |
| Forward | Katherine | Plouffe | 6'3 | Edmonton, AB | Nantes Reze (France) |
| Forward | Michelle | Plouffe | 6'3 | Edmonton, AB | Mondeville (France) |
| Forward | Nayo | Raincock-Ekunwe | 6'2 | Penticton, BC | Bendigo Spirit (Australia) |
| Forward | Tamara | Tatham | 6'1 | Brampton, ON | Dynamo-Guvd Novosibirsk (Russia) |
| Guard | Shona | Thorburn | 5'9 | Hamilton, ON | Nantes Reze (France) |
Head Coach: Lisa Thomaidis
Assistant Coaches: Steve Baur, Shawnee Harle, Bev Smith
Quotes
"As an athlete there is no greater honour than to represent your country at the Olympic Games. To be able to hear your anthem with Canada across your chest sends chills down your spine. I am humbled to be a part of this team and we can't wait to inspire and make our country proud. "
Kim Gaucher, Rio 2016 athlete
"These 12 women are well aware of their expectations in Rio. They have achieved tremendous success everywhere they have competed and it will be no different when representing Canada this summer. We are very fortunate to have such a strong basketball program and I would like to congratulate these women and Canada Basketball for their achievements."
Curt Harnett, Rio 2016 Team Canada Chef de Mission
"We're excited to be fielding a team for our second consecutive Olympic Games. We commend the commitment and dedication of every athlete, coach and staff member who has contributed to our road to Rio."
Denise Dignard, Director, Women's High Performance, Canada Basketball
"We're extremely proud of these 12 athletes and what they've sacrificed and accomplished to get to Rio. We're ready to take that passion and dedication to the world stage and continue to make Canada proud to support our team."
Lisa Thomaidis, Head Coach, Women's National Basketball Team
"Congratulations to the athletes named today to Canada's basketball team bound for the Rio 2016 Olympic Games. Our Government is proud to have supported Canada Basketball and our women's team as they beat the world's best over the last year. They should know that all Canadians are behind them as they go for gold in Brazil."