#LifeAfterWNBA: Where Are They Now? Simone Edwards interviews Rebecca Lobo
This slideshow requires JavaScript.
Former WNBA player and Seattle Storm original Simone Edwards is writing a column series this summer on the lives of former players in the league. For more on Edwards, check out her bio at the bottom of the article.
It has been twenty years since the inception of the WNBA and in acknowledging that milestone, the New York Liberty took some time to honor its 1997 team. Among the honorees was the Liberty's beloved, Rebecca Lobo. I have played with and against many star players and Rebecca really stands out in memory for me.
Her national popularity was born at the University of Connecticut, where she played her college ball. UConn, went 35-0 in 1995 winning the NCAA women's basketball championship. That same year Rebecca won the Naismith Player of the Year award as well as the inaugural Associated Press Women's College Basketball Player of the Year honor. Her accomplishments include not only being a stellar athlete but also an accomplished student-athlete as she was the first-ever player in the Big East Conference to earn First Team All-American honors for both basketball and academics.
She accumulated many more honors but despite all the public recognition, she remained very humble and kindhearted.
In 1997, Rebecca, a 6-4 center for the Liberty, became one of the faces of the WNBA. We became good friends while being teammates throughout the that season with the New York. We got along great because she also had an appetite for Jamaican food, around which we bonded as two young women from two very different cultures. My fondest memory was that I shared my homemade oxtails and curry chicken and in return, I was gifted Reebok shoes and apparel since she had a contract with Reebok.
With a rich, warm intertwined history, it gives me great pleasure to catch up with Rebecca after celebrating the birth of the Liberty and the WNBA on June 26. You can keep track of Rebecca on Twitter: @RebeccaLobo. Below she shares her #LifeAfterWNBA.
Q: What was it like being one of the faces of the WNBA in its inaugural season?
Lobo: I was thrilled when I learned that the NBA was going to start the WNBA and I was excited to promote the league. I was lucky that I had great teammates in '97 who embraced me and didn't resent the attention that I got by being one of the "faces" of the league at the time. The veterans, particularly Kym Hampton, Teresa "Spoon" Weatherspoon and Sue Wicks were amazing teammates and friends for me.
Q: What was your greatest accomplishment in the WNBA?
Lobo: Probably being a part of the beginning, helping launch a brand new league that so many people dreamed about while growing up. I'm grateful that players like Kym, Spoon and Sophia Witherspoon were able to come home to play after being overseas for so many years. I never had to leave my family and friends in order to follow my dream of playing professionally. The women who came before me made so many sacrifices and it was gratifying to see them showcase their talents in front of the U.S. fans.
Q: What are you doing now?
Lobo: I am a busy mom of four, spending a lot of time coaching and watching my kids in their various activities. I also work for ESPN as an analyst for women's college and WNBA games. I absolutely love my job and the balance it allows me to have in my life.
Q: Since leaving the sport, how have you remained engaged with the game and other players?
Lobo: Calling college and WNBA games for ESPN allows me to stay very active in the women's basketball community. It's been a lot of fun following players through their college career and into the WNBA. Social media has been a great tool to keep track of the people I played with and against in the early days of the WNBA.
Q: Was it hard for you to walk away from the game as a player?
Lobo: It was not hard for me to walk away. I knew it was time. I spent the better part of three years trying to recover from my back-to-back ACL tears. I got a chance to play for the team in my home state (Connecticut Sun), and I was married and wanted to start a family. After the 2003 season, I knew it was time to move on from playing games.
Q: How have fans responded to you since you have retired?
Lobo: Fans have been amazing to me. In general, women's basketball fans are passionate and positive and my interactions with them are almost always energizing. The fans have been amazing to me and I truly appreciate all the support they've given to women's basketball over the years.
Q: What was your biggest "aha moment" with your time in the WNBA?
Lobo: My ACL injury was the biggest "aha moment. I realized how quickly everything can change in my life. Not only the ability to perform athletically, but the priorities you have. One minute you are trying to be the best athlete you can be, the next you are trying to limp across 7th avenue before the "walk" light changes.
Q: What is something you wish you had done while playing in the WNBA?
Lobo: I wish I'd experience the culture of overseas basketball. If I had to do it again, I'd spend time each winter playing in a different place learning the language and experiencing the culture. I wish I could fluently speak Italian, Spanish, and French.
Q: What are your goals and aspiration for #LifeAfterWNBA?
Lobo: I hope I can continue to work for ESPN calling games. I absolutely love the job I have now and the people I work with. I get to stay around the game and the people I love.
Q: Have you started any business ventures?
Lobo: In 2001, my mother and I started a scholarship at UConn for minorities in health care professions, but my biggest business venture is trying to raise four children.
Q: What is it like being a mom?
Lobo: That's a loaded question! Being a mom is the hardest, yet most gratifying thing that I've ever done. Being a parent can be exhausting but exhilarating at the same time. My four kids definitely keep me busy.
Q: What advice would you give to soon-to-be retired athletes?
Lobo: I hope everyone has a chance to retire on their own terms. It is difficult to walk away if you prepared yourself for life after basketball while you were still playing. Cherish the memories and friendships that were made along the way. My fondest times were those spent on the bus and in the locker room hanging out with my teammates and friends.
1997 New York Liberty Team Intro Video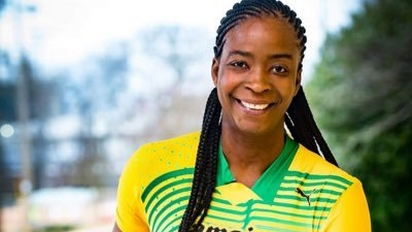 Simone Edwards. Photo: Steve Strother Photography.
SIMONE EDWARDS is a former New York Liberty and Seattle Storm WNBA player whose life is the subject of a film adaptation based on her upcoming memoir. Simone was the first Jamaican WNBA player, 2004 WNBA champion and one of the league's top rebounders. She is a graduate of Seminole State College and University of Iowa, NCAA Women's Basketball Ambassador, Managing Director of Starstruck Ventures, a sports career transition firm, founder of Simone4Children and its global initiative, The Anti-Bully Project. Simone is a sought-after motivational speaker, fitness motivator and player development coach. Follow Simone @jamhurricane on Facebook, Twitter and Instagram and visit her website at www.jamaicanhurricane.com.