2016 Rio Olympic Games: Group Phase Day 5 Notes: USA and Canada move to 3-0 ahead of Friday matchup, Spain holds off China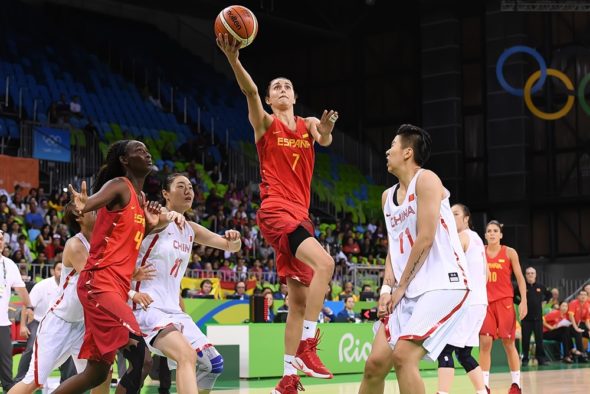 By Cheryl Coward and Lee Michaelson
Full Schedule and Group Standings
Group B – Spain 89, China 68 Box Score
RIO DE JANEIRO – Spain recovered from rout on Monday against the United States to beat China Wednesday afternoon, 71-67. The Spaniards improve to 2-1 to bolster their chances of advancing beyond the group phase of the Rio Games.
On the fifth day of competition, Spain and China started the day off playing close during the first half and much of the third quarter. Coming out of halftime, Spain had the lead 41-38.
It was a back and forth contest with China catching up to tie the game at 6:30 48-48 in the third period. However, at that point, Leticia Romero made a layup to begin a run for the Spaniards to finish the quarter. At the beginning of the fourth period Spain led 64-59 and outscored China 25-9 in the last ten minutes.
Spain scored 24 points off of China's 17 turnovers. Spain shot 53.6 percent from the field to China's 43.1 percent. Spain also won the rebounding contest, 37-30.
Alba Torrens led Spain with 32 points, eight rebounds and four assists. Astou Ndour added 21 points plus five rebounds. Florida State senior guard Leticia Romero contributed 16 points. Former Seminole Leonor Rodriguez also plays for Spain.
Seminoles in Rio! Thank you for all the support!
Forever a Nole! #FSU #Rio2016 #GoNoles pic.twitter.com/qsrrqWvLTa

— Leo Rodriguez (@Leonorspain) August 8, 2016
Ting Shao paced China with 14 points plus three rebounds.
Despite the win, Romero had a realistic attitude about the overall competition and the possibility of facing the USA again in the quarterfinals.
"We know they are very dominant and everybody knows it, but I think if we have to face them, I wish we have to face them again in the final. I would sign for that right now."
China's coach Tom Maher was hopeful about the future of the country's national team.
"We don't have any superstars here. So we got some good players, but the best players they are too young and I think that there is a future. This is not their Olympics."
Spain faces Senegal on Friday and Canada on Sunday. China plays Serbia on Friday and the USA on Sunday.
Group B – USA 110, Serbia 84 Box Score || Quotes || Gallery
For the first six minutes of the second game of the day, a matchup between the USA and Serbia, it appeared that the EuroBasket 2015 Champions were going to give the Americans a run for their money. Los Angeles Sparks guard Ana Dabovic, along with American-born Nebraska graduate, forward Danielle Page, were among the Serbian players giving the USA trouble. The Americans had a 14-5 lead at 6:24 then Serbia went on a 11-2 to tie the game up, 16 all, after Page nailed a three-point shot. With a free throw from Jelena Milovanovic, Serbia had a 17-16 edge at 3:41.
The USA responded first with a jump shot from Sylvia Fowles, beginning a run that included three treys from Diana Taurasi. At the end of the quarter Serbia trailed by 10, 31-21.
The Serbs managed to get within six of the USA early in the second quarter but the USA responded again with another run that helped put the game out of reach for their opponents. At the half, the Americans led 56-34.
While the teams' scoring output in the last two quarters was nearly equal, trading baskets was not good enough to get the Serbs within striking distance and overcome their halftime deficit.
Taurasi led the USA with 25 points plus six assists. Her output included six treys, breaking her own U.S. Olympic record for three-pointers.
"When you do get going and you got everyone kind of helping you, it makes things a little bit easier," Taurasi said.
"There are still things we have to get better at. When you play against a team like Serbia, the European champions, they make you work. They make you look ugly sometimes. But overall we did a pretty job of keeping our composure and doing the things we want to do."
Four other players were in double figures for the USA:
Breanna Stewart 17 points, 5 rebounds
Tina Charles 15 points, 8 rebounds, 4 assists
Angel McCoughtry 13 points, 4 rebounds
Maya Moore 10 points, 6 rebounds, 4 assists
For McCoughtry, the matchup against Serbia was the toughest so far.
"They didn't win the European championship for no reason," said McCoughtry. "It might look like a big margin, but it doesn't feel like it. Those games are hard."
The win marked the 44th consecutive win in Olympic competition for the USA, more than any other team in history. In addition, it was the first time the U.S. women had scored 100 points three games in a row in Olympic play.
In response to criticism that the USA's dominance was bad for the game, Taurasi was blunt in her reply.
"I don't even know how to answer anymore. Would it better if we lost by 50? We have 12 women who dedicate their lives to the game of basketball year around. To knock us for doing that? That's a bit disrespectful, I would say."
The U.S. moves to 3-0 in the competition and faces Canada, also 3-0, on Friday and China on Sunday. Serbia takes on China Friday and Senegal on Sunday in must-win games if the team expects to advance to the quarterfinals next week.
Group B – Canada 68, Senegal 58 Box Score
Canada continued its medal quest with a win over Senegal in the last game of the day with a 68-58 victory. It was not an easy win for Canada as Senegal shot slightly better from the field, 40 percent to Canada's 39 percent. Senegal also performed better at the free throw line
However, Canada held the rebounding, assists and bench points edge.
Once again Kia Nurse led Canada with 14 points. She was the leading scorer in Canada's win over Serbia on Monday. Tamara Tatham had a double-double with 13 points and 10 rebounds.
Aya Traore led Senegal with 24 points and six rebounds. Oumoul Thiam contributed 12 points.
Canada faces the USA on Friday and Spain on Sunday. Senegal's chances to advance are gone and they finish off their Olympic trip playing Spain on Friday and Serbia on Sunday.
Thursday's Games
Group A
Belarus vs. Turkey
France vs. Brazil
Japan vs. Australia
Friday's Games
Group B
Serbia vs. China
Canada vs. USA
Spain vs. Senegal
Saturday's Games
Group A
Australia vs. Belarus
Turkey vs. Brazil
Japan vs. France
Sunday's Games
Group B
China vs. USA
Senegal vs. Serbia
Spain vs. Canada
The group phase ends August 14. Teams rest on Monday, August 15.  The quarterfinals begin August 16. The top four finishing teams from each preliminary round group advance to the quarterfinals on Aug. 16. The semifinals will be played on Aug. 18, and the finals are on Aug. 20.
USA Quotes
USA head coach Geno Auriemma
It seems this team is more dominant than the men's team is . Would you say that ?
I don't know. I think the experience factor and having nine players back from London. That really means a lot. Usually Diana doesn't assert herself like she has in the first three games. She's usually waiting for the game to come to her, get everybody else involved. And these first three games of the tournament, she's just come out and taken over right from the beginning.
Why is that ?
You know, that's a good question. I talked with her yesterday during our off day. We talked about a lot of things that she and I have been through in the past, we talked about where we are right now, we talked about whether there's a future at all at the Olympics, and I said, "If this is going to be your last," and I don't know if it is or not, it looks like she can play until she's 50, you know? But I said, "Let's go out in a bang." This reminds me of her in college and she's doing whatever she wanted. She's doing it against the best players in the world.
Diana Taurasi really minimized what she did out there on the court :
She always does. I think that's one of her biggest strengths. You know, when you're really, really good, you don't have to say anything, other people say it for you. Those guys are running around telling you how good they are. That's not Dee. It's like those people who tell you, "I work really hard for a living." Really? If you worked really hard for a living, other people would say that about you. You don't have to say that about it yourself. And Dee is the same way.
How much of today was your defense versus Serbia getting a hot hand ?
First of all, they're impossible to play against. When you have a team that was shooting 20 percent from the floor on 2s and 60 percent or 80 percent at one time for 3s, it's a combination of the two. One, defensively you're not used to having that many big guys, so your big guys have to come out and usually don't have to do that that often. Because they're so good off the dribble, they don't play with a center, they don't play with anybody that plays in the lane, so they force you to play a perimeter game. And they're really good at that. You don't win the European championship like they just did (last summer) by accident. They're a really hard team to play against and sometimes you just have to outscore teams. Today was one of those games where we knew these guys are going to be hard to defend. They're just good. They made some tough shots, and some they were wide open.
What does that say about your team that Serbia played so well and still lost by 20 points ?
A lot of it is that it's hard for other teams right now to go to their bench, so when they have to, we started picking up more full court, so we made them go up and down the floor more than maybe they would want to. So our second group and most other teams' second group allows us to push the advantage, to push the deficit even more. It's just that we're fortunate that we've got that many really good players. You've got Elena Delle Donne and Breanna Stewart coming off the bench. It's a luxury that no other team has in this tournament.
Did that game help make your team better ?
Yeah. Absolutely. We talk about this all the time. Just because it looks so easy out there most of the time, it doesn't mean that we don't have to work at it. We know that every game we play, the teams we're playing see us more, are better equipped to deal with us maybe, and they get better. You're talking about a Serbian team today that was desperate for a win. You're 0-2 going into this. They're in a situation now where they've got to win the next two and hope that they get in (to the quarterfinals). So, they're not going to call me up and say, "Coach, what do you want the final score to be?" They're going to play. And that's as it should be. I think the more we're pressed, the more we're pressured, the more people force us, then you'll really see how good we can play. And some flaws come out too, when you play against a team like this.
We're not perfect. We don't have every answer for everything. We've got some issues that we've got to work on. We had some stuff out here that I just shake my head, because if we had three weeks of training camp, this stuff wouldn't even be happening.
People have been asking about whether the dominance of the USA team is bad for the game , but that ' s not being said on the men ' s side . What are your thoughts on that ?
We live in that Trumpian era where it's okay to be sexist and degrade people that are good, just because they're the opposite sex. We are what we are.  We're never going to apologize for being that good. We're never going to apologize for setting a standard that other people aspire to achieve. We got a guy in the pool with a USA swim cap on who nobody can beat. And if he wasn't in swimming, there would be a lot of other guys with gold medals. So, it is what it is. The world needs times when such great, great teams or great individuals are doing great things, that other people can talk about and other people say, "Wow, wouldn't it be great to be at that level?" These are Olympians. They're supposed to play at a high level. They're professionals, they're supposed to put on a show, they're supposed to entertain. So, what are we supposed to do? Just go out there and win by a little? We're not bad for women's basketball, just like I say at UConn, we're not bad for women's basketball. What's bad for women's basketball is when nobody's great, because then you could say, "You know what? I don't think anybody really knows how to play this game." I think people will say that there are some really good teams out here and when you see them play each other, they're great games. Serbia was up 20 the other day and lost to Canada. These are great games. We just happen to be somewhere else right now. That's okay. I don't mind.
On Canada's Kia Nurse, who plays for Auriemma at Connecticut:
She's something else, isn't she? She's finally healthy. She struggled most of the season and she got it taken care of at the end. She's playing with a lot of confidence because they had great success last summer in the Pan Am Games, in FIBA Americas they had a lot of success.
If you remember last Olympics, the Olympics before that, nobody was saying that Canada was a possible medal team. Well, they're talking about them now. That's a good thing, right? More good teams, more good players, and she's just one of a handful of young players who are going to be great.
Tamika Catchings
What makes this program so great?  Is it the culture or depth of talent?
I think it's both.  Just kind of going back to the beginning when I did start on the Junior Olympic team and being a part of the USA family from that standpoint.  You look at the players that I played with on the junior team and how many of them don't make the senior team.  And as the years go on, you're looking at the select team that we just played in California and some of those players will have an opportunity to play on the Olympic team and a lot of them won't.   But I think the format that has been put together … to have a pool of players that they can select from at any point in time.  We had like 30 players in that pool.  I feel with that format you have the depth and you know that out of those 30 players, you know you can pick out any of those 30 and put together an Olympic team.  And those players will do what it takes to make it to the next level.  I think for me when I came in as a young pup, the one thing I thought was what I can do to make a difference on this team and that was defense.  I knew that if I came with defense and I came with intensity and just the passion that I play with that I could make a difference.  And that's kind of been the role I've played on all the Olympic teams that I've been on.
Do you sense that all of the 12 focus on one thing that they feel they can fit in with?
I think it's that and you have to put your ego aside.  And you have to be willing to sacrifice for the good of the team.  Our ultimate goal is to win a gold medal.  Of all the coaches that I've had, they've looked down the bench and thought 'we need somebody who can come in and make a stop.' Bam.  'We need someone who can knock down a 3.'  Bam.  'We need somebody who can be the floor general.'  Bam.  You got Sue, you got D, you got me.  The young players that we got now are filling all those other little gaps.  It's fun to be a part of.
Of all the Olympic teams you've been on, how is this one different?
I think this one is different for my role.   My role is different.  But now my role has changed.  I'm not out there but I'm on the bench.   I'm making I'm encouraging our younger players, make sure that they're in the game, make sure that everybody is on the same page.  So I feel like I've grown into the leader.
Elene Delle Donne
What were some of the lessons you guy took out of this game?
For me, the fouling was so frustrating.   I'm not a player who generally fouls a lot.  I guess in the Euroleague, you got to realize what they're calling and play a little bit differently.  So that was definitely a lesson for me that I learned.  But still the team played awesome.  Everybody steps up when they need to and still a great win against a great team that plays differently.
How did you guys have to adjust and how is that hard when you're relatively new to each other?
That's definitely difficult.  We really weren't even able to run plays because their defense was so odd.  They ran something different every time at us.  When they were on offense, they were spreading the floor a lot and wanting to go one on one.  It was just a way different basketball game than we're used to playing.  But to be able to adjust like that and get a big win, that really says a lot about this team.
What's it like for you coming off the bench?
That's what this team needs.  Our bench is really strong and it's something that Geno talked to us even as early when we played Australia in the friendly matches.  We know we have to come out and bring a lot of energy, effort and do whatever is needed.  For me, it's kind of nice since I haven't played in the EuroLeague much.  I can kind of watch and see and get in there and be comfortable.
Sylvia Fowles
How did this game help the team ?
Just getting ready for something different. Serbia, they pressed us full court, they were very gritty, very tough and very aggressive. So, they gave us a different look, something we haven't seen this whole tournament. We're learn from there and pick it up tomorrow in practice.
On the team ' s chemistry :
Coming together I don't think was ever a problem. I think just getting back into a groove, figuring each other out and how each other plays, when we want the ball and how we want the ball, that's our biggest issue. For the most part, I think that every game we get better and better.
On playing Canada on Friday night :
I'm looking forward to it. We've seen them before in the friendly games we played before we got here. But, I'm pretty sure they're going to be after us, so we're going to have to make sure we lock in on some of the things we didn't do so well the first time we saw them.
Angel McCoughtry
On the game against Serbia:
They didn't win the European championship for no reason. Dee (Diana) broke a record today. That really helped us get over the hump. And the group that came off the bench came in and brought some energy, so I think that really helped tonight, break that lead away.
The thing about it is, it might look like a big score, a big margin, but it doesn't feel like it. Those games are hard. The scoreboard just looks differently.
Is a game like that good for you guys?
It's a great test, because we know Serbia is a good team. They can contend for a lot. It's a good test for us, because they had us in the beginning. I think the thing we do, we wear teams down with our bench. We have a good bench that can come in and there's no let down. So, a lot of teams don't have that and that's how we kind of wear teams down.
On the up-tempo pace:
That's the way we like to play. We're athletic, and we like to get up and down, so that's our kind of game. It feeds into us.
How tough was Serbia to play against?
They're tough. They can shoot at will. You have to be on them like every second. So, we kind of made some adjustments in the second half and got in their face more, so it helped us.
Diana Taurasi
What did Geno tell you in the locker room after the game?
There are still things we have to get better at.  When you play against a team like Serbia, the European champions, they make you work.  They make you look ugly sometimes.  But overall we did a pretty job of keeping our composure and doing the things we want to do.
What is that feeling like when you get rolling like you did in the first half?
It's just nice when helps, screen here and extra pass.  Sue ran a play for me, got me open.  When you do get going and you got everyone kind of helping you, it makes things a little bit easier.
Does the fear of losing motivate you?
I don't even know what we did in the past.  If we live in that kind of age of when are we going to lose, you're probably going to lose.  You just keep looking forward to the next game, our next opponent, how can we get better as a group, as a team.  That's the way we look at it in our locker room.
Lindsay Whalen
On the guard play against Serbia :
Everybody brings something different to the table. We have some bigger guards who can really post up. We have a lot of guards who are really deadly from 3-point range. Some who penetrate and get in the lane and create. I think everybody gives it their all on defense, which is the number one key, but the offensively everyone brings something different. We all try to play to our strengths. When everybody does that, it looks really good and it really makes the game go well. So, as guards that's our job, to make sure the tempo is there and everybody's in the right spots and everybody's feeling good about themselves. I thought that we did that for the most part tonight.
Thoughts on dominant teams being bad for the game :
I'm not thinking about it. I'm thinking about our next game and our next practice at this point. That's all you can think about. You really have to stay in the moment in this tournament. The next step for us is Canada. We just had a really hard fight with Serbia. They're a great team. We're going to recover from this game, enjoy it for a couple of hours and then get ready for our next game. Honestly, that's what I'm focused on and what I'm thinking about.
How has the experience been for you ?
I'm playing a lot of basketball. That's what I've been doing. That's what I'm here for. I enjoy being on the team, I enjoy being on the bus and hanging out with everybody, team meals and watching some of the other events from the comfort of my living space. I'm cheering hard for Team USA, but I like to stay in my routine and rhythm. I just enjoy the team camaraderie and hanging out with everybody.