2016 Rio Olympic Games: Group Phase Day 1 Notes: France, Canada, Australia, Japan open with wins
By Cheryl Coward and Lee Michaelson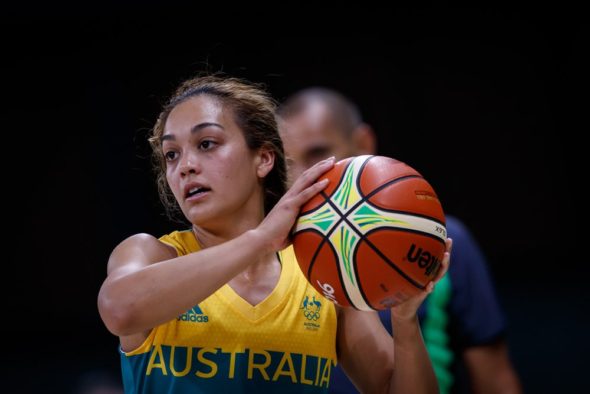 Full Schedule and Group Standings || Saturday's Top Performers
RIO DE JANEIRO – Even without starting point guard Céline Dumerc, France delivered a decisive victory over Turkey in the first women's basketball game of the 2016 Rio Olympic Games.
Dumerc sustained an ankle injury during practice on Wednesday that will keep her out of the Rio Games. However, the team's coach Valérie Garnier indicated that the guard will be well enough to play near the end of summer. She was replaced by Amel Bouderra.
"Of course, it is very difficult to begin these Games without her with us," said Garnier via a translator to Hoopfeed postgame. Garnier found a bright spot in the fact that "we came together to overcome this as a team." Teammate Sarah Michel agreed that Dumerc's leadership would be sorely missed.
Turkey seemed to be headed for victory early on with a fast start starting the game on a 14-4 run. But France roared back in the second quarter to outscore them 14-3 and went into halftime with a 22-19 lead.
Michel led France with 14 points and eight rebounds. Endy Miyem also scored 14 points and contributed five rebounds. Isabelle Yacoubou pulled down 11 rebounds to go with her five points.
Next game: France faces Belarus on Sunday in the last game of the day while Turkey faces Australia in the third game of Sunday's slate.
Canada was on a mission in the second game of the day racing out to a 19-9 first quarter lead over China. While the Chinese team scored first from a three-point shot from Xiaojia Chen, the lead was short-lived and only lasted 51 seconds. It was the only time China led in the entire contest. By halftime, Canada had a 37-26 lead.
University of Massachusetts standout Tamara Tatham raised her game another notch. The 6-1 veteran small forward averaged just 5.8 points per game at London 2012, but accumulated 20 points and six rebounds to lead her team. Lizianne Murphy contributed 12 points, Miah-Marie Langlois added 11 plus four rebounds and four assists in her Olympic debut. Miranda Ayim scored 10. Kim Gaucher, Utah graduate, pulled down 10 rebounds to go with her three points. It was the 200th Team Canada game for Gaucher.
Next game: Canada plays Serbia on Monday in the second game of the day. China plays Senegal on Monday.
The Australian Opals pulled off a dramatic comeback to top Brazil in front of a Rio crowd loudly chanting for their country's national team. Brazil led by as much as 12 points in the second quarter after a jump shot from Iziane Castro.
However, Australia came to life and outscored the home team 19-13 to end the half. At the break, Brazil's advantage was just four points, 39-35.
Australia's veterans Penny Taylor and Liz Cambage along with Leilani Mitchell did most of the heavy lifting in the third quarter to get Australia within one point before overtaking their opponent by the fourth period. Going into the last quarter, Australia led 57-53 and never looked back.
Liz Cambage led the Aussies with 20 points and 14 rebounds. Mitchell added 18 points and six assists. Taylor was also in double figures with 17 points.
Castro led Brazil with 25 points. Damiris Dantas scored 11 points and had eight rebounds.
Next game: Australia faces Turkey Sunday in third game of the day. Brazil plays Japan on Monday.
Japan and Belarus had the closest game of the first day as neither team lead by more than seven points during the entire game. While Japan opened the game with a 26-21 lead over the course of the first quarter, Belarus outscored its opponent 19-15 in the second quarter.
Japan went into the half with a slim 41-40 lead. Neither team made much headway in the third quarter to gain an advantage and the squads were tied 60 all heading into the last period.
Japan secured the victory by outscoring Belarus 17-13 in the last quarter.
Mika Kurihara led Japan with 20 points. Seattle Storm player Ramu Tokashiki contiributed 16 points plus four rebounds. Maki Takada scored 12 points.
Next game: Japan faces the home team, Brazil, on Monday in the third game of the day. Belarus plays France on Sunday.
Sunday's Games
USA vs. Senegal, 11 a.m. ET
Serbia vs. Spain, 1:15 p.m. ET
Australia vs. Turkey, 4:30 p.m. ET
France vs. Belarus, 6:45 p.m. ET
Monday's Games
Spain vs. USA, 11 a.m. ET
Canada vs. Serbia, 1:15 p.m. ET
Japan vs. Brazil, 4:30 p.m. ET
Senegal vs. China, 6:45 p.m. ET
The group phase ends August 14. The quarterfinals begin August 16.
Top Performers
Points
Rebounds
Assists