#LifeAfterWNBA: Where Are They Now? Simone Edwards interviews Yolanda Griffith
This slideshow requires JavaScript.
Former WNBA player and Seattle Storm original Simone Edwards is writing a column series this summer on the lives of former players in the league. For more on Edwards, check out her bio at the bottom of the article.
I was always told as a post player to defend the basket as if it was my home. No one was allowed to just pass through without feeling my wrath.  Every rebound is supposed to be yours. However, that all changed when you were playing against a player like Yolanda Griffith, one of the greatest rebounders of all time in the WNBA.
A two-time gold medal winner for the United States Olympic team, Yolanda was selected by the Sacramento Monarchs as the  second overall draft pick in the 1999 WNBA Draft. She is a seven-time WNBA All-Star, and won the WNBA's MVP, Newcomer of the Year, and Defensive Player awards in 1999.  She was a member of the championship Monarchs in 2005 in which she was named Finals' series MVP.
Yolanda went on to play a season with the Seattle Storm in 2008, and then she signed with the Indiana Fever for the 2009 season, but had to retire at the end of that season because she tore her Achilles tendon.  Like so many of the great players who won't settle for just being a part of a team but wanting to make an impact, she walked away knowing it was time to transition for life after playing basketball.
I am honored knowing I went up many nights against one of the best post-players who have ever played the game.  Her relentless efforts on the boards challenged me to bring nothing but my 'A-game.' I applaud her achievements as she was voted by fans in 2011 as one of the top 15 players in the fifteen-year history of the WNBA.  This year WNBA Top 20@20 for the WNBA's landmark 20th season, the league unveiled the 20 greatest and most influential players in its history and, inarguably Yolanda was on the list. You can keep track of Yolanda on Twitter @Yo_Yo33. Below she shares her #LifeAfterWNBA.
Q: What are you doing now?
Griffith: I am an assistant coach for the women's basketball team at the University at Albany, SUNY.
Q: How does it feels to be part of the WNBA Top 20@20?
Griffith: It's an honor. There are so many players who they could have picked. It took a lot of hard work and focus on getting better.  Competition was so fierce I couldn't take any days off.  Just glad to be given an opportunity to represent how I play.
Q: What were your strategies to become one of the best rebounders in the WNBA?
Griffith: Rebounding seems easy.  The guards couldn't pass the ball to me at times, so I had to use my minutes in the game to collect loose balls and rebound. I had discipline and wasn't afraid of doing the dirty work.
Q: What was your greatest accomplishment in the WNBA?
Griffith: Eleven years of playing at the highest level.  Being drafted in 1999 and winning MVP and Defensive player. Winning the WNBA championship in 2005, Sacramento's only championship.
Q: What was your most embarrassing moment in the WNBA?
Griffith: When I played for the Seattle Storm and shot an air ball at the free throw line.
Q: Since leaving the sport how have you remained engaged with the game and other players?
Griffith: Going into coaching was more ideal after playing.  I continued to have relationship, build bonds while giving back to the game.  I would also run into various players at basketball events and during recruiting.
Q: How have fans responded to you since you retired?
Griffith: I still have active fans. They frequently respond to things on my Facebook and Twitter. I am honored and appreciate all of their support as they continue supporting me.
Q: What are your goals and aspirations?
Griffith: I want to continue to win championships as a head coach.
Q: What is something you wish you had done while playing in the WNBA?
Griffith: Dunk
Q: What advice would you give to soon-retiring athletes?
Griffith: Make sure you invest your money wisely. Continue to support and stay involved in WNBA.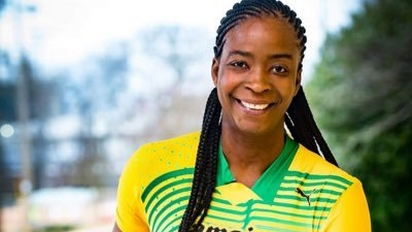 Simone Edwards. Photo: Steve Strother Photography.
SIMONE EDWARDS, dubbed the "Jamaican Hurricane" is a former New York Liberty and Seattle Storm WNBA player whose life is the subject of a film adaptation based on her upcoming memoir. Simone was the first Jamaican WNBA player, is a 2004 WNBA champion and one of the league's top rebounders. She is a graduate of Seminole State College and the University of Iowa. She is a NCAA Women's Basketball Ambassador, Managing Director of Starstruck Ventures, a sports career transition firm, founder of Simone4Children and its global initiative, The Anti-Bully Project. Simone is a sought-after motivational speaker, fitness motivator and player development coach. Follow Simone @jamhurricane on Facebook, Twitter and Instagram and visit her website at www.jamaicanhurricane.com.