#LifeAfterWNBA: Where Are They Now? Simone Edwards interviews Tully Bevilaqua
Wasn't the desired result but the kids had a great time!! @IndianaFever pic.twitter.com/YjqaDpqAOY

— Tully L Bevilaqua OLY (@Bevilaqua41) July 13, 2016
Former WNBA player and Seattle Storm original Simone Edwards is writing a column series this summer on the lives of former players in the league. For more on Edwards, check out her bio at the bottom of the article.
Ever wonder what happened to your favorite WNBA players? Fans often don't know and can't find out what happens to players once they leave the court…that is…until now.
Next up, Tully Bevilaqua!
My former Seattle Storm teammate, the 5-7 guard Tully Bevilaqua's play style is energetic and disruptive, so much so that she is one of only four WNBA players to record at least 800 career assists and 500 career steals. In practice, Tully was mostly on my team, and I knew I would get the ball because she would walk up before a play and yell, "Hurricane, look for it!"
She was signed by the Cleveland Rockers as a free agent before the 1998 season began, but played only 12 regular-season games for them before being waived by the team on July 1998. In 2000, she signed a free agent contract with the Portland Fire and played with them for three seasons until the franchise folded after the 2002 season. In 2003, she signed another contract with the Seattle Storm, and played two seasons for them, capping the 2004 season when the Storm won the WNBA Championship, defeating the Connecticut Sun, two games to one. In 2005, she signed with the Indiana Fever, and led them to a No. 2 seed in the playoffs, where they swept the New York Liberty in two games, but in turn were swept by the Connecticut Sun in the Eastern Conference Finals.
As a native of Merredin, Western Australia, Bevilaqua made the Australian National Team at the age of 34, when she helped lead the Opals to the gold medal in the 2006 FIBA World Championship for Women. In 2007, Bevilaqua played a key scoring, defensive, and leadership role in the greatest comeback in WNBA history when the Indiana Fever overcame a 22-point first half deficit to win the deciding game three of the Eastern Conference semifinals against the Sun, and was awarded the Kim Perrot Sportsmanship Award from the WNBA.
You can keep track of Tully on Twitter @Bevilaqua41 and on Facebook via her Tully Bevilaqua fan page. You can follow Gym41 on Facebook, Instagram @Gym41_bootcamps and Twitter @Gym41_Bootcamps. Below Tully hares her #LifeAfterWNBA.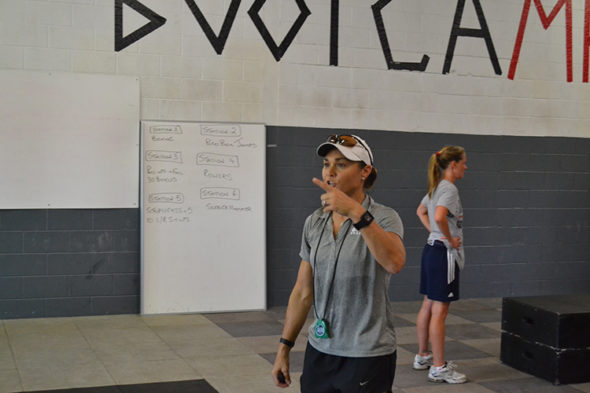 Q: What was it like leaving Australia to play in the WNBA?
Bevilaqua: Leaving Australia to play in the WNBA was both exciting and overwhelmingly nerve wracking at the same time. My first season was in 1998 with the Cleveland Rockers. I was home in Australia sleeping and around 3 a.m. in the morning my phone rang and it was the Rockers. It was less than two weeks until the season was about to start and the Rockers were having some injury problems. They had a flight ready for me to board in three hours and I had to make the decision then and there to pack and get on that flight. Nothing like calling my parents at 5 a.m. on the way to the airport to let them know I was flying to the USA and didn't know when I'd be back.
Q: What is it like being married and having children?
Bevilaqua: In 2009, I met this incredible person, Lindsay, who since then has become my wife and we have two amazing children. It was basically love at first sight (yeah, yeah corny I know) but even after seven years together, we still can't stand to be apart. Lindsay is my rock and I couldn't imagine my life without her. Our children, Parker (5) and Mackenzie (3), are the love of our lives and we thank our lucky stars every day for the family that we have grown. Your life changes drastically when you get these precious beings to take care of 24-7, but we wouldn't want it any other way. There is never a dull moment in our household, but sometimes Lindsay thinks that I am like a third child!
Q: What was your greatest accomplishment in the WNBA?
Bevilaqua: I have had a number of accomplishments in the WNBA and no bigger one than being a part of the WNBA Championship team Seattle Storm in 2004. What an amazing season that was and to cap it off with confetti falling from the ceiling and "We Are The Champions" blaring out of the speakers was a memory I will never forget. Playing fourteen seasons in a league where it is tough to keep your roster spot was a huge accomplishment for a small country girl from Merredin, Western Australia. Also being recognized with the Kim Perrot Sportsmanship Award was a huge honor that will be up there as one of my biggest accomplishments.
Q: Have you started any business ventures?
Bevilaqua: Lindsay and I handle the day to day running own of our own business called Gym41, running bootcamps and personal trainings. We love our job, and we love seeing the look on people's faces when they accomplish a new milestone or goal. It is so rewarding and we are truly lucky to have amazing bootcampers at Gym41, who not only embrace the gym themselves but make every new person who walks through the door feel like they belong no matter what.
Q: Since leaving the sport, how have you remained engaged with the game and other players?
Bevilaqua: Since retiring from basketball I have remained engaged with the WNBA as a color commentator for the Indiana Fever on local TV games. This gives me the opportunity to stay connected with some of the players I played alongside of, both in Indiana and players on visiting teams. It's an added bonus when an Aussie is on a team, to catch up with them and what is happening in Australia! I have also conducted many youth basketball clinics throughout Indy and still run private lessons. Recently I was an assistant coach for the Zionsville Girls varsity basketball team, where we won sectionals for the first time in over 20 years.
Q: Was it hard for you to walk away from the game as a player?
Bevilaqua: I was 41 when I retired from the sport so it's fair to say I had pretty bloody good innings and it wasn't hard at all to walk away and pass the torch on to the younger generation. My body had started to feel the effects of the pounding on the wood and all the trainings and pre-seasons it had to go through. My passion for the game was starting to change and that was the biggest sign for me. The last two years of playing with the San Antonio Silver Stars was spent working on life after basketball and making sure my family and I had the foundations laid for the next chapter of mine/our lives.
Q: How have fans responded to you since you have retired?
Bevilaqua: The fans throughout my career have been amazing and even when I was on different teams, I was welcomed back with open arms! Since retiring, this has not changed and I will always hear an "Aussie Aussie Aussie, Oi Oi Oi" coming from a section when I walk around Bankers Life Fieldhouse at a Fever game!
Q: What was your biggest "aha moment" with your time in the WNBA?
Bevilaqua: I have 3 "aha" moments that come to mind right away. Firstly, in my first season in the WNBA in 1998 with the Cleveland Rockers, I was waived mid-season after being told just a week before that I had done enough to keep my position in the team. Totally devastated me!! Secondly, when Sue Bird broke her nose in the playoffs in 2004 against the Minnesota Lynx right at the start of the game and I had to take her spot. My heart was pounding so hard when I saw Sue go down, but I had a job to do and the rest is now history. This sets up my 3rd "aha" moment. After that championship season and I received a call from the Indiana Fever wanting me to come play for them……can you believe that a team was calling me to come to them! AHAAAAAAA!
Q: What would you like to say to your fans?
Bevilaqua: To all my fans in the WNBA, I just want to say a huge 'thank you' for all your support as a player and that as a retired WNBA player. The encouragement and adrenaline rush from hearing you in the stands will be a treasured memory.
Q: What is something you wish you had done while playing in the WNBA?
Bevilaqua: It's hard to say I wished I did this or that whilst playing in the WNBA because I had the best time and made the most of it. Maybe I could have done a few more things with my free time like learn a different language or even learn to play an instrument.
Q: What are your goals and aspirations for #LifeAfterWNBA?
Bevilaqua: A goal of mine for the future is to run a marathon and qualify for the Boston Marathon. These knees still have a few good years left in them for straight line running.
Q: What advice would you give to soon-to-be retired athletes?
Bevilaqua: My advice for soon to be retiring athletes is don't wait until you are retired to set the wheels in motion for 'life after basketball.' I truly believe that having Gym41 to go to the very next day after retiring was a saving grace for me. I can see how pro athletes can sink into depression when they retire as we live a very unusual lifestyle and it can be hard for some to adapt back into the 9-to-5 routine. I give all credit to Lindsay for keeping me on track. Back in late 2009 she helped me to start up my own LLC and we ran camps/clinics in the off seasons.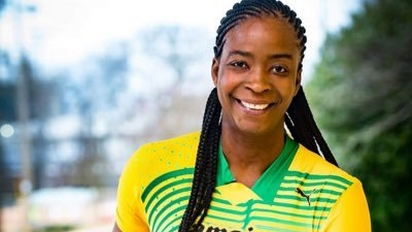 Simone Edwards. Photo: Steve Strother Photography.
SIMONE EDWARDS, dubbed the "Jamaican Hurricane" is a former New York Liberty and Seattle Storm WNBA player whose life is the subject of a film adaptation based on her upcoming memoir. Simone was the first Jamaican WNBA player, a 2004 WNBA champion and one of the league's top rebounders. She is a graduate of Seminole State College and the University of Iowa. She is a NCAA Women's Basketball Ambassador, Managing Director of Starstruck Ventures, a sports career transition firm, founder of Simone4Children and its global initiative, The Anti-Bully Project. Simone is a sought-after motivational speaker, fitness motivator and player development coach. Follow Simone @jamhurricane on Facebook, Twitter and Instagram and visit her website at www.jamaicanhurricane.com.