Minnesota's Cheryl Reeve named 2016 WNBA Coach of Year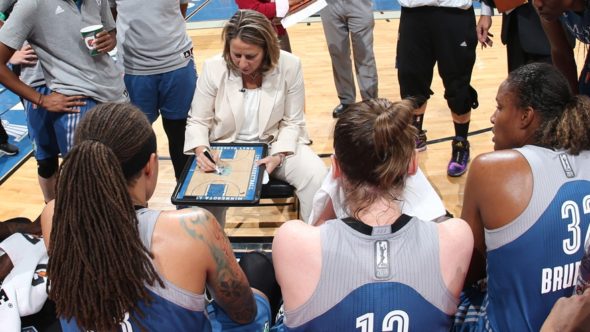 The WNBA announced today that Minnesota Lynx head coach Cheryl Reeve is the recipient of the 2016 WNBA Coach of the Year Award. Reeve received 17 votes from a national panel of 39 sportswriters and broadcasters. This is Reeve's second Coach of the Year honor, having received the award in 2011, and the third time a Lynx head coach has been named WNBA Coach of the Year (Suzie McConnell Serio 2004).
Under Reeve's seven-year tutelage, the Lynx have complied 155 wins over the last six seasons, the most prolific six-year run in WNBA history, and won three WNBA Championships (2011, 2013 and 2015) in a five-year span. Finishing the 2016 season at 28-6, Minnesota registered its fifth 25-win campaign in the last six years and became the first WNBA franchise to win 27+ games in a season three separate times. Since taking over in 2010, Reeve's .706 winning percentage (168-70) ranks first in league history. She is one of three coaches to win more than 60% of their games (Van Chancellor, .655; Michael Cooper, .616).
Minnesota began its best regular season in the franchise's 18-year history by winning its first 13 contests, the longest season-opening winning streak in league history. The Lynx finished the season with a team record for total victories wins (28) and matched team bests in home and road wins (15 and 13, respectively). Minnesota's 13-4 mark away from Target Center marked its league-record sixth consecutive winning road record and the team's 15-2 home record was the WNBA's best home record this season. Additionally, Minnesota went 15-1 against Western Conference opponents, including winning all eight road games, becoming the first team in WNBA history to go through a season unbeaten on the road vs. the Western Conference.
Reeve's other WNBA Coach of the Year honor came in 2011, her second season guiding the Lynx, when Minnesota finished with the league's best record (27-7). Minnesota's 14-game improvement over the prior season (2010, 13-21) is tied for the second-largest turnaround in WNBA history.
Prior to reaching the WNBA, the former Rhodes Scholar nominee and basketball star at Philadelphia's La Salle University spent 12 years at the collegiate level, including head coaching roles at Indiana State and George Washington. She then moved to the WNBA where stints as an assistant under Anne Donovan in Charlotte (2001-02, 2004-05) and Dan Hughes in Cleveland (2003) laid the foundation for an extremely successful tenure as an assistant with the Detroit Shock.
It was in Detroit, alongside head coach Bill Laimbeer and fellow assistant Rick Mahorn, that Reeve helped guide the Shock to the WNBA Finals in three consecutive seasons, winning championships in 2006 and 2008.  Groomed by Laimbeer, who in 2008 expanded her duties to include the director of player personnel role, the Washington Township, N.J., native was hired by Minnesota as Head Coach on Dec. 8, 2009.
Cheryl Reeve receives her 2nd Coach of the Year award. #WatchMeWork pic.twitter.com/gZIESbXj3K

— WNBA (@WNBA) September 30, 2016