Sparks forward Nneka Ogwumike named 2016 WNBA MVP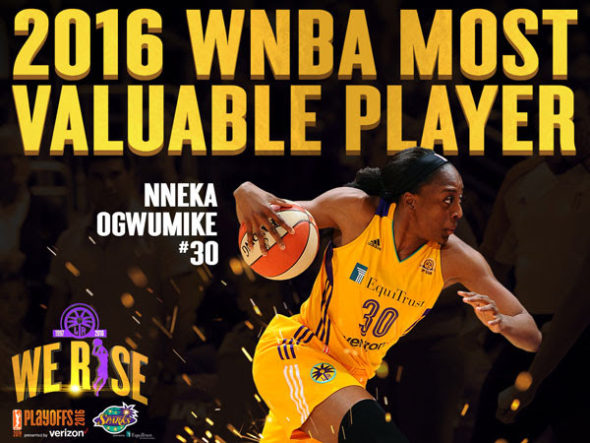 Los Angeles Sparks forward and three-time Stanford All-American Nneka Ogwumike was named the 2016 WNBA Most Valuable Player the league announced Tuesday. The fifth-year pro from Cypress, Texas earned 31 of 39 first-place votes from a national panel of sportswriters and broadcasters.
The award is the first for Ogwumike and the first for a Stanford women's basketball alumna. She is just the second Cardinal to win a league most valuable player award, joining San Francisco 49ers quarterback John Brodie, who was selected NFL MVP in 1970.
"No one could be happier for her than me," Stanford coach Tara VanDerveer said upon hearing the news. "I'm so proud of her. For me the MVP isn't just for her play, but for the person she is. She is a great teammate, is resilient, encouraging and positive. It could not happen to someone more deserving."
Ogwumike, a six-time Western Conference Player of the Week, concluded her regular season third in the league in scoring (19.7 ppg) and rebounding (9.1 rpg) in leading the Sparks to a 26-8 overall record, a double-bye and the No. 2 seed in the WNBA Playoffs.
More impressively, Ogwumike finished 2016 as the most efficient shooter in the history of professional basketball. Her 66.5 field goal percentage is second all-time in WNBA single-season history to Tamika Raymond's 66.8 percent clip in 2003, but the 6-foot-2 forward also shot 16-of-26 from 3-point range (.615) and 146-of-168 from the line (.869).
Combined together, Ogwumike ended the year with a true shooting percentage of 73.7 percent, well clear of Candice Dupree's previous WNBA record of 69.97 percent in 2010. Tyson Chandler in 2011-12 (.7081) and Artis Gilmore in 1981-82 (.7024) are the only NBA players to finish a season with a true shooting percentage of more than 70 percent.
"We could see something like this coming," VanDerveer added of a player that went to four NCAA Final Fours while at Stanford. "I loved coaching Nneka. She's a worker, she listens and she's coachable, but most of all she's extremely talented. To win this award, a first for our program, is just spectacular."
In 33 games, Ogwumike also added an average of 3.1 assists, 1.3 steals and 1.2 blocks to her line. As far as advanced metrics go, Ogwumike's player efficiency rating of 31.44 is ninth in WNBA history and her 9.47 win shares are fourth in the league record books and the highest since Lauren Jackson's 9.48 in 2007. Per Basketball Reference, Ogwumike led the WNBA in offensive rating (135.0) and was third in defensive rating (95.9), the only player in the top five in both categories. Her offensive rating is second in WNBA history, trailing only Jackson's 135.30 in 2006.
Ogwumike became Stanford's third three-time All-American when she was named to the WBCA Coaches' All-America Team in 2012. Her selection capped a career which included four NCAA Final Four appearances, an undefeated record at Maples Pavilion and numerous Cardinal records. She is one of just six members of the 2,000-point, 1,000-rebound club at Stanford along with sister Chiney, Jayne Appel, Candice Wiggins, Nicole Powell and Val Whiting.
In her senior campaign, Ogwumike set what were then Stanford single-season benchmarks for points scored (809) and scoring average (22.5). She was named Pac-12 Player of the Year for the second time and earned her second straight Pac-12 Tournament MVP as well as a third NCAA Regional MVP in a row.
In 2009-10, Ogwumike became the first sophomore since Candice Wiggins to be named Pac-10 Player of the Year, leading the conference with 18.5 points per game and a 59.8 shooting percentage to go along with 9.9 rebounds per game.
Ogwumike is the third player from the Pac-12 to win WNBA MVP honors and first since Lisa Leslie took home her third award in 2006. Los Angeles' semifinal series against the Chicago Sky begins on Sept. 28 at Staples Center on ESPN2.