Cal survives tough West Coast Conference team Saint Mary's, 74-67, crucial prep for another WCC squad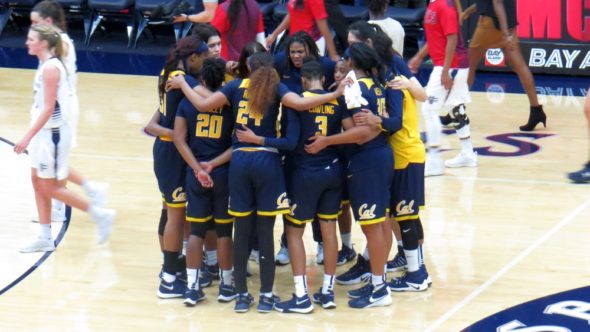 MORAGA, Calif. – California (1-0) capitalized on a chance to exact revenge on Saint Mary's (0-1) Friday evening with a 74-67 victory over their opponent, a win characterized by key plays committed at crucial moments by first-year Golden Bears. The win serves as great prep for another Bay Area West Coast Conference team, Santa Clara. The Bears return home to host the Broncos on Monday.
"We're not scheduling them as easy games," said Cal head coach Lindsay Gottlieb about the caliber of play when facing nearby WCC teams. "We're scheduling them as 'play the local teams, get the fans excited about it,' but they're not easy games for us and that's good."
Last season during the Cal Tournament, Saint Mary's took down the Bears and went on to win the competition. This season, Cal walked away victorious, led by underclassmen.
"I don't think either team was in mid-year form but I thought both teams executed very well," said Saint Mary's head coach Paul Thomas. "Give Cal a lot of credit."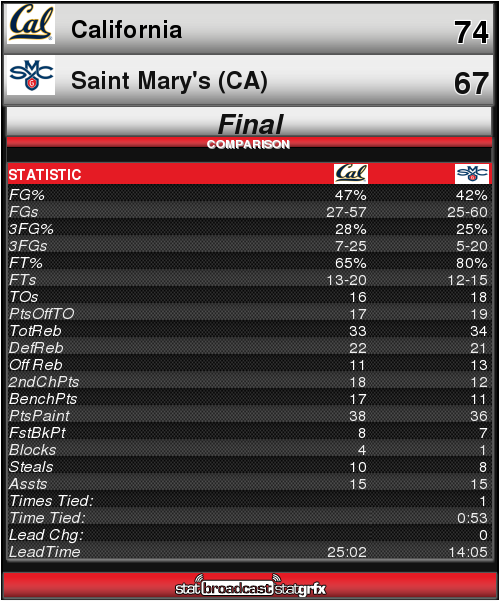 The road to conquering the Gaels was not easy as Saint Mary's attacked early, stealing the ball from Cal after sophomore center Kristine Anigwe won the tip for the Bears. The Gaels scored four quick points and kept Cal at bay for ten minutes with relentless defense. The home team had a 16-9 lead at the end of the first quarter.
Cal turned the tables midway through the second quarter with key plays from underclassmen. Sophomore point guard Asha Thomas scorched the Gaels with four treys in the second quarter, helping to reduce the deficit and then keep her team in the lead. With Anigwe tied up by the Gael's defense, Saint Mary's left Thomas open to nail those three-pointers.
"You're going to give something up and we gave Thomas up in the first half," said Gaels' coach Thomas.
After Thomas' third trey in the second quarter at 6:34, freshman guard Jaelyn Brown gave the Bears their first edge. After tying the game with a layup and getting fouled by SMC's guard Jasmine Forcadilla, Brown knocked down a free throw. She followed up with another layup less than a minute later to give the Bears a three-point advantage.
Overall, the Bears outscored the Gaels 26-11 in the second quarter to head into halftime with a 35-27 lead.
"We did a good job of responding when they punched first," said Gottlieb about her team's second quarter effort.
SMC put up a valiant effort in the last two quarters to try and overtake the Bears. After the break, Anigwe was the first to score, giving Cal a 10-point lead. But within 30 seconds, junior guard Carly Turner made a layup to get her team back within 10. Each time Cal scored, Saint Mary's had an answer. The teams were matched at 19 points each in the third quarter.
For most of the fourth quarter, it appeared that the game could still go either way as the Gaels nipped at Cal's heels, getting within three at 7:44 after a layup for Turner. However, SMC began to look fatigued in the latter part of the quarter. The Bears led by as much as 13 within the last minute.
Thomas paced Cal with 19 points. Anigwe managed to score 11 points and pull down six rebounds even as she battled through intensive defensive pressure, getting double and triple teamed on the inside from the Gaels. She responded by shoring up her defense, including diving for balls and earning five defensive rebounds.
Brown and fellow freshman, center CJ West, made significant contributions with six points each.
"I think any time with freshmen, you never quite know," said Gottlieb about the uncertainty of putting her youngest team members in the rotation, "but we expect production from our bench and from our three freshmen."
Veteran Bears who contributed to the win included senior forward Courtney Range with 14 points plus nine rebounds and junior forward Mikayla Cowling with eight points and six rebounds.
Turner led the Gaels with 21 points plus eight rebounds. Sophomore forward Sydney Raggio added 13 points and seven rebounds. Junior guard Stella Beck scored 11 points and pulled down four rebounds.
Saint Mary's hits the road to face another Pac-12 team, Washington State on Sunday.