Simone Edwards rejects Candice Wiggins' controversial claims about the WNBA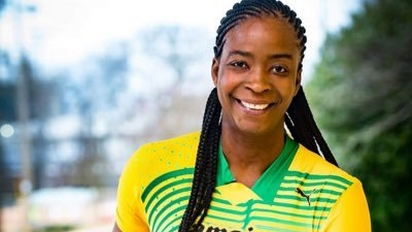 Responses from other current and former players || Statement from the WNBA Player's Association || Statement from WNBA President Lisa Borders
---
When Candice Wiggins retired from the WNBA in March 2016 after playing for the Minnesota Lynx, Tulsa Shock, Los Angeles Sparks and New York Liberty, she divulged that she didn't love the game anymore or the physical wear and tear it had taken on her body.
Wiggins, who was recently quoted in the San Diego Union-Tribune, said she had a miserable time during her eight years playing in the WNBA, in part because of what she considered "bullying" by forcefully aggressive gay players because she was heterosexual. Additionally, Wiggins cited an unproven statistic that 98 percent of WNBA players are gay and also claimed many of them were jealous of her popularity.
As a former WNBA player, I was dumbfounded by Wiggins' comments that "nobody cares about the WNBA" and "98 percent of the league is gay" – both statements I consider to be completely false and reckless.
It's unfortunate if, in fact, Wiggins found the WNBA had to be a hostile work environment for her throughout her eight-year career. If that is the case, it should initiate an open dialogue among players, coaches and management within the league. However, her statements only seem to ignite senseless controversy and feed into stereotypes about women's sports, including the sexual orientation of female athletes, and the fan base of female sports teams.
Sexual orientation clearly is not a deciding factor when recruiting players for the WNBA, which is an organization that has proven itself to be committed to inclusion and diversity. Women's basketball may be perceived by some to be a "gay sport," but the more accurate portrayal is that it is a reflection of our society, understanding that each individual is unique, and recognizing and respecting our individual differences. The WNBA's focus should be on recruiting the most talented basketball players purely based on skill – and regardless of sexual orientation.
"WNBA players work just as hard as their male counterparts, however, a significant challenge in continuing to grow a fan base for women's sports is media coverage and exposure, which pales in comparison to the NBA," says Jobi Tyson, an Atlanta-based creative and cultural researcher.
When I first began playing in the WNBA in 1997, many doubted the league would last as long as it has. Yet, here we are 20 years later, and the league continues to grow in attendance and relevance, averaging 7,655 fans per game last season. With those kinds of attendance numbers, it's a myth that "nobody cares about the WNBA." Clearly, the reality is our fans do.
Simone Edwards dubbed the "Jamaican Hurricane" is a former New York Liberty and Seattle Storm WNBA player and the first Caribbean WNBA player. She is the founder of The Anti-Bully Project that builds bridges between players and teams/organizations and creates sports bullying programs for schools and professional sports teams. A graduate of University of Iowa and Seminole State College, NCAA Women's Basketball Ambassador, she formerly coached women's basketball for George Mason University and Radford University, authored her upcoming memoir "Rise of The Jamaican Hurricane," and founded Simone4Children. You can follow her at Facebook, Twitter and Instagram  and visit her site at www.jamaicanhurricane.com.
Responses from other current and former players
Statement from the WNBA Player's Association president and Stanford graduate Nneka Ogwumike
"Our union is only as strong as our loyalty to and support for one another. What is key to that loyalty and support is our commitment to diversity and inclusion. As a union, we should and we will continue to celebrate the diversity that makes us special and lead by example. We must respect the rights of those we don't agree with when they speak their mind. Whether one agrees or disagrees with the comments made recently by a former player or whether one has seen or experienced anything like what she has described, anything that impacts an inclusive culture should be taken seriously." 
Statement from WNBA President Lisa Borders
"When I first read the comments from retired WNBA player, Candice Wiggins, I was stunned and disappointed. In my time with the league and my capacity as a fan before that, I've had the pleasure of getting to know a group of highly-competitive women who are driven to succeed at the highest level on the court and constantly striving to help create opportunity for all members of their communities. In keeping with that, I've found our players to be earnest, heartfelt and eloquent in their responses to Candice's comments and, as always, clear in their commitment to our league's core values of diversity, inclusion and respect. Of course, it concerns me if any of our players do not have a positive experience and I hope that anyone who feels uncomfortable would reach out to me or others in the league office."