Cal completes weekend sweep, Penina Davidson leads Bears in 63-56 win over USC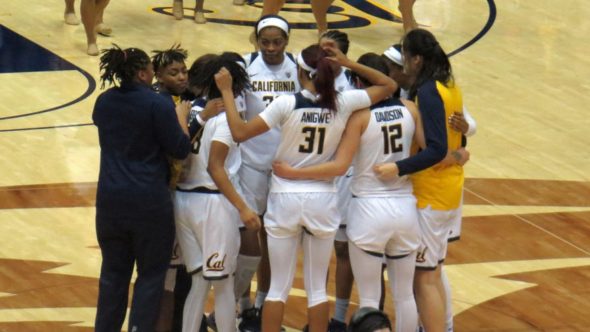 BERKELEY, Calif. – California (17-7, 5-7) survived a close game and fourth quarter rally from Southern California (12-11, 3-9) to complete a sweep of the Pac-12's Los Angeles schools with a 63-56 victory over the visiting Trojans Sunday morning at Haas Pavilion.
"It was a huge weekend for us, a huge sweep," said head coach Lindsay Gottlieb about her team's back-to-back home wins.
Cal switched up the starting lineup for the games, substituting freshman guard Mi'Cole Cayton in place of junior forward Penina Davidson to get a quick handle on USC's defensive pressure and to "put another ball handler" on the floor according to Gottlieb.
"We got good results because of a change in tempo more than anything," added Gottlieb who also said she was proud of her team's effort and resolve.
The game was a defensive battle that resulted in a low-scoring first half as both teams put on the pressure. The first quarter ended with the Bears and the Trojans tied at 13. Cal managed to outscore USC 15-12 in the second period to take a 28-25 lead into the break.
USC recovered from its halftime deficit midway through the third quarter and the teams traded leads until the last minute of the quarter. However, Cal came out on top to go into the fourth period with a slim 45-44 advantage.
The Trojans took the lead at 4:14 in the last period but the Bears quickly regained the lead and never fell behind again.
Davidson came off the bench to lead Cal with 17 points plus nine rebounds. Point guard Asha Thomas had 14 points and four assists. Forward Mikayla Cowling and center Kristine Anigwe added 10 points each. Anigwe also pulled down nine rebounds.
Kristen Simon led USC with 24 points and nine rebounds.
The Trojans stay on the road to face Oregon State on Friday. Cal hosts Utah on the same day.