Top-ranked UConn earns 100th consecutive win with 66-55 victory over South Carolina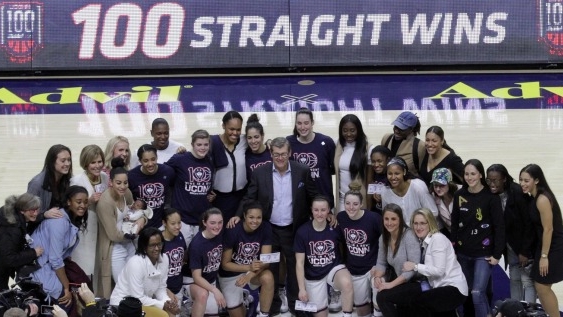 Quotes || Notes || Statistics || Photo Gallery || Postgame Video
Undefeated and top-ranked Connecticut (25-0) hit another milestone Monday night with a 66-55 win over No. 6 South Carolina (21-3) in front of a sell-out crowd in Storrs, Conn. The victory marked the 100th consecutive win for the Huskies. UConn's previous win streak ended at 90 in 2014 against Stanford. The Huskies bested that mark in January with an 88-48 rout of Southern Methodist for 91 consecutive victories.
Several former UConn stars were at the game including  Sue Bird, Tina Charles, Tiffany Hayes, Maya Moore, Breanna Stewart and Morgan Tuck.
Earning the win over South Carolina for No. 100 was not an easy feat. The teams were neck and neck during the first half until UConn pulled away in the last minute of the second quarter with seven straight points. The Huskies went into the break with a 35-29 lead.
South Carolina did not trail by double digits until the end of the third quarter. The Huskies outscored the Gamecocks 16-10 in that period and never looked back. UConn is now 5-0 all time against South Carolina.
Gabby Williams led UConn with 26 points plus 14 rebounds. Napheesa Collier was also in double digits with 18 points plus nine rebounds.
A'ja Wilson paced South Carolina with 17 points and five rebounds. Alaina Coates contributed 10 points and 15 rebounds. Bianca Cuevas-Moore scored 11 points and pulled down four rebounds.
The Gamecocks return to SEC action at home, hosting Vanderbilt on Thursday. UConn travels to New Orleans for a game against Tulane on Saturday.
Quotes
UConn head coach Geno Auriemma
On Gabby Williams
"She is an extraordinary talent, and you hear that word a lot you know. You hear that word that she is special player, or this special, but you know there is nothing special about Gabby. You know, I think the term special gets thrown around like its ordinary, she's not special, what she is is just an extraordinary athlete who understands that she is and she tries to live up to it and not everyone does that. Her basketball skills have caught up to her extraordinary talent. There is nobody like her in college basketball."
On past players visiting for 100 wins
"There were a lot of good players sitting in the stands tonight. When I turned around and looked at the bench one time, I almost called a couple of them down. There were a lot of wins up in the stands tonight and a lot of championships."
On this team getting to 100 wins
"Given where we started and where a lot of people expected us to be and who everyone else had coming back, for them to do it, I think it is very appropriate. They probably feel better about it than last year's teams would have. A big win like this against a really good team in an amazing environment."
Junior forward Gabby Williams
On her play in the game
"I think sometimes, I can be too hard on myself, I don't give myself enough credit. It does worse than it does any good, so I am just trying to build my confidence up more and more."
On her confidence level
"I get it from my coaches I get it from my teammates. Just going out and getting extra gym time always helps getting my mind right. Also, I lose my confidence when I try to play outside of my game and outside of what I know I can do, but once I just start getting stuff going on the defensive end, things just kind of come."
Sophomore forward Napheesa Collier
On having success against South Carolina
"I think it is toughness and really knowing our scout. Our team did a good job with doubling and forcing them the way that we wanted them to go instead of the way they like. Things like that."
On past players coming back
"It felt really good, kind of continuing on what they have done for so many years. It felt really good too to kind of finish it off."
Junior guard Kia Nurse
On 100 straight
"It's a hard thing to do and it's a big number. It is definitely going to be something we remember for the rest of our lives."
On Gabby Williams
"Yeah Gab did a little bit of everything out there today, she was all over the place, she was absolutely incredible. Just absolutely proud of her and she carried this team to a win."
South Carolina head coach Dawn Staley
On today's game
"I just thought that for 18 minutes of the first half favored our game plan and then we had those turnovers and they went and scored and it really hurt us, it deflated us….we had lazy passes and they made us pay for it"
On what she tells her guards after this game
"Well I told them that UConn usually and probably looks at peoples shooting percentages, and they make those people beat you. For us, we had too many empty possessions where we got great looks but we just didn't come up with them."
On UConn coming to Columbia, S.C. next year
"I don't mind playing them every year."
"She's our leader. I gave her the keys to the car and she has to step up and be a leader. She obviously can play basketball and is ahead of the game for understanding what needs to be done out there."
Notes
Monday's loss snapped Carolina's seven-game road winning streak over ranked opponents.
UConn's 66 points against the Gamecocks were a season low for the Huskies.
Only three games in the streak have been won by 10 points or less
14, 2016 vs. FSU, 78-76
29, 2016 vs. Maryland, 87-81
13, 2017 vs. South Carolina 66-55
The last time UConn lost a game was on 14, 2014 at Stanford with a score of 88-86.
Stanford was the team that broke Huskies' 90-game unbeaten run, a 71-59 game that also took place at Maples Pavilion at Stanford.
UConn has won 17 straight games against SEC teams
UConn leads the nation in three statistical categories: field-goal percentage, assists/turnover ratio and assists per contest.