Dawn Staley named head coach of the USA Basketball Women's National Team through 2020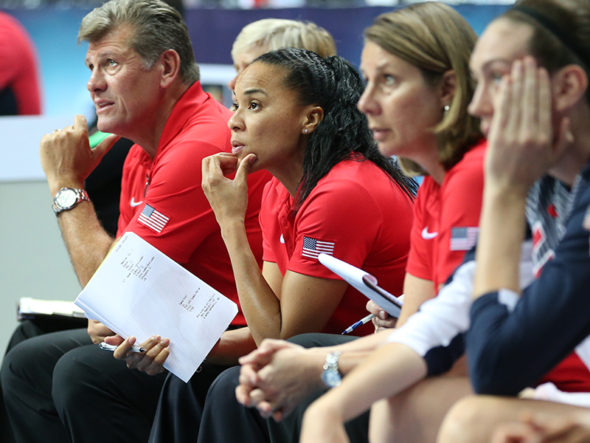 Press conference video || Reactions from Staley's former coach and teammates
USA Basketball announced South Carolina head coach Dawn Staley as the new head coach of the USA Basketball Women's National Team through 2020. The press conference announcing her appointment was held at the athletic facilities of South Carolina Friday afternoon. She succeeds Connecticut head coach Geno Auriemma who coached USA teams to gold medals at the past two Olympics and FIBA World Championships.
"I think she's an obvious choice with all of the experience that she has had as part of the Olympic program as a player, as a coach, both as an assistant coach at the national team level and the head coach (for junior USA teams), being part of gold-medal winning teams," said Auriemma. "The success that you need to have at the Olympic level is, you're expected to win a gold medal every year. In order to do that I think you have to have an expectation of winning, and proving that you can win and proving that you can take teams in a short period of time and guide them is not easy. And, Dawn's been able to do that. I think she's going to be really, really good, because she understands the way the whole system works. She's been a part of it in every capacity. So, I don't envision that there will be anything that she's not prepared for. I think it's a great choice. I'm happy for her, and I'm happy for USA Basketball."
Staley has been involved with USA Basketball since 1989 when she was a star point guard at the University of Virginia. She was an assistant coach for the gold medal 2016 U.S. Olympic Women's Basketball Team.
Staley's selection was made by the USA Basketball Women's National Team Steering Committee and approved by the USA Basketball Board of Directors.
"Being named head coach of the USA National Team is a tremendous honor," said Staley, who was enshrined into the Naismith Memorial Basketball Hall of Fame in 2013 and the Women's Basketball Hall of Fame in 2012. "As a player, I was humbled each time I wore the uniform and this feels no different. I will do my very best to uphold the standards and winning tradition of the national team, and must thank the selection committee for having faith in my abilities as a coach to trust me with such an important role. I would also like to thank my teams at Temple and South Carolina for putting me in this coveted position. They allowed me to learn and grow on the job and I am truly grateful."
The USA Basketball Women's National Team will compete in the 2018 FIBA World Cup (Sept. 22-30 in Spain) and, if the USA qualifies, the 2020 Summer Olympic Games (July 24 – Aug. 9 in Tokyo, Japan), as well as additional USA training camps and exhibition games.
Sue Bird, USA Basketball teammate of Staley's from in 2002 and 2004; coached by Staley, who was an assistant coach, at the 2008 and 2016 Olympics and 2006 and 2014 FIBA World Championship and the 2007 Olympic Qualifying Tournament.
What makes Dawn a champion goes beyond any of the points, rebounds or assists she tallied. She could see the game in such a way where she always knew what her team needed in order to win. She knew what her team needed to run, which player needed to get the ball and where. And, she was always communicating this to the rest of the team. I saw that in her as a player, and I see it in her as a coach.
"Dawn is a great choice to lead the USA National Team, because there is no one out there who has the amount of experience that Dawn has. She understands what it takes to win gold medals from a player's standpoint as well as a coach's standpoint, and because our team rarely gets a lot of practice time, having a leader who possesses both gives us a huge advantage."
Tamika Catchings, USA Basketball teammate of Staley's from 2002-04; coached by Staley, who was an assistant coach, at the 2008 and 2016 Olympics and 2010 FIBA World Championship.
"Everything about Dawn screams champion! Her dedication on the court, from being a teammate of hers, to having her as one of my mentors, to what she's been able to establish on the coaching level… (she is) the epitome of a champion!
"Dawn is a great choice (to lead the USA National Team), because she knows how to win and what it takes to be on the USA Basketball level. Her expertise is unmatched when you look at her history and the way she has been able to transform programs and create a winning recipe. I know that the road she's created will allow her to be one of the best coaches for our upcoming USA National Team."
Teresa Edwards, USA Basketball teammate of Staley's at the 2000 Olympics, 1996 Olympics, 1994 World Championship and the 1995-96 USA Women's National Team.
"Dawn Staley embodies passion. What makes her a champion is her dedication to perfection. On every level and in each endeavor, she has consistently held her value as a true champion of women's basketball.
"Champions of coach Dawn Staley's caliber are rarely seen today, given her experience, knowledge of greatness and loyal dedication to 'One Team – One Mission.' With many years of devotion to our USA National Teams, she's served as an assistant coach successfully after standing on the podium as a player. Coach Staley is not only a great choice to lead our national team, as this time in history, she is the only choice."
Lisa Leslie, USA Basketball teammate of Staley's from 1989-2004, including three Olympic gold-medal winning teams and two World Championship gold-medal winning teams; athlete on the 2008 U.S. Olympic Team, with Staley as an assistant coach.
"I am so proud of Dawn Staley achieving this great honor! She has always been a coach on the floor for me and all of our Olympic teammates. I am so confident in her ability to lead our next USA team to gold, and also instill in them the tenacity and pride that it takes to wear the red, white and blue. I can't think of a more deserving coach to lead the team and continue our amazing legacy!"
Debbie Ryan, former University of Virginia head coach and 1989 USA Junior World Championship Team head coach.
"I was thrilled to hear that Dawn had been selected as our next USA National Team head coach. Dawn has worked long and hard to prepare herself for this challenge, and I believe she is the perfect fit for this prestigious position. She is a former Olympic point guard who holds her players accountable but completely understands the journey of each and every team member, which makes her a great fit for the job. Dawn has dedicated most of her life to USA Basketball and her experience as both a player and coach in the system will be invaluable as the USA begins this next quest for Olympic gold. I do not think USA Basketball could have selected a better representative to follow Geno Auriemma, and I know Dawn will make us all proud. Go USA!"