Former President Barack Obama fills out a women's bracket, chooses UConn to win it all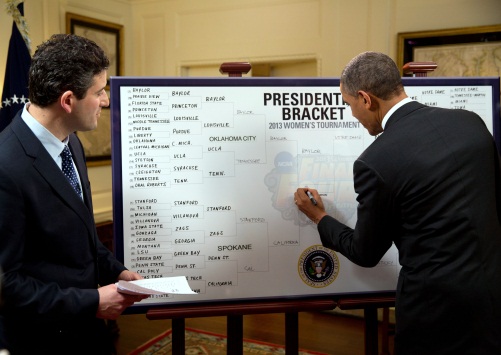 Former President Barack Obama continued a tradition of filling out brackets for the NCAA Tournament choosing Connecticut to win the women's championship and North Carolina in the men's race.
In his Final Four, he selected Notre Dame, Washington and South Carolina along with UConn. His bracket does have an error: He has Notre Dame on both sides of the bracket in the Elite Eight in the Lexington and Oklahoma Region. Notre Dame is acutally in the Lexington Region opening against Robert Morris. He does have Washington advancing in the Oklahoma City Region past Baylor, Louisville, and Mississippi State to the Final Four.
This is the eighth year that he has provided a bracket for the women's tournament. UConn has been in his Final Four for all eight years. Overall, teams he has picked in the Final Four include:
Notre Dame (2016, 2015, 2014, 2013, 2012, 2010)
Baylor (2013, 2012, 2011)
Stanford (2014, 2011, 2010)
He picked UConn to win the Championship in 2016, 2015, 2014 and 2010, and Baylor in 2012.
An avid fan of basketball, Obama struck up friendships with several women's basketball players over the years including Tamika Catchings and Maya Moore.
In 2010, Obama became the first sitting president to attend a WNBA game when he sat courtside at a Washington Mystics game on Sunday with his then 8-year-old daughter Sasha and a friend of the first daughter. The youngsters wore the Mystics No. 20 jersey of guard Alana Beard.