Stanford unfazed by starting NCAA Tournament play on the road, VanDerveer and Trakh meet again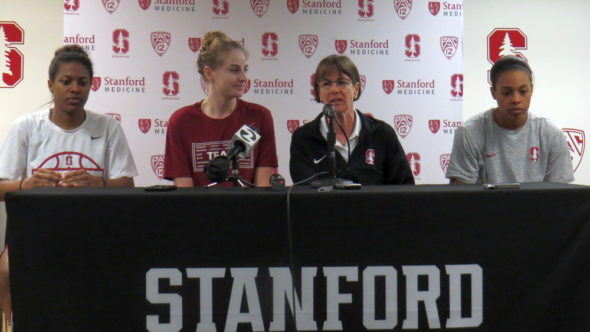 No. 6 Stanford (28-5) vs. No. 15 vs. New Mexico State (24-6)
Saturday, March 18, 1:30 p.m. ET/10:30 a.m. PT
TV: ESPN2/ESPN3, Radio: KZSU 90.1FM
For 30 straight seasons, Stanford has appeared in the NCAA Tournament. The Cardinal had the fortune to start tournament play at home for the last two seasons, reaching the Sweet 16 one year and the Elite Eight the next. The last time the team reached the Final Four, in 2014, they began their postseason campaign in the Midwest, beating South Dakota in the first round.
Perhaps starting off the NCAAs on the road in the Heartland can help Stanford's mojo in their quest to reach the Final Four again. The No. 2 seeded Cardinal are in the Lexington Region and face No. 15 New Mexico State in Manhattan, Kansas on Saturday. The two teams have never met.
Stanford is not hosting first and second rounds this year because the Pac-12's gymnastic tournament is at Maples Pavilion this weekend. However, Stanford's facility has hosted more NCAA Tournament games (65) than any other arena except Tennessee's Thompson-Boling Arena (66).
The Cardinal will attempt to survive the first four rounds by only focusing on the immediate task of getting past their first opponent.
"We're just going to get focused on our first game and our only game coming up on Saturday against New Mexico State," said head coach Tara VanDerveer before the team left Northern California earlier this week. "We're going to have to play very well and we're going to have to learn a lot. But again, we're really excited and really happy to be playing."
While the Cardinal knew that they were a shoo-in to the NCAAs as the winners of the Pac-12 Tournament, they had to wait until the very end of the Selection Show on Monday to learn their seeding and where they would begin play.
"I was really excited just to see Stanford go across that billboard," said senior forward Erica McCall of the anticipation. "It was also really nerve-wracking."
McCall has some insight into her team's first opponent as her dad, the head coach of CSU Bakersfield, faced NMSU twice this season as both teams are members of the Western Athletic Conference.
"He gave me the run down," said McCall. "He gave me the scout. He told me a little bit about the players they have, the system the run, and of course, I had to give that message to the other coaches. I am really excited to play them. I have watched them a couple of times because they have played my dad. I feel a little comfortable playing them. It is going to be really exciting."
VanDerveer is undaunted by starting off tournament play 1,768 miles away from the Stanford campus.
"Our team has played so well on the road," she said. "And we knew were going on the road all year. We've known it for two years. So, we're ready for it and we're really excited about the opportunity."
The Cardinal arrived in Kansas on Thursday and met the media Friday.
"We are very excited to be here," said VanDerveer. "I am joined by our three seniors that have been great leaders for our team and great players in our program and I know that they are all really excited to start playing in the NCAA tournament. It is something that has been a goal from day one in sitting down with our team."
She reiterated her team's comfort level with playing away from Maples Pavilion.
"We like playing on the road. I think it is fun. You are around each other in the hotel. It does not affect our team as much as I feel bad for our fans. That is the only thing, the fans, the great Stanford fans. There will be some here but it makes it tough. Our team, they have been road warriors all year and have enjoyed playing on the road and being with each other. Maybe it is just less distractions or whatever, but we focus very well and it has not been an issue for us at all."
VanDerveer and NMSU head coach Mark Trakh are no strangers to each other. Trakh coached the Pac-12's Southern California from 2004 to 2009. However, he has never faced Stanford while at NMSU.
"It was great seeing Mark," said VanDerveer about seeing her former Pac-12 colleague in Manhattan. "We gave each other a big hug and he said, 'Well I would not have minded coming to Palo Alto.' He has done a great job. He has been a friend in basketball for years."
Trakh heaped praises on VanDerveer.
"Her teams were always so disciplined in what they did offensively and defensively. I know she has changed her offensive systems. I know they really are in tune in playing together and what they do. They always play defense. They have always defended very well. They never beat themselves. With a Tara-coached team, they will never beat themselves. I have learned a lot with just watching her coach and watching her tapes. She is really just very knowledgeable about the game, and how to motivate and manage her teams…She is someone I have a great deal of respect and admiration for."
This season marks the third consecutive trip to the NCAA Tournament for NMSU. The team received an auto bid after winning a third-straight WAC Tournament championship.
Stanford has won two national championships (1990, 1992) and reached 12 Final Fours (1990-92, 1995-97, 2008-12, 2014).