2017 WNBA Draft: San Antonio bolsters roster with Kelsey Plum as No. 1 pick, Chicago takes Alaina Coates as No. 2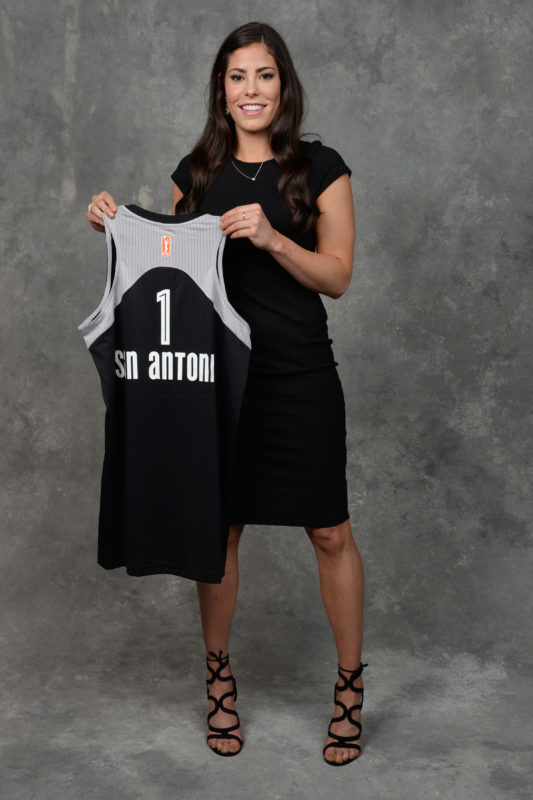 As expected, University of Washington guard Kelsey Plum was the top pick in the 2017 WNBA draft. The San Antonio Stars chose all-time NCAA scoring leader.
"It's an unreal feeling," said Plum about being drafted. "I've been dreaming about it for so long. I'm just very grateful."
In her college career, Plum set the NCAA women's record for career points (3,527) and points in a season (1,109, 2016-17). She finished her time at Washington averaging 25.4 points and 4.3 rebounds per game. She also broke a 33-year-old NCAA career free throw record, sinking 912. She is the first-ever No. 1 pick from Washington. Her teammate, forward Chantel Osahor, went in the second round as the 21st overall pick to the Chicago Sky.
"We are fortunate this year to add very talented players to our roster moving forward," said Stars general manager Ruth Riley. "Kelsey Plum has rewritten the collegiate history books as a dynamic scorer, but more than that, she emulates the work ethic and character that are foundational to our culture here in San Antonio."
"We feel very fortunate to have been able to capitalize on our number one pick and acquire Kelsey Plum," added Stars head coach Vickie Johnson. "We think that she will be able to contribute and expand her knowledge of the game, which has the potential to make her a standout player here in the WNBA, as she was in Washington. All of her recent accolades speak for themselves and we are confident that she will hold great value for our organization."
During the first round of the draft, the Stars also picked Northwestern forward Nia Coffey, the fifth selection.
"We are very excited to welcome Nia Coffey to our team," said Johnson. "Her strength and athleticism is something we love about Nia. We expect that her aggressive play will seamlessly transition to this league and to our lineup."
Coffey's selection was the highest draft pick in Northwestern women's basketball history. During her college career she averaged averaged 17.9 points and 9.2 rebounds per game.
South Carolina center Alaina Coates was the second overall pick. The Sky chose Coates even though she is injured and will likely miss a portion of the season. Coates had surgery in mid March due to a lingering ankle injury. She sprained the ankle in February and missed playing in her team's run to the national championship.
"I'm just really excited," said Coates about her selection. "I think I'm still coming off the national championship high. I didn't get to do anything except watch a TV screen, but I was still part of the team. I'm really excited about that and happy that happened. For me to go number two especially with my situation, I'm really excited about that as well."
Her teammates, guards Allisha Gray and Kaela Davis, were also top ten picks. Gray went to the Dallas Wings as the fourth pick and Davis went to the same team as the tenth pick.
Dallas also had the third pick and chose Kentucky forward/center Evelyn Akhator.
The WNBA regular season kicks off a month from now on Saturday May 13. The full draft board is below.
Round 1
| PICK | TEAM | PLAYER | SCHOOL | POSITION |
| --- | --- | --- | --- | --- |
| 1 | SAN ANTONIO STARS | Kelsey Plum | WASHINGTON | G |
| 2 | CHICAGO SKY (from WASHINGTON) | Alaina Coates | SOUTH CAROLINA | C |
| 3 | DALLAS WINGS | Evelyn Akhator | KENTUCKY | F/C |
| 4 | DALLAS WINGS (from CONNECTICUT via LOS ANGELES) | Allisha Gray | SOUTH CAROLINA | G |
| 5 | SAN ANTONIO STARS (from PHOENIX) | Nia Coffey | NORTHWESTERN | F |
| 6 | WASHINGTON MYSTICS (from SEATTLE) | Shatori Walker-Kimbrough | MARYLAND | G |
| 7 | ATLANTA DREAM | Brittney Sykes | SYRACUSE | G |
| 8 | CONNECTICUT SUN (from INDIANA) | Brionna Jones | MARYLAND | C |
| 9 | CHICAGO SKY | Tori Jankoska | MICHIGAN STATE | G |
| 10 | DALLAS WINGS (from NEW YORK) | Kaela Davis | SOUTH CAROLINA | G |
| 11 | LOS ANGELES SPARKS (from LA VIA DALLAS) | Sydney Wiese | OREGON STATE | G |
| 12 | MINNESOTA LYNX | Alexis Jones | BAYLOR | G |
Round 2
| PICK | TEAM | PLAYER | SCHOOL | POSITION |
| --- | --- | --- | --- | --- |
| 1 | CONNECTICUT SUN (from SAN ANTONIO via PHOENIX) | Shayla Cooper | OHIO STATE | F |
| 2 | NEW YORK LIBERTY (from DALLAS) | Lindsay Allen | NOTRE DAME | G |
| 3 | SEATTLE STORM (from WASHINGTON) | Alexis Peterson | SYRACUSE | G |
| 4 | CONNECTICUT SUN | Leticia Romero | FLORIDA STATE | G |
| 5 | INDIANA FEVER (from PHOENIX) | Erica McCall | STANFORD | F |
| 6 | WASHINGTON MYSTICS (from SEATTLE) | Jennie Simms | OLD DOMINION | G |
| 7 | ATLANTA DREAM | Jordan Reynolds | TENNESSEE | G |
| 8 | INDIANA FEVER | Feyonda Fitzgerald | TEMPLE | G |
| 9 | CHICAGO SKY | Chantel Osahor | WASHINGTON | F/C |
| 10 | INDIANA FEVER (from NEW YORK via ATLANTA) | Ronni Williams | FLORIDA | F |
| 11 | DALLAS WINGS (from LA) | Breanna Lewis | KANSAS STATE | C |
| 12 | MINNESOTA LYNX | Lisa Berkani | FRANCE | G |
Round 3
| PICK | TEAM | PLAYER | SCHOOL | POSITION |
| --- | --- | --- | --- | --- |
| 1 | SAN ANTONIO STARS | Schaquilla Nunn | TENNESSEE | F |
| 2 | DALLAS WINGS | Saniya Chong | CONNECTICUT | G |
| 3 | WASHINGTON MYSTICS | Mehryn Kraker | GREEN BAY | F |
| 4 | CONNECTICUT SUN | Jessica January | DEPAUL | G |
| 5 | PHOENIX MERCURY | Alexis Prince | BAYLOR | G |
| 6 | SEATTLE STORM | Lanay Montgomery | WEST VIRGINIA | C |
| 7 | ATLANTA DREAM | Oderah Chidom | DUKE | F |
| 8 | INDIANA FEVER | Adrienne Motley | MIAMI | G |
| 9 | CHICAGO SKY | Makayla Epps | KENTUCKY | G |
| 10 | NEW YORK LIBERTY | Kai James | FLORIDA STATE | C |
| 11 | LOS ANGELES SPARKS | Saicha Grant-Allen | DAYTON | C |
| 12 | MINNESOTA LYNX | Tahlia Tupaea | AUSTRALIA | G |