Dallas Wings waive Kalani Purcell and Kelsey Lang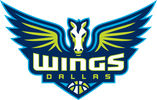 A day after losing a preseason game against the San Antonio Stars, the Dallas Wings waived Kelsey Lang and Kalani Purcell.
Lang, a center out of Texas, logged 9:12 minutes in the game finishing with 2 points (from free throws) and 4 rebounds. Purcell, a forward out of BYU, played 13:36 minutes and pulled down three rebounds.
Dallas heads to Indiana next weekend for a May 6 preseason road contest. The Wings will tip off the 2017 season in Arizona at the Phoenix Mercury before their home opener vs. Minnesota on May 20 at 7 p.m. CT at the College Park Center located on the campus of the University of Texas at Arlington.