WNBA releases national TV Schedule for 2017, plus key dates and more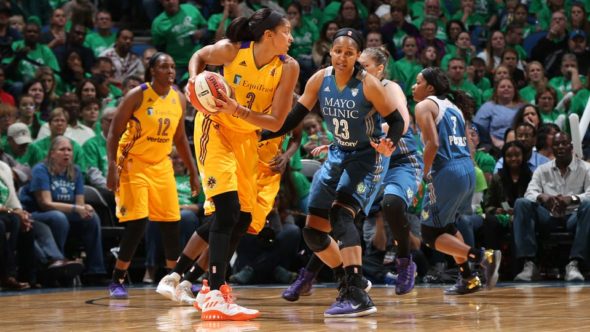 National TV Schedule || Full Schedule || Key Dates
During the 2017 WNBA season, 16 games will be broadcast nationally by ESPN networks. The All-Star Game, hosted by the Seattle Storm, will be aired on ABC.
All but 15 of the nationally televised games will be on ESPN2. The TV schedule kicks off on ESPN with the Seattle Storm at the Los Angeles Sparks on Saturday, May 13 at 5 p.m. ET.
Ryan Ruocco will return as the lead play-by-play voice alongside analyst Rebecca Lobo and reporter Holly Rowe. Commentator Pam Ward will team with analyst LaChina Robinson on select games
Also this year, ESPN will again televise each game of the WNBA postseason from the first round to the finals.
Some teams will have games broadcast on local channels. FOX Sports Arizona and FOX Sports Arizona Plus will air eight Phoenix Mercury games. Hall-of-Famer Ann Meyers Drysdale returns to call the action for the Mercury alongside Kevin Ray who enters his 18th season calling Mercury games.
All of the Seattle Storm's home games will be aired by Q13 FOX /JOEtv. The Storm returns Sportsradio 950 KJR personality Dick Fain for his 11th season as the play-by-play on-air talent. Color analyst Elise Woodward, who serves as a Pac-12 network analyst and University of Washington women's basketball on-air talent, returns to the sidelines for her 10th Storm season.
In addition to the TV broadcasts, most games will be available via streaming with the WNBA's League Pass package. This season the package costs $16.99. Fans can also purchase a WNBA Team Pass for $9.99.
The national TV schedule and key dates for the season are below.
National TV Schedule
| Date | Day | Time | Game | Network |
| --- | --- | --- | --- | --- |
| 13-May | Saturday | 5:00 PM | Seattle @ Los Angeles | ESPN |
| 18-May | Thursday | 7:00 PM | Minnesota @ New York | ESPN2 |
| 23-May | Tuesday | 8:00 PM | Connecticut @ Minnesota | ESPN2 |
| 30-May | Tuesday | 7:00 PM | Los Angeles @ New York | ESPN2 |
| 6-Jun | Tuesday | 8:00 PM | Washington @ Dallas | ESPN2 |
| 13-Jun | Tuesday | 10:00 PM | Dallas @ Los Angeles | ESPN2 |
| 23-Jun | Friday | 8:00 PM | Washington @ Minnesota | ESPN2 |
| 29-Jun | Thursday | 8:00 PM | Seattle @ Connecticut | ESPN2 |
| 6-Jul | Thursday | 8:00 PM | Los Angeles @ Minnesota | ESPN2 |
| 18-Jul | Tuesday | 9:00 PM | Chicago @ Seattle | ESPN2 |
| 22-Jul | Saturday | 3:30 PM | WNBA All-Star Game 2017 | ABC |
| 25-Jul | Tuesday | 8:00 PM | New York @ Minnesota | ESPN2 |
| 3-Aug | Thursday | 8:00 PM | Atlanta @ Minnesota | ESPN2 |
| 10-Aug | Thursday | 8:00 PM | Phoenix @ Dallas | ESPN2 |
| 16-Aug | Wednesday | 7:00 PM | Los Angeles @ Washington | ESPN2 |
| 24-Aug | Thursday | 9:00 PM | Los Angeles @ Phoenix | ESPN2 |
| 27-Aug | Sunday | 7:00 PM | Minnesota @ Los Angeles | ESPN2 |
April 29-May 8: Preseason games
May 13: WNBA Tip-Off 2017
June: WNBA Pride Month
July 22: WNBA All-Star 2017
July 31: Trade deadline, 8:00 PM ET
August 13-27: WNBA Breast Health Awareness
September 3: End of regular season
September 6: WNBA Playoffs 2017
September 12: Semifinals tip off
September 24: WNBA Finals tip off