2017 USA Basketball Women's U16 National Team announced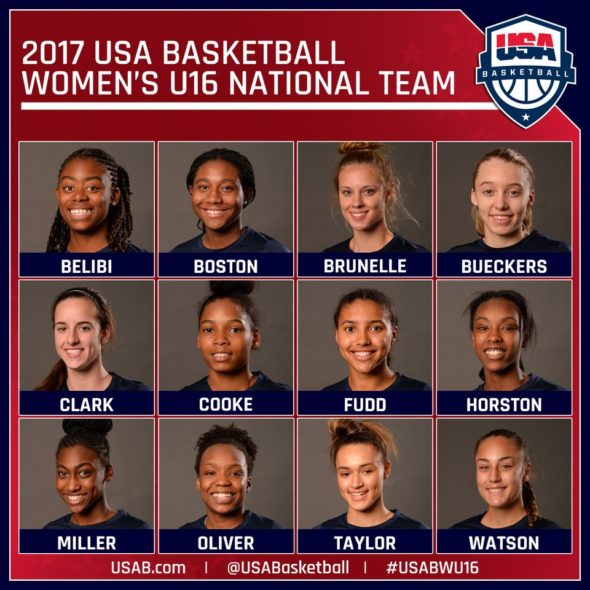 The 12-member roster for the 2017 USA Basketball Women's U16 National Team today was named after two days of training camp with 18 finalists, which followed four days of trials that began with 133 athletes. The team will compete in the 2017 FIBA Americas U16 Championship from June 7-11 in Buenos Aires, Argentina. The top four finishing teams earn a berth into the 2018 FIBA U17 World Cup.
Fran Belibi (Regis Jesuit H.S./Centennial, Colo.)
Aliyah Boston (Worcester Academy/Worcester, Mass.)
Samantha Brunelle (William Monroe H.S./Ruckersville, Va.)
Paige Bueckers (Hopkins H.S./Eden Prairie, Minn.)
Caitlin Clark (Dowling Catholic H.S./West Des Moines, Iowa)
Zia Cooke (Rogers H.S./Toledo, Ohio)
Azzi Fudd (Potomac School/Falls Church, Va.)
Jordan Horston (Columbus Africentric Early College/Columbus, Ohio)
Diamond Miller (Franklin H.S./Somerset, N.J.)
Jordyn Oliver (Prosper H.S./Prosper, Texas)
Celeste Taylor (Long Island Lutheran H.S./Valley Stream, N.Y.)
Kylee Watson (Mainland Regional H.S./Linwood, N.J.)
Head coach: Carla Berube (Tufts University)
Assistant coaches: Steve Gomez (Lubbock Christian University) and Vanessa Nygaard (Windward School, Calif.)
The team will continue training camp at the United States Olympic Training Center in Colorado Springs, Colorado, through June 4. The USA Basketball Women's Developmental National Team Committee is responsible for the selections, and players eligible for this team must be U.S. citizens born on or after Jan. 1, 2001.
The 2017 USA U19 World Cup Team was also announced recently.