Elena Delle Donne meets expectations in season debut, helps lift Mystics over Stars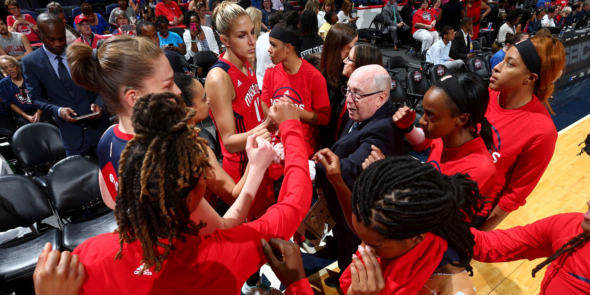 WASHINGTON – The Washington Mystics started the season off on a winning note with an 89-74 home win over the San Antonio Stars Sunday afternoon in front of 6,126 fans.
"I thought we did a lot of good things," Mystics head coach Mike Thibault said about the game. "We moved the ball pretty well offensively."
In the preseason, one common strong suit the Mystics players all shared was a great feeling about their shooting weapons. They knew on the other side of the ball they had a more important element to implement to their game and it paid off Sunday. Against the Stars, the Mystics exuded a defiant and abrasive defensive hustle that separated them from their opponent and created extra possessions to score.
"I think that was an emphasis in training camp," Thibault said. "We need extra possessions whether it come off of steals, forcing turnovers or whether it's on offensive boards."
The Mystics collected 38 rebounds, 19 points on second chances and had 11 steals while the Stars had 23 rebounds, just six second chance points and seven steals.  Though there was much to praise about regarding Washington's performance, they know they have more to work on.
"It's the start of the season and we have a whole season left to work on it and get better," commented Tierra Ruffin-Pratt who contributed eight points and nine rebounds. "I think in the end, it was pretty decent. We'll build from this and we'll see where we are and where we can go from it."
While the No. 1 overall pick in the 2017 WNBA Draft, San Antonio guard Kelsey Plum, sat out with an ankle injury, her team had most of their success with former Mystics player Monique Currie who had 31 points and six rebounds. Stars head coach Vickie Johnson said Currie followed the second half message to adjust to Mystics' overbearing defense in the paint.
"[I told them] to take what the defense gives you," Johnson said. "If you're open, take the shot. Shoot it with confidence. I thought we shot the ball pretty well and overall I think we did well."
Free throws kept the Stars alive as they were a perfect 18-of-18 from the line.  Johnson said the team executed the game plan to their best ability though they fell short.
"Main thing was to fight," Johnson said. "Fight to the end and fight together. Lay everything on the table. I think they did that."
The question of an established chemistry amongst the Mystics was answered with a successful offensive performance. The collection of 19 assists, the second chance shots and great ball movement helped the squad spread their team points throughout the roster.
Elena Delle Donne, Emma Messeeman and Tayler Hill combined for a 52 of the 89 points while the rest of the scoring was shared throughout the team. The depth of the roster saved the Mystics from going completely cold offensively.
"I think they already know they have bench support and that there's people who can pick them up and people who are already starters,"  Thibault said. "Ivory [Latta] and Natasha [Cloud] have been starters for us for a long period of time. I think that's helpful and they see what's possible."
Delle Donne's outstanding debut on the Mystics was key to their victory as she filled the role of a superb shooter for the team. She finished the season opener with 24 points, four rebounds, and completed 66 percent of her shots. This success early on for her foreshadows a successful stint with the Mystics.
"I thought it was good," Thibault said of Delle Donne's performance. "She got in foul trouble a little bit but we're not going to play that kind of line-up all the time. She'll get better once she gets used to our defensive system and stay out of foul trouble. Obviously coming in to get 24 points in your debut probably sets a pretty good tone for things."
Delle Donne is looking forward to seeing the team improve. Her early foul trouble halted her success and she finished the game with five fouls.
"We scored 89 and coach said we can be even better which is really exciting," Delle Donne said. "Hopefully that ceiling will continue to rise and hopefully there won't be a ceiling anymore and it'll be endless option and endless opportunities. I'm excited to see where this can go."
Hill contributed 15 points and four assists. Meesseman added 13 points, eight rebounds and five assists. Tianna Hawkins scored nine points and pulled down six rebounds.
"I think at times we were really good," Hawkins said, "At times we slipped a little but we were more consistent getting stops."
Currie was the only Stars player in double figures. Alex Montgomery added nine points plus five rebounds. Guard Moriah Jefferson did not play due to right knee soreness.
San Antonio came into Washington with a loss at New York so the team is now 0-2. However, Currie expressed optimism about the team's future.
"We're young, we're missing three players who play a big role in this team, and that makes a difference," Currie said. "Even still, I think we have enough talent and enough work here that we can still win games. We can't bank on when players will return, but I think everybody needs to step it up a little bit. We're going to go back home, and keep working. Our home opener is this weekend, so we'll try to get a win then."
The Mystics will start a three-game road trip Friday, May 19 against the reigning WNBA champion Los Angeles Sparks at 10:30 p.m. ET. They follow up with games at Seattle and Chicago. San Antonio returns home to host Phoenix on Friday at 8 p.m. ET.