Washington Mystics face team chemistry challenge heading into the 2017 WNBA season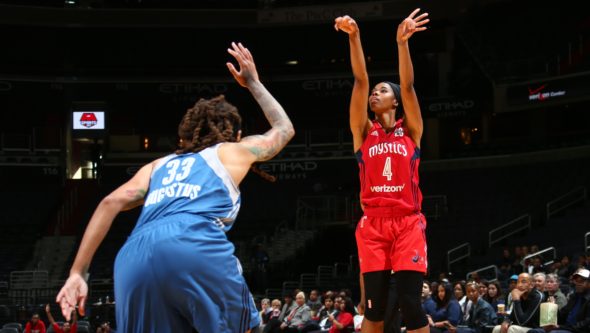 WASHINGTON — On May 14, the Washington Mystics will open their historic 20th season against the San Antonio Stars. Coach Mike Thibault and the Mystics look to improve from their previous season. This will be Thibault's fifth year as team's head coach.
"It's fun to get started," Thibault said. "It's like Christmas and opening a new present. I'm not quite sure what to expect to get but when you open it you know you're getting something good. I know we aren't going to be the best version of ourselves yet but I think we're good enough to play well starting out and keep getting better."
In 2016, the Mystics finished at No. 6 in the Eastern Conference with a 13-21 (.382) record (8-8 against East opponents). A tricky task that Thibault and his players will tackle early this season is unity amongst the team.
Injuries, players still participating in overseas leagues and acclimating rookies creates a cloud of uncertainty for the Mystics' team performance as chemistry hasn't been established throughout the team. Thibault even made cuts early on before the May 12 deadline to help the team get a sense of cognizance with each other.
"When I say chemistry, it's both a friendship, nonverbal thing but also an on-court understanding of the skills and weaknesses of each player," Thibault said, "That just takes time. There's no substitute for it."
New pieces to the Mystics look to add on to the existing team and go into a positive direction. Among of the previous issues for Washington were consistency in shooting and ball movement. The new rookies and additional veterans will be regarded as the answers to fill the holes in the Mystics' performance as a team.
First-round pick Shatori Walker-Kimbrough finished at Maryland as one of the best point guards ever in the program. She led the NCAA and set the Big Ten record in 3-point shooting percentage in 2016 (54.5 percent). Walker-Kimbrough's overall goal as a rookie is to be able to show the WNBA the best version of herself through the help of her surrounding support system and coaching staff.
"[I have to] be patient and take it one step at a time," Walker-Kimbrough said, "I'm continuing to put my head down and work. It's put me this far and I'm working each day no matter what happens. Coach has been emphasizing that this team is a working process and a completely different team than they were last year. It will take time to mold and get everybody comfortable to play together."
One of the biggest offseason pickups for the Mystics is Delaware native and four-year veteran Elena Delle Donne, a 6-foot-5-inch power forward from the Chicago Sky. Delle Donne averaged 21.5 points per game in 2016 and is predicted to serve as an essential scoring option for the Mystics along with the current scorers like Kristi Toliver, who arrived from the Los Angeles Sparks via an offseason signing, and Tayler Hill. Delle Donne agreed that it will be small steps for the team to grow into a functioning machine but knows the Mystics are capable.
"It's going to take some time," Delle Donne said. "Especially the way coach makes us play. He wants us to read one another and play high pace. That takes time to learn."
This will be guard Tierra Ruffin-Pratt's fifth season with Thibault. She serves as a defensive piece to the Mystics along with fellow veteran, forward Tianna Hawkins. Ruffin-Pratt will utilize those experiences with the new additions to the Mystics as they figure out their place.
"I know this is a learning experience for them and I just know what coach wants from us," Ruffin-Pratt said, "I know I have to be that player that brings that energy, make those hustle plays, and play defense."
Guard Ivory Latta has the most experience on the Mystics roster entering her eleventh season in the WNBA. She agreed that team will need work on their chemistry but knows they are capable of a great season while finding their rhythm.
"We have to take it one step at a time," Latta said, "We're all eager and hungry to win that WNBA championship but it'll definitely be a long process. It'll be ups and downs but we must stay together and make sure we hold each other accountable. We have to have each other's back."
The Mystics will begin the season on Sunday at 3 p.m. ET against the Stars at the Verizon Center in Washington, D.C. The game will be streamed on the WNBA's League Pass and on Monumental Networks.