With a solid core of veterans and some exciting additions, Sparks look to repeat as WNBA champions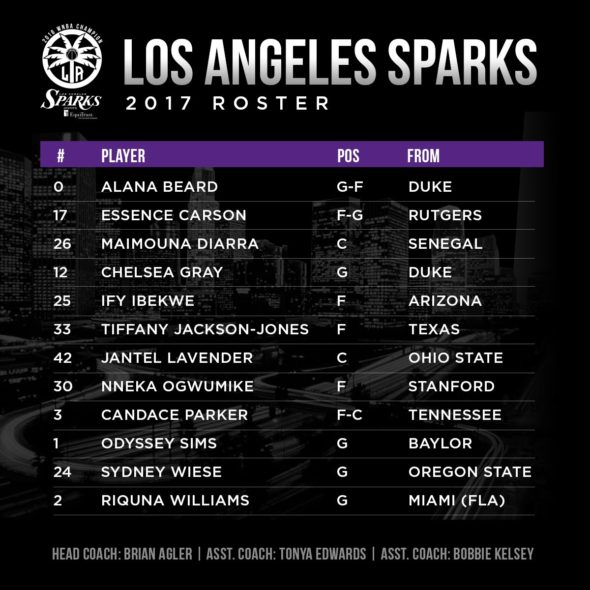 LOS ANGELES – As the 2017 WNBA regular season gets underway, many expect the reigning champion Los Angeles Sparks to mount another championship run. The team is No. 1 in the Associated Press Preseason WNBA Poll and No. 2 in the WNBA.com General Manager's Survey as well as the ESPN Preseason Power Rankings.
The Sparks' roster features a returning core of elite post players including last season's MVP Nneka Ogwumike, the 2016 WNBA Finals MVP Candace Parker and the 2016 Sixth Women of the Year Jantel Lavender. In addition, Los Angeles has the talent of guard Alana Beard and guard/forward Essence Carson.
Beard contributed 7.1 points per game while Carson scored 8.1 points per contest last season. Other key returnees include guards Chelsea Gray, who scored 5.9 points per game last season, and Riquna Williams who came to the team via a trade with the Dallas Wings in the spring of 2016. Williams missed last season after rupturing her left Achilles tendon in overseas play
The Sparks are without veteran guard Kristi Toliver who gave the team 13.2 points per game in their most recent championship season. Toliver signed with the Washington Mystics in the offseason. However, the loss of Toliver can be made up with a healthy Williams and the addition of Odyssey Sims, a Sparks pickup via a February trade with Dallas. Sims, a tenacious defender and double-digit scorer, provided the Wings with 14.0 points, 2.9 rebounds and 3.9 assists per game last season.
Sparks head coach Brian Agler addressed the loss of Toliver and Sims' strengths earlier this week in a media conference call.
"When we knew Kristi was going to Washington, we knew we lost a really good player and somebody that had come off of an extremely good season, both individually and her part of the team. So, we needed to find a way to replace her. Not that we could replace her with Odyssey, but we also feel like Odyssey is a really good player on her own behalf.
For Agler, the trade for Sims was a win for his steam.
"We feel like Odyssey can provide us quality minutes at the point and on the perimeter," Agler said. "I don't know if she'll be starting for us, I can't tell you that right now. But she'll play quality minutes."
Other additions to the Sparks include:
Ify Ibekwe, a 6-2 forward and graduate of Arizona. She was a second-round pick in the 2011 WNBA Draft by the Seattle Storm and played this past offseason in Spain, averaging double figures and over seven rebounds per game.
Tiffany Jackson-Jones, a 6-3 forward and graduate of Texas. The Sparks signed Jackson-Jones in February when she was playing in Israel and averaging 16.7 points, 8.2 rebounds and 1.8 steals per game.
Sydney Wiese, a rookie guard out of Oregon State, was the Sparks' only selection in the first round of the 2017 WNBA draft. Wiese, the 11th overall pick, is the only rookie left from the team's draft selections.
Maimouna Diarra, a 6-6 rookie center from Senegal with international experience with European teams and the Senegalese national team. The Sparks added Diarra to the roster at the end of this week.
A few of the Sparks' key players will miss the opening game Saturday against the Seattle Storm as they are still competing overseas. Parker, Lavender and Carson are participating in the Turkish League Finals which conclude May 14.
A Coaching Addition With An Ogwumike Connection
On the coaching side of the Sparks, the team added veteran coach Bobbie Kelsey as an assistant after Amber Stocks left the franchise to become the head coach of the Chicago Sky. Kelsey comes to the Sparks with head coaching experience at Wisconsin and a long tenure as an assistant at her alma mater, Stanford, under Hall of Famer Tara VanDerveer. Her time with the Cardinal coincided with that of both Nneka Ogwumike and her younger sister Chiney (Connecticut Sun). Kelsey left Stanford for Wisconsin after the elder Ogwumike led her team to an appearance in the 2011 Final Four.
Agler praised Kelsey's work ethic and dedication to the sport.
"Bobbie is a basketball junkie," Agler said. "She has a great history with her coaching pedigree, playing at Stanford and coaching there and being a couple of other places. My philosophy in hiring staff is I want people, just like our players, to be hungry and to be energetic and be proactive. Sometimes if you look at sort of my track record of hiring people, I've hired people that have been on the outside looking in. And the reason I do that is because I've experienced that myself, and I know how difficult that is and how hard it is."
While Alger mentioned a learning curve in getting coaches from the college side acclimated to the WNBA, he did not seem worried about that challenge with Kelsey.
"You know, we have to get them up to speed a little bit with the league itself, but I'm confident she's going to do a really good job for us."
The Sparks start the season at home with two games then spend the rest of the month on the road.
Los Angeles Sparks May Schedule
Saturday, May 13, San Antonio, 2 p.m PT, ESPN
Friday, May 19, Washington Mystics, 7:30 p.m. PT, League Pass/SpecSN/SpecD/Monumental
Wednesday, May 24, at the Indiana Fever, 4 p.m. PT, League Pass/WNDY/ SpecSN/SpecD
Saturday, May 27, at the Atlanta Dream, 3 p.m. PT, League Pass/FOX Sports Southeast/ SpecSN/SpecD
Tuesday, May 30, at the New York Liberty, 4 p.m. ET, ESPN2