Diamond DeShields leaves Tennessee to go pro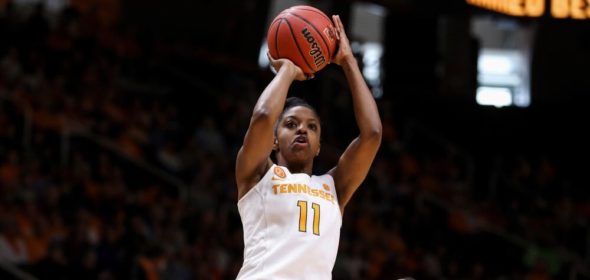 Tennessee head coach Holly Warlick announced Friday that Diamond DeShields is no longer with the program and will not play her final season of eligibility. Last season she led the Lady Vols in scoring at 17.4 points per game.
"Diamond has opted to forego her final collegiate season," Warlick said. "She earned a degree from UT and now has a chance to play professionally."
Shields,  a redshirt junior guard, came to the Lady Vols as a transfer from North Carolina. Tennessee lost in the second round of the NCAA tournament last season. In April, DeShields indicated that she would stay with the Lady Vols and not enter the WNBA Draft.
"I am pleased with the commitment of our talented group of returnees and highly-regarded freshman class, and I have been encouraged with the talent, chemistry, attitude, work ethic and intensity that have been displayed thus far during off-season workouts," Warlick said on Friday. "Our staff can't wait to continue building on that. We look forward to welcoming senior Kortney Dunbar and freshman Evina Westbrook to campus for the second summer session and are very excited about the future of this program, both for the upcoming season and in the years to come."
In early April, Warlick held a press conference and addressed Deshields' previous decision to return along with redshirt junior Mercedes Russell.
"We are excited they are coming back for their senior year. They're going to get their degrees in May and will continue to take classes and help us on the basketball courts. We're looking forward to that. They both want keep continuing to get their game better, and they think the benefits are to stay here. I didn't tell them they needed to stay. Obviously, I said that we would like for them to stay, but I wanted it to be their decision. I gave them pros and cons, gave them some information for them to do what they needed to do and the opportunity to go back and talk with their families. It's a great thing when these young ladies make decisions on their own. They got facts and were knowledgeable about what they were looking for and both decided to stay."
Warlick did say that DeShields was "maybe weighing her options more than Mercedes."
"I really honestly thought both would return, because they want to get better and want the opportunity to work with our four new freshmen coming in," Warlick said in April. "I think there were a lot of factors that went into it, but I wasn't surprised. I'm just glad they did their homework and didn't react after the end of our season. They did their due diligence and made an educated decision for them. Nobody said, `you need to go; you need to stay.' I was really proud of them stepping back, taking information and trying to understand what was best for them."
Earlier this month, former Lady Vol Te'a Cooper announced that she was transferring to South Carolina. According to WNML radio, her transfer followed disciplinary action after she was punished for instigating a fight with teammate Jaime Nared.