Free throws lift Mystics over Dream, 78-72, in another thriller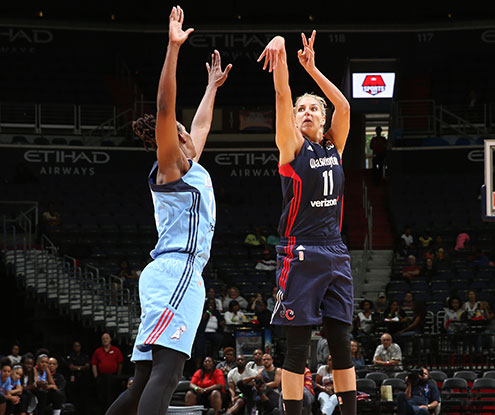 WASHINGTON – As the final minute of Sunday's game between the Atlanta Dream and Washington Mystics came to a close, the Dream's Sancho Lyttle gave her team their first lead of the game with a jump shot at 72-71. The Mystics had a decision to make- either allow an 18-point lead to come crashing down and lose the first place spot in the Eastern Conference, or fight in what seemed to be déjà vu for another close win in just a week's time.
With 34.5 seconds remaining, Lyttle fouled a 3-point shooting Elena Delle Donne. The Mystics forward would have three free throw attempts to tie or seal the win for Washington. Delle Donne completed all three, rebounded the ball and was fouled while shooting again.
Guard Shatori Walker-Kimbrough and Delle Donne combined for four free throws in 7.8 seconds to close out a 78-72 win for the Mystics.
"I asked my bench now do they understand why I have no hair," Washington head coach Mike Thibault joked after the thriller win. "Any win is a good win, I guess. Atlanta is too good of a team to allow them get back into the game. We had them on the brink of folding. We had two or three bad, casual possessions on both ends of the ball in the third quarter and we let them right back in the game."
The Mystics are now in first place in the East after the rough win against the Dream. Washington knew they would have to step up to continue having an offensive presence and carry the team to a win. They were without their usual shooting guard Tayler Hill, out a with neck and shoulder pain, as well as guard Natasha Cloud who has a left knee strain.
The Mystics were in control in the first quarter, coming out with a blazing offense led by veteran guard Kristi Toliver, starting the game off with three straight from 3-point range. Toliver finished with 15 points and two assists against the Dream.
"I wanted to get in the flow early today," Toliver said on her quick start. "I told myself to shoot when I'm open and have no hesitation."
Once the Dream began to close off Toliver's fast break and shooting patterns, forward Delle Donne continued the team's scoring with nine in the first quarter, helping to amass a 23-16 lead over the Dream in the first quarter. But, the chemistry was short lived.
With missing pieces to their offensive puzzle, the Mystics found themselves having short bursts of offensive energy. They could not complete their last three shots of the half, decreasing their field goal shooting percentage from 58.3 percent to 50 percent.
At the break, Washington had a 41-32 lead. The Mystics widened their lead to 18 at 7:11 in the third quarter after a reverse layup from guard Tierra Ruffin-Pratt. However, that double-digit lead was cut to a slim nine points with the Mystics leading 41-32 heading into the third quarter.
In their shaky offensive start, Atlanta Dream's leaders Sancho Lyttle, Elizabeth Williams, and Tiffany Hayes combined for just 19 points in the first half. Hayes, who finished with a game-high 24 points and five assists, said the team adapted to the game of catch-up quickly.
"I think we all got off to a bad start," Hayes said on the rough first half performance. "We all came together after a little communication and we needed a little bit of energy. That's something we have to work on."
Walker-Kimbrough, rookie and grad from nearby Maryland, got her first start of her career and had a big role to fill against the Dream. It was a tough matchup for the first-year pro against one of the team's best shooters, Hayes.
"She was in a tough spot," Thibault said of Walker-Kimbrough. "We put her in the game to guard one of the best offensive players in the league, Hayes. I thought in the first half she did a really good job. In the second half, I probably could've played her a little bit longer on the defensive end but she was very hesitant on offense."
Walker-Kimbrough held Hayes to only eight points in the first, providing a good gauge to see where she can improve in the WNBA.
"There's a lot of things I need to work on, so I'll give myself a C," Walker-Kimbrough said. "She's a great player but I knew it wouldn't be just me on Hayes. It's not just one-on-one and that was one of the great things about today. Our team defense was really good at times especially at the end of game. You could see us all collab and trying to get the stop collectively."
The Dream's Lyttle, who had a team-high of nine rebounds, said the team seized the opportunities of a lackluster Mystics.
"When we finally got ourselves together, making shots and rebounding. The game was different," Lyttle said. "We need to make more shots. We played the same defense but the second half was different when we began to score."
The Mystics' silence on offense was at its worse in the third quarter, as the Dream outscored them 21-17 chasing a victory. The Mystics stopped scoring with 3 minutes left in the third quarter and the Dream took advantage by scoring 11 points, creating a five point game entering the final quarter.
"We had two terrible possessions on offense where we were not executing and we watched them shoot a jumpshot and while we're watching, we were outrun on the transition at times," Thibault said on the third quarter performance. As soon as a team gets a couple of transition points, that changes the momentum. That gets them jacked up and gets them back in the game. They had us on our heels a little bit."
In the fourth quarter Mystics center Krystal Thomas came in clutch with two big defensive rebounds, getting the ball back in Washington's possession when the Dream were only trailing by one. Delle Donne and Thomas did a great job taking turns defending the rim. The duo totaled for 22 of the Mystics' 46 rebounds.
"Our bigs did a pretty decent job today," Delle Donne said on the Mystics' defensive performance. "We weren't always consistent but when we needed rebounds and attacked the boards, we got it done."
"I know it won't show up in the stats but I think Krystal's [Thomas] and Elena [Delle Donne] really bothered them at times tonight," Thibault said. "My whole deal was to take away their points in the paint but they got transition points against us. That's how they got back in the game."
Delle Donne had another star-studded performance for the Mystics. For the second time in a row, she finished with a double-double, controlling the defensive pace and getting the Dream to commit fouls against her and taking her to her strongest skill, the free throw line. She finished with 23 points, ten of them free throws, and a team-high 15 rebounds. As a team, the Mystics completed 83.9 percent (26-of-31) of their free throws.
"I think we're still trying to get our offensive chemistry together," Delle Donne said. "In moments we're really good, we're attacking and then we're stagnant. As long as we can keep moving and stop being stagnant we can improve."
Tianna Hawkins was also in double figures for the Mystics. The forward finished with 13 points and 6 rebounds.
For the Dream, guard Bria Holmes added 13 points and Lyttle finished with 10 points plus 9 rebounds.
The Mystics improve to 5-2 on the season as the Dream drop to 4-2. The close win makes the Mystics first in the Eastern Conference, with the Dream right behind them. Washington hits the road to play at Dallas on Tuesday, Jun 6 and returns to action at the Verizon Center on Friday, June 9 against the Minnesota Lynx. The Dream continue their road trip with a game at New York on Wednesday, June 7.
Notes
Head coach Mike Thibault earned his 275th career victory. Thibault is the winningest coach in league history, a milestone he reached during the 2013 season.
Mystics guard Kristi Toliver connected on a season-high five 3-point field goals and tied her season high with 15 points.
With her 24 points, Tiffany Hayes now has 1,966 points in her career.
Points in the Paint: Dream 36 (18/35), Mystics 28 (14/29)
Biggest Lead: Dream 1, Mystics 18
2nd Chance Points: Dream 13 (5/12), Mystics 5 (1/8)
Fast Break Points: Dream 15 (7/11), Mystics 12 (3/4)
As a team, the Mystics shot 23-63 (.365) from the field and 6-20 (.300) from 3-point range.
Atlanta shot 28-79 (.354) from the field and 1-15 (.067) from behind the arc.
The Mystics outrebounded the Dream, 46-39. Each team recorded 16 assists.