Maya Moore and Elena Delle lead the pack in early fan returns of 2017 WNBA All-Star Voting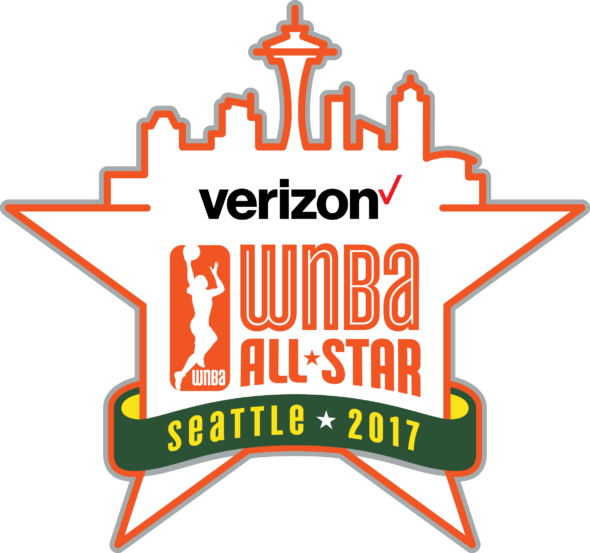 Maya Moore of the Minnesota Lynx and Elena Delle Donne of the Washington Mystics are the top vote-getters after early fan returns of 2017 WNBA All-Star Voting. According the league, the first 15 days of fan voting generated more than double the amount of votes cast (376,820) compared to the same period, in 2015 (180,762). There was no All-Star Game in 2016 due to the Summer Olympics.
The 14th WNBA All-Star Game takes place Saturday, July 22 at KeyArena in Seattle (3:30 p.m. ET on ABC). Voting concludes Thursday, July 6 at 9 p.m. ET. Starters will be announced live on ESPN on Tuesday, July 11 during the noon ET edition of SportsCenter. The All-Star reserves, who will be selected by the Eastern and Western Conference head coaches, respectively, will be announced on Tuesday, July 18 during ESPN2's telecast of the Storm and the Chicago Sky (9 p.m. ET).
Moore, the 2014 WNBA MVP and a Western Conference starter in each of her four All-Star appearances, leads all players with 19,949 votes. Delle Donne, the league's 2015 MVP and a three-time All-Star selection, is second overall with an Eastern Conference-high 19,280 votes.
Full early returns results
Eastern Conference
Backcourt: Tiffany Hayes (Atl) 4,288; Tiffany Mitchell (Ind) 4,202; Kristi Toliver (Was) 3,498; Sugar Rodgers (NY) 3,480; Courtney Williams (Con) 3,239; Cappie Pondexter (Chi) 2,967; Tayler Hill (Was) 2,794; Jasmine Thomas (Con) 2,696; Shavonte Zellous (NY) 2,128; Ivory Latta (Was) 2,042; Allie Quigley (Chi) 1,939; Briann January (Ind) 1,531; Erica Wheeler (Ind) 1,507
Frontcourt: Elena Delle Donne (Was) 19,280; Tina Charles (NY) 12,055; Jonquel Jones (Con) 10,585; Candice Dupree (Ind) 4,965; Stefanie Dolson (Chi) 3,170; Alyssa Thomas (Con) 3,038; Kiah Stokes (NY) 2,567; Tamera Young (Chi) 1,924; Morgan Tuck (Con) 1,740; Imani Boyette (Chi) 1,730; Natalie Achonwa (Ind) 1,385; Bria Holmes (Atl) 1,320
Western Conference
Backcourt: Sue Bird (Sea) 16,139; Diana Taurasi (Phx) 15,207; Skylar Diggins-Smith (Dal) 11,462; Seimone Augustus (Min) 11,198; Lindsay Whalen (Min) 10,131; Jewell Loyd (Sea) 9,639; Allisha Gray (Dal) 5,766; Alana Beard (LA) 5,003; Kelsey Plum (SA) 4,221; Chelsea Gray (LA) 3,975; Moriah Jefferson (SA) 3,823; Kayla McBride (SA) 3,034; Jantel Lavender (LA) 2,002
Frontcourt: Maya Moore (Min) 19,949; Candace Parker (LA) 17,127; Sylvia Fowles (Min) 15,159; Breanna Stewart (Sea) 13,793; Nneka Ogwumike (LA) 13,563; Brittney Griner (Phx) 12,818; Rebekkah Brunson (Min) 6,236; Glory Johnson (Dal) 5,680; Ramu Tokashiki (Sea) 2,653; Karima Christmas-Kelly (Dal) 2,651; Alysha Clark (Sea) 2,517; Crystal Langhorne (Sea) 2,046
For the first time, WNBA players and basketball media will join fans in selecting the starters for the WNBA All-Star Game. Fans will account for 50 percent of the vote, while current players and a media panel will account for 25 percent each. The players and media members will be able to complete one full ballot each, featuring two guards and three frontcourt players from both conferences. WNBA fans may submit one full ballot each day through WNBA.com (desktop or mobile) or the WNBA App (available on Android and iOS). Fans may also vote for up to 10 players per day on Twitter and Facebook. All current WNBA players on team rosters are eligible to receive votes.