Phoenix Mercury to hold Penny Taylor retirement ceremony, July 9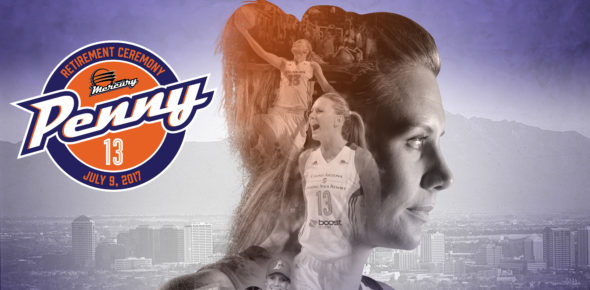 The Phoenix Mercury will celebrate all-time great Penny Taylor Sunday, July 9 with a special jersey retirement ceremony immediately following the game against the New York Liberty. The game tips off at 3 p.m. local/6 p.m. ET.
Taylor spent 10 seasons with the Mercury and retired as the franchise's second all-time leading scorer. She and Diana Taurasi are the only players to compete on all three championship Mercury teams. The day's celebration will feature special video messages from across the WNBA, gifts for Taylor and a special halftime performance from artist David Garibaldi.
For the remainder of Mercury season, Section 113 at Talking Stick Resort Arena will be rebranded as "Section 13" in honor of Taylor's jersey number. The ceremony will culminate with the reveal of Taylor's #13 in the Talking Stick Resort Arena rafters. The first 10,000 fans in attendance will receive a commemorative rally towel.
During her time in Phoenix, Taylor was a three-time All-Star, a two time-time All-WNBA First Team selection, a three-time Olympian, and a two-time Olympic silver medalist for Australia. She finished her career having appeared in the third-most games in franchise history, and ranked third in scoring, second in both assists and steals, and fourth in rebounds. Taylor's banner will hang alongside those for the Mercury's first head coach Cheryl Miller, legendary players Michele Timms, Bridget Pettis, and Jennifer Gillom, and a banner commemorating Taurasi as the WNBA's all-time leading scorer that was unveiled in June.