Minnesota Lynx to host 2018 All-Star Game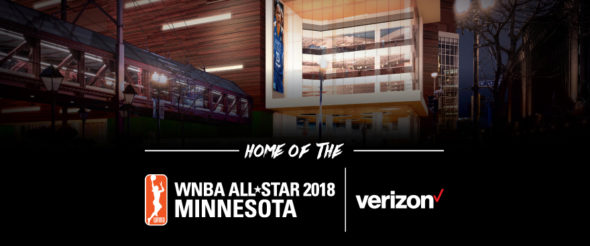 The Minnesota Lynx will host the 2018 WNBA All-Star Game, the franchise and the league announced today. The event is set for Saturday, July 28 in Minneapolis with a 3:30 p.m. ET tip off. It is the first time that the Lynx will host the game. Broadcast info for the event will be announced at a later date.
"We're thrilled to bring Verizon WNBA All-Star 2018 to the Twin Cities and the great Lynx fan base for the first time," said WNBA President Lisa Borders. "Minnesota's fans have passionately filled Target Center for three championships and five Finals series over the last six seasons, and with the arena undergoing a spectacular renovation this summer, I can't think of a better venue for Verizon WNBA All-Star.  Lynx fans also have watched from afar as their very own Maya Moore won MVP honors in our last two All-Star games and now they'll have a chance to see the best of the best from across the WNBA together at one time in their home arena."
The Minnesota Lynx and Sports Minneapolis partnered to bid for the game which will take place in a newly renovated Target Center.
"Minneapolis is honored to host the 2018 WNBA All-Star Game, which will bring the best basketball players in the world to our region," added Minneapolis mayor Betsy Hodges.  "As the home of the three-time WNBA champion Lynx, Minneapolis – and the entire Twin Cities region – is a proud supporter of the WNBA. This opportunity to bring a world-class event such as the WNBA All-Star Game to Target Center is something we celebrate today and look forward to celebrating next summer."
"Minnesota has the best fans in the WNBA, and I am so proud that my home state, our organization and Target Center will host Verizon WNBA All-Star 2018," said Lynx guard and five-time WNBA All-Star Lindsay Whalen, a native of Hutchinson and product of the University of Minnesota. "Lynx fans have packed Target Center for multiple WNBA Finals and I think the All-Star Game will be an equally spectacular scene."
WNBA All-Star Game History
July 14, 1999 – Madison Square Garden (New York) West 79, East 61
July 17, 2000 – America West Arena (Phoenix) West 73, East 61
July 16, 2001 – TD Waterhouse Centre (Orlando, Fla.) West 80, East 72
July 15, 2002 – MCI Center (Washington) West 81, East 76
July 12, 2003 – Madison Square Garden (New York) West 84, East 75
July 9, 2005 – Mohegan Sun Arena (Uncasville, Conn.) West 122, East 99
July 12, 2006 – Madison Square Garden (New York) East 98, West 82
July 15, 2007 – Verizon Center (Washington) East 103, West 99
July 25, 2009 – Mohegan Sun Arena (Uncasville, Conn.) West 130, East 118
July 23, 2011 – AT&T Center (San Antonio) East 118, West 113
July 27, 2013 – Mohegan Sun Arena (Uncasville, Conn.) West 102, East 98
July 19, 2014 – US Airways Center (Phoenix) East 125, West 124
July 25, 2015 – Mohegan Sun Arena (Uncasville, Conn.) West 117, East 112
July 22, 2017 – KeyArena (Seattle, Wash.) West 130, East 121
*In 2010, in advance of the FIBA World Championship, and in 2004, prior to the Athens Olympics, the U.S. Women's National Team, comprised primarily of WNBA players, squared off against a team of WNBA stars in an exhibition match. No game was held in 2008, 2012 or 2016 prior to the Olympic Games in Beijing, London and Rio, respectively.