2017 Pac-12 Media Day: Commissioner Larry Scott emphasizes extensive TV coverage as a bedrock of women's basketball success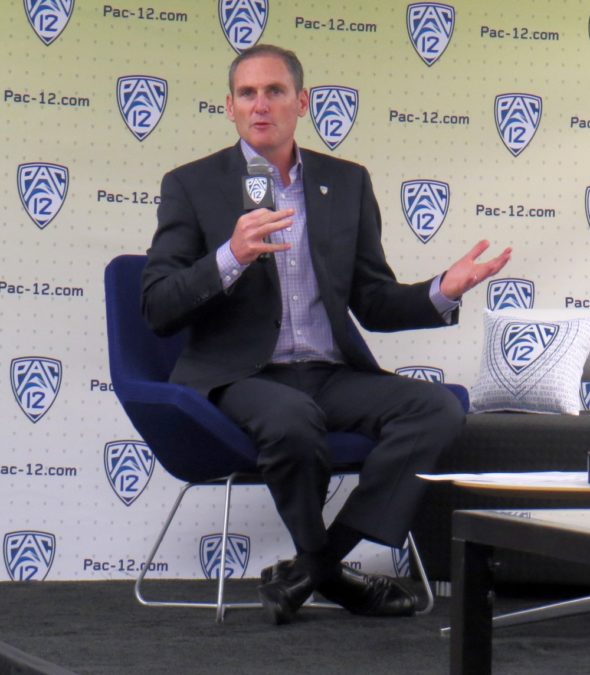 SAN FRANCISCO – Pac-12 commissioner Larry Scott opened the conference's 2017 women's basketball media day reiterating how much he loves the sport and expressing his dedication to make sure it remains a successful part of the league.
"Particularly a delight for me to sit here today and preview our upcoming women's basketball season, because promoting women's sports at the Pac-12, and certainly from my perspective, it's always been very important to me and a passion," Scott said.
After providing a quick rundown of the league's achievements over the past few seasons, Scott discussed the factors that he feels are key to the continued growth of what he feels is the "strongest and deepest" conference for women's basketball.
Credit to Coaches
Last season, the league celebrated along with Stanford head coach Tara VanDerveer after she earned her 1,000th career win in early February.
"We took a lot of pride in seeing Tara become the third coach in history to win a 1000th NCAA game victory," Scott said. "We were able to celebrate that on the Pac-12 Networks."
Pac-12 coaches have managed to recruit well enough to have four programs in the top 20 ESPNW 2017 Women's Basketball Class Rankings: No. 5 Stanford, No. 6 UCLA, No. 15 Oregon State and No. 17 California.
Several head coach newcomers are in mix along with veterans like VanDerveer, Arizona State's Charli Turner Thorne (21 years) and Washington State's June Daugherty (11 years and WSU and 12 seasons at Washington). Four coaches have been at the helm of Pac-12 programs for no more than three years: Arizona's Adia Barnes, Colorado's JR Payne, Utah's Lynne Roberts and Washington's Jody Wynn.
"We've got a great group of coaches," Scott said. "One of the proud things as well is to see some former student-athletes that are now successful coaches in our conference. Adia Barnes, a standout at Arizona. Charli Turner Thorne, a stand-out, played for Tara at Stanford. Funny how things come full circle."
USC's new coach is a returnee to the league. Mark Trakh, who was named head coach of the Trojans in April, previously coached the team from 2005-09 and led the squad to two NCAA tournament berths.

The full list of the league's coaches:
Arizona: Adia Barnes (Arizona 1998), 2nd year (14-16, 14-16 Career)
Arizona State: Charli Turner Thorne (Stanford 1988), 21st year (400-233, 440-273 Career)
California: Lindsay Gottlieb (Brown 1999), 7th year (138-65, 194-104 Career)
Colorado: JR Payne (St. Mary's 1999), 2nd year (17-16, 118-129 Career)
Oregon: Kelly Graves (New Mexico 1988) 4th year (60-42, 442-204 Career)
Oregon State: Scott Rueck (Oregon State 1991), 8th year (153-80, 441-168 Career)
Tara VanDerveer (Indiana 1975), 32nd year (860-180, 1012-231 Career)
Cori Close (UC Santa Barbara 1993), 7th year (123-78, 123-78 Career)
Mark Trakh (Long Beach State 1981), 7th year (90-64, 393-267 Career)
Lynn Roberts (Seattle Pacific 1997), 3rd year (34-30, 255-205 Career)
Jody Wynn (USC 1996), 1st year, (0-0, 137-119 Career)
June Daugherty (Ohio State 1978), 11th year (123-197, 433-411 Career)
Pac-12 Tournament and Sponsorship
After seeing a decline in attendance, the Pac-12 moved its women's basketball conference to KeyArena Seattle in 2013. Last season, the league saw the highest attendance at the arena, 36,777 for the entire run of the event.
In March 2016, the conference extended its partnership with Force 10 Sports Management, LLC (the owners of the WNBA's Seattle Storm), the Seattle Sports Commission, and Seattle Center to keep the tournament at KeyArena until 2019.
A wrinkle in the agreement could be plans for renovating the arena. The Seattle City Council and Oak View Group are working on a deal that could cause the arena to be under construction for at least three years beginning in 2018.
"We're in close touch with our partners in Seattle, aware of the possibility that it will be under construction," Scott said when asked about the renovation. "There will be no impact on the 2018 championship that we have there. There could possibly be an impact for 2019. So, we're staying in close touch with them and starting to explore what our alternatives would be in any years that we could not compete at Key. But we do not have any specific plans in place at the moment."
The 2018 tournament runs March 1 – 4. Every game of the tournament will be broadcast live on either the Pac-12 Network or the ESPN family of networks.
The conference announced an extension of its agreement with New York Life as the presenting sponsor of both the women's and men's basketball tournaments this week. The deal with New York Life began during the 2014-15 season.
Extensive Pac-12 Network Coverage
Since the launch of Pac-12 Networks in 2012, coaches and players have benefitted from the increased exposure provided by television broadcasts and live streams of games. According to Scott, before the network launched there "were no more than five games during the regular season that would have been telecast nationally."
"This upcoming season, we're going to have 110 games, season games, telecast on the Pac-12 Networks, in addition to the five that ESPN are going to telecast," Scott said in explaining why he felt it was important to invest in broadcasting women's basketball contests.
"I think it's probably obvious to many of you in here, but if the sole focus of a television company is just ratings and advertising and return on investment, you know, it's only a small handful of women's basketball games you're probably going to telecast. If your mission is to promote your sports that mean a lot to you, to give equal access, to use your media platform, to give exposure to the amazing student-athletes that you have and the programs that you have, you invest and you telecast more of it."
Preseason Coaches Poll
The results of the league's coaches poll were announced the morning of media day. UCLA topped the poll for the second consecutive year. The Bruins garnered 115 points and seven first-place votes to land ahead of Oregon and Stanford who tied for second place with 108 points each.
The conference has released a preseason poll every year since it began sponsoring women's sports in 1986-87.
2017-18 PAC-12 WOMEN'S BASKETBALL COACHES' POLL
| | | |
| --- | --- | --- |
| | Team (First Place) | Points |
| 1 | UCLA (7) | 115 |
| T2. | Oregon (3) | 108 |
| T2. | Stanford (2) | 108 |
| 4 | Oregon State | 85 |
| 5 | California | 83 |
| 6 | Arizona State | 74 |
| 7 | Washington State | 61 |
| 8 | USC | 47 |
| 9 | Utah | 40 |
| 10 | Colorado | 38 |
| 11 | Arizona | 20 |
| 12 | Washington | 13 |