Gonzaga tops West Coast Conference preseason poll for 5th straight year, All-WCC preseason team announced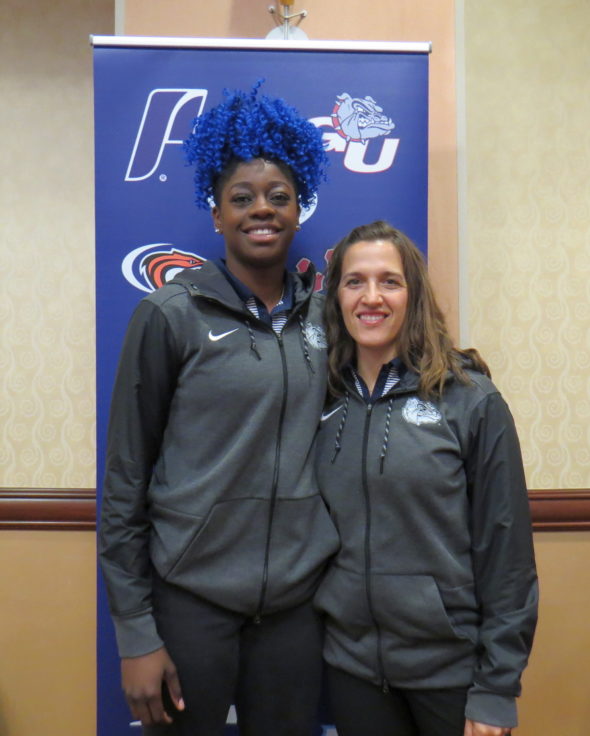 LAS VEGAS – Gonzaga tops the West Conference Preseason Poll of the conference's 10 head coaches for the fifth straight year with eight first-place votes. The league announced the poll and the preseason All-WCC Team today in Las Vegas at the conference's women's basketball media day at Orleans Arena. The Zags are coming off a season that saw the program make its ninth NCAA tournament appearance in the last 11 seasons after taking the WCC regular season and championship crown.
Saint Mary's received two first place votes to land at second place in the poll. BYU came in third followed by San Diego and Loyola Marymount to round out the top five.
San Diego looks to have a successful season as the Toroeros return heralded senior Maya Hood this season who missed a majority of the 2016-17 season after suffering a knee injury in December.
LMU has a ramped up roster with  junior Gabby Green, a transfer from the Pac-12's California. Green is eligible to compete following two years as a starter for the Golden Bears.
The preseason poll and All-WCC team were selected solely by a vote of the conference's 10 head coaches. West Coast Conference play begins on Thursday, December 28.
2017-18 WEST COAST CONFERENCE WOMEN'S BASKETBALL PRESEASON POLL
| | | |
| --- | --- | --- |
| Team (First Place Vote) |   | Pts. |
| 1. Gonzaga | (8) | 79 |
| 2. Saint Mary's | (2) | 72 |
| 3. BYU | | 68 |
| 4. San Diego | | 54 |
| 5. Loyola Marymount | | 48 |
| 6. Santa Clara | | 39 |
| 7. San Francisco | | 36 |
| 8. Pacific | | 28 |
| 9. Pepperdine | | 14 |
| 10. Portland | | 12 |
2017-18 ALL-WCC PRESEASON WOMEN'S BASKETBALL TEAM
| | | | |
| --- | --- | --- | --- |
| Name | Institution | Yr. | Pos. |
| Jill Barta | Gonzaga | R-Jr. | F |
| Stella Beck | Saint Mary's | Sr. | G |
| Cassie Broadhead Devashrayee | BYU | Sr. | G |
| Maya Hood | San Diego | R-Sr. | F |
| GeAnna Luaulu-Summers | Pacific | Sr. | G |
| Sydney Raggio | Saint Mary's | Jr. | F |
| Yasmine Robinson-Bacote | Pepperdine | Jr. | F |
| Anna Seilund | San Francisco | Sr. | G |
| Laura Stockton | Gonzaga | Jr. | G |
| Cheyanne Wallace | Loyola Marymount | Jr. | G/F |